By Andrea Louise Thomas Photos Yanni
Hotel Sorrento is an icon. Since 1872, this majestic hotel with its distinctive rough hewn cream coloured limestone facade has been standing sentinel on the clifftop overlooking historic Sorrento park and Port Phillip Bay. As the first commercial establishment in town, it is an important part of local history.
When Australian playwright Hannie Rayson wrote Hotel Sorrento in 1991, the name became part of the cultural lexicon. The film version of the play was made in Sorrento in 1995 and the film crew stayed at the hotel through the course of its shoot. The film's premier was also held at the hotel.
Over the years, this hotel has seen many owners, but for the past 40 years, the Pitt family have owned and operated it, lovingly restoring it, adding to it and bringing it luxuriously into the 21st century. In 2021 the hotel will again expand, adding 15 new suites, a wellness spa, 25 metre pool plus yoga and meditation studios.
What really makes this hotel stand out is the personal connection the Pitt family build with guests, many of whom return year after year. Meticulous attention to detail and guest wellbeing is at the heart of Hotel Sorrento. Consistent quality is paramount.
In the kitchen at the restaurant, it is consistency and quality that head chef Matt Henke ensures is delivered with every meal. He's been doing so for many years. Matt is not the kind of chef who wants to be the star of the show; he sees himself as equal partner with the entire team.
"It's like an orchestra in the kitchen. Every player is important," he says.
Matt began experimenting with cooking as a boy. At fifteen he did work experience at Madeline's, a fine dining restaurant in Mornington. He was subsequently offered an apprenticeship where he was involved in every aspect of the kitchen. He credits where he is today to this holistic kitchen experience though he also completed a Certificate III in commercial cookery at Frankston's Chisholm Institute.
He moved on to working at a Swedish restaurant, Akvavit, in Melbourne's Southgate on the Yarra. It was an interesting experience to be working in a kitchen where everyone was speaking Swedish!
Next Matt worked at Frankston's Ambassador Hotel, which offered everything from fine dining to banquets and room service. After three years he moved on to the Dava Hotel where he was head chef. This is where he learned traditional pub cooking
Moving down the Peninsula, Matt spent eleven years at The Portsea Hotel where the pressure was really on because of the sheer volume. The team of chefs often catered for 1000-2000 meals a day during peak times! Maintaining grace under pressure and keeping a positive mindset have held Matt in good stead throughout his career, as those who have worked with him would attest.
At Hotel Sorrento Matt is a humble, relaxed and unassuming head chef. He exudes a quiet confidence and takes pleasure in being part of a team. His outstanding organisational skills, ability to multi-task, professionalism, calm and personable nature makes it all possible.
This is particularly impressive when considering how busy the restaurant can be. Over summer he is ordering some items by the tonne and serving 2000 meals a day.
Matt would characterise the menu as Modern Australian. What he means by that is that it includes aspects of many cultures in its offerings from traditional pub meals to curries and tacos to slow cooked lamb shank and everything in between. The diversity and variety of is amazing. There is truly something for everyone.
What he's really enjoying at present is cooking with the wood fired grill and new wood oven. The flavours they produce are just mouth watering. Matt wants meals to be memorable, but he also wants the dining experience to be perfect.
"I love what I do. I'm a perfectionist. I involve myself in every aspect of the restaurant. If the kitchen is running well, the floor needs to be running well. It all needs to flow," he says. He learns a lot about what is working well, or not, from the customers. He encourages that feedback.
Focusing on seasonal fresh ingredients predominantly from local producers and offering a consistent menu along with a wide variety of daily specials means diners can always find an old favourite or try something new. And if it's not on the menu, you can request it and come back for it at a later date. What more could you ask for?
Recipe
Marinated Whole Baked Port Phillip Bay Snapper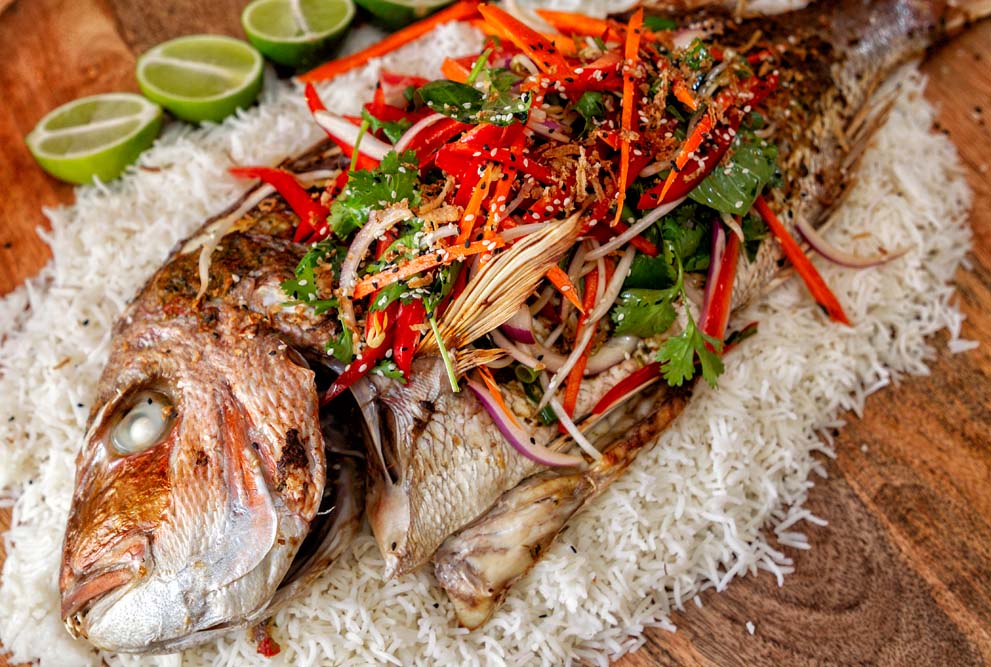 This dish began as a shared/banquet style offering for the Pitt family when they were entertaining family and friends at the Hotel. It was so popular that we adapted it to be used on our regular menu in single serves using small baby Snapper, Barramundi, and white fleshed reef fish.
Ingredients:
6-8 serves
2-3kg Snapper (cleaned & gutted).

Marinade: (will keep for up to 2 weeks refrigerated)

5 coriander roots washed and chopped

8 cloves garlic (peeled)

5 shallots (peeled)

1 birdseye chilli

1 table spoon minced turmeric or turmeric powder

2 table spoons white pepper

3-4 tablespoons fish sauce

2-3 tablespoons lime juice

¼ cup coconut cream (skimmed off the top off a cold can)
Garnish /Salad:
1 capsicum deseeded and sliced

1 red onion peeled and sliced

½ bunch coriander

Bunch Thai basil

2 stems spring onions sliced

1 carrot julienned

Dried shallots

Black sesame seeds

3 lemons or limes cut into wedges

4 tablespoons of light olive oil
Method:
Use a sharp knife, cut 3-4 longways into the whole fish 1cm apart

To make marinade place all ingredients in food processor until smooth consistency (like a paste)

Rub the marinade into the cuts made into the fish

Place fish in fridge for minimum 30 minutes marinating (up to 3 hrs is ideal)
Cook:
Preheat oven to 180 degrees (fan forced) Cooking time will vary depending on fish size. Approx 25-30 minutes for 2-3kg fish. Do not be afraid to take the fish out and check. If it is not quite cooked, cover in foil for 5 minutes to prevent fish drying out. While fish is cooking toss all garnish ingredients in a large bowl in light olive oil (or sesame oil… 1 teaspoon mixed with the olive oil is ample).
Serve cooked fish on a bed of steamed Basmati or Jasmine rice.

Place garnish on top of fish (or to the side) and serve.