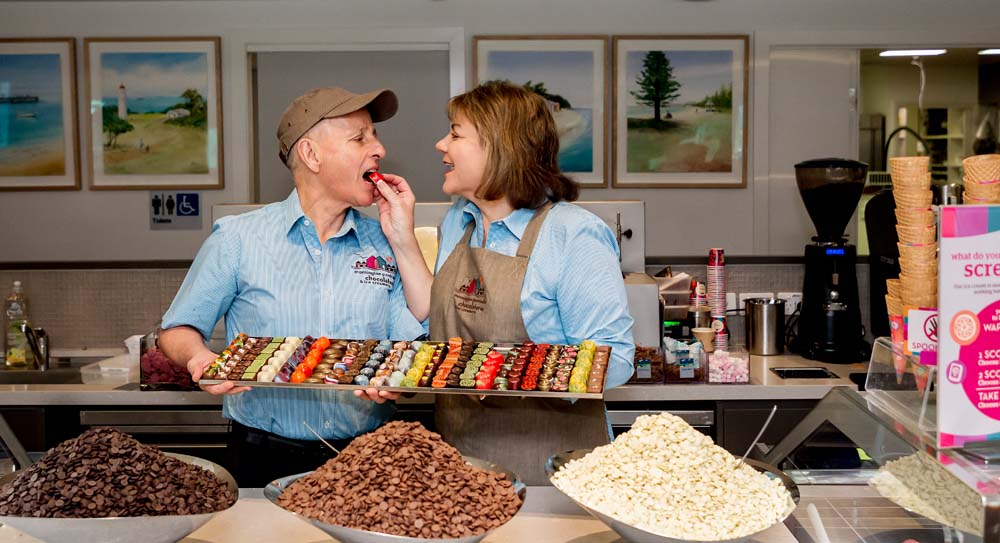 Love and generosity are at the heart of Leanne and Ian Neeland's success. Their Mornington Peninsula Chocolaterie and Ice Creamery opened in Flinders on Boxing Day 2018. They've won over locals and visitors alike; not only with their delectable treats, but also with the way they approach business. "Our brand is about abundance and generosity in everything we do," Leanne says. "Our tasting bowls are our marketing budget. We give away $250,000 in chocolate every year."
After Leanne and Ian married, they travelled the world looking for business opportunities, but ultimately realised that Australia, and Victoria in particular, was the place to be.  They decided upon a chocolate business because it gave them the opportunity to put their own stamp on a universally popular product. It was also good business sense because chocolate has a long shelf life, produces almost no waste and has the widest audience of practically any product.
They opened their first chocolaterie (French for chocolate factory) in the Yarra Valley in 2012. They had 1200 visitors on the first day and that trend continues. They see 800,000 visitors a year. Their second chocolaterie opened in 2016 in Bellbrae (near Torquay). It enjoys the same level of success. Now with the Flinders shop, the couple have hit the trifecta of premium locations. Across the three businesses they employ 220 local people bringing job opportunities to the community and a travel destination to visitors.
Largely responsible for their Midas touch is the quality of their products. Leanne and Ian employ the best European chocolatiers, source the finest ingredients and offer an encyclopaedic range of chocolates and ice cream. Every product is hand crafted. The truffles, in addition to being petite works of edible art, melt in the mouth. The freeze-dried chocolate covered strawberries dissolve on the tongue. Nuts are crunchy and fresh under their chocolate coats. The ice cream and sorbet are second to none. Every product oozes quality. Everything is handmade, packed, labelled and decorated with panache.
Their collection of gourmet chocolate bars with exotic flavours like Violet and Forest Berries in white chocolate, Lemon, Lime and Mint in dark chocolate and Macadamia Nuts and Salted Caramel in milk chocolate are all packaged in beautiful boxes featuring iconic Mornington Peninsula scenes painted by local watercolour artist, Wendy Hall. This kind of attention to detail, recognition of local place and unique variety really set the brand apart.
Sustainably sourced cocoa and ethical farming practices are very important to Leanne and Ian. They source 80% of their beans from Africa and 20% from Asia – all coming from 100% sustainable farms. While that means paying a substantial premium, they feel it is well worth it to improve the lives of cocoa farm workers in third world countries. They partner with an organisation called Cocoa Horizons. It supports cocoa farmers through education and sustainable business practice models.
Leanne and Ian even send their chocolatiers to Africa to see first hand how the farmers are going.
Chocolate making is a complex process. It takes a lot to get it just right. It's not only the best ingredients and machinery that matter. It's the best people too. Leanne and Ian bring their chocolatiers over from France and Belgium because in Europe chocolate making is a diploma course requiring a four-year apprenticeship. (There is currently no similar training program in Australia.) This way they know they are hiring expert chocolatiers who then share their knowledge with the rest of the team.
All their chocolates begin with premium Belgian couverture. To this they add over 1000 locally sourced ingredients to create a remarkable range of products. Everything from production to packaging is hand crafted with care. Kilo for kilo their Rocky Road is the most popular, but dollar for dollar, their truffles win out.
Each generation of chocolate connoisseur has a different palate. Generally, the youngest go for white chocolate, as it is the sweetest. Middle-aged buyers tend to go for milk chocolate and the older generation prefer dark chocolate.
Their hand-made ice cream and sorbets are also very popular. They sell 3000 to 5000 litres of ice cream per week! All flavours come from their own in-house recipes. No matter what they sell, it's pretty certain that the customer is going away happy.
Products are not the be-all and end-all of the business. Comprehensive chocolate making workshops are offered for all ages and types of groups. Chocolate and ice cream events throughout the year bring together makers, community and out of town visitors too. The Chocolaterie serves as a gathering place, gourmet experience and tourist destination.
Despite the scale of their success, Leanne and Ian are still hands on across all of their businesses – making, sharing and teaching – a true labour of love.  As Ian says, "Everything we do is based on love." And you can taste it.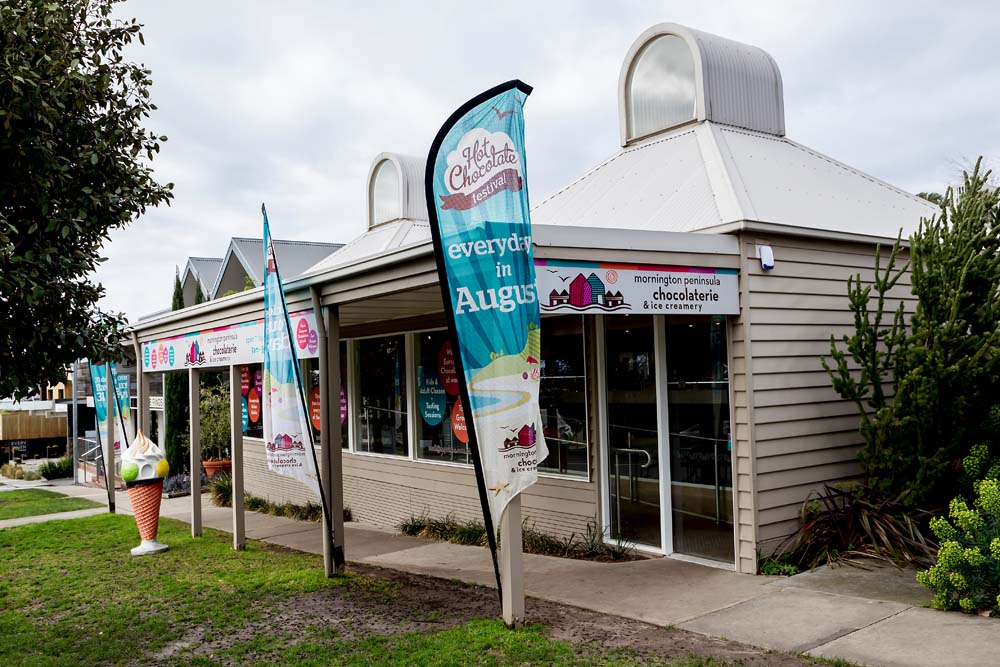 ---
Mornington Peninsula Chocolaterie and Ice Creamery
45 Cook St, Flinders VIC 3929
P. 5989 0040