Pop into the Mornington Peninsula Regional Gallery over summer for an exhibition celebrating the region, Front Beach, Back Beach, as well as a show that pairs internationally renowned British artist Julian Opie with Melbourne artist Judith Alexandrovics.
Until 19 February, MPRG is displaying Front Beach, Back Beach, an exhibition that is the result of a public art project that was held around the Mornington Peninsula in November. Following the multi-sited public art event that commissioned leading contemporary Australian artists to respond to fifteen sites and stories that have shaped the Mornington Peninsula, the exhibition brings together objects and documentation of the projects, interweaving and overlaying new perspectives from across the Mornington Peninsula.
Artists featured in Front Beach, Back Beach include Amanda Shone, Anna Breckon & Nat Randall, Geoff Robinson, Gold Santino, Hiromi Tango, James Geurts, Kait James & Jarra Karalinar Steel, LAST Collective, Lisa Waup, Lucy Bleach, Maree Clarke, Rebecca Jensen & Aviva Endean, Shane McGrath, Taree McKenzie and Vera Moller.
Front Beach, Back Beach was developed in partnership with Public Art Commission with major federal government funding from the RISE Fund.
MPRG Director Danny Lacy says, 'Front Beach, Back Beach was a great success with many locals and visitors to the peninsula enjoying our programs and activities. From artist Lisa Waup's paragliding sails at Portsea to local artist Vera Moller's Submarine Garden at Flinders Pier, we were able to place art in unique and unexpected places to captivate a new audience. We are pleased to now bring aspects of the public art project inside the gallery walls for people to enjoy here over summer.'
Also until mid-February, MPRG is displaying the third iteration of the Collection+ exhibition series where works from the MPRG collection are paired with works by a major international artist. This time, MPRG is showing Julian Opie with the work of late Melbourne artist Judith Alexandrovics.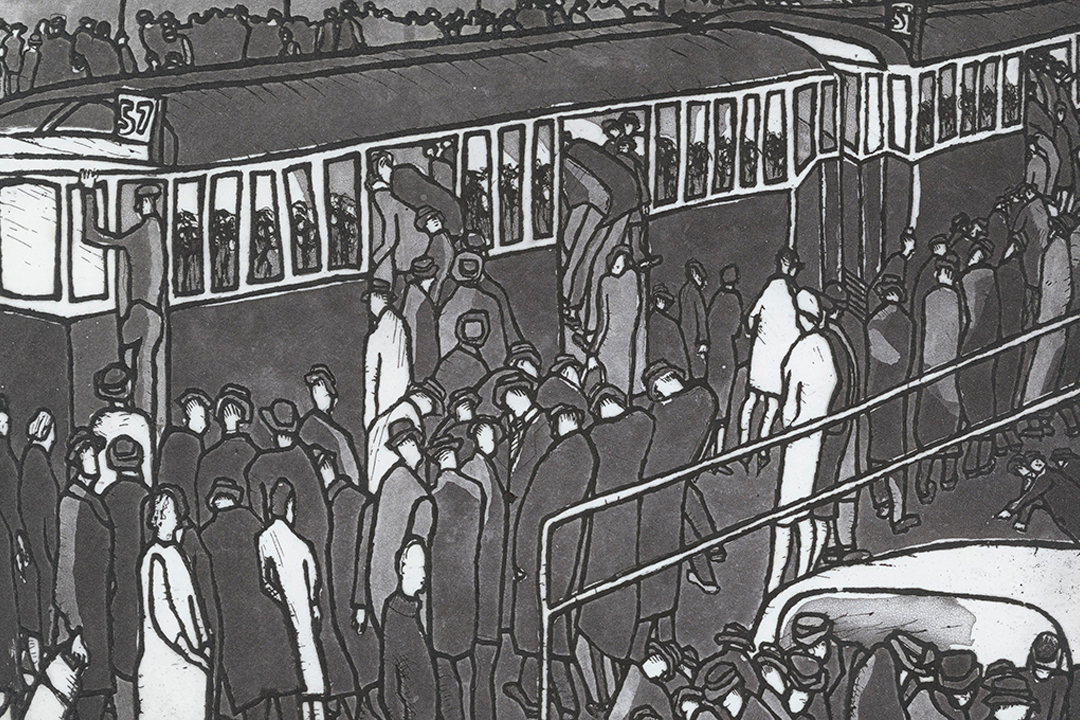 Julian Opie is a contemporary London-based artist whose instantly recognisable work often depicts figures and landscapes reduced to their essential outlines and flat colours fields.
Yet within the uniformity of his linear figures, their unique style and movement is captured in the simplification process.
Judith Alexandrovics is a Melbourne artist whose work is represented in the MPRG collection and whose oeuvre spans the decades since the early 1970s until 2019, the year prior to her passing. The exhibition will showcase her detailed etchings and aquatints, as well as a selection of her larger paintings, which are often the result of her etching studies. Many of the etchings on display have been posthumously reprinted from the original plates, with the permission of Judith's family, by Trent Walter at Negative Press.
By drawing together this unlikely combination, we can see common threads throughout their work, both artists have observed and thoughtfully documented people in the landscape, particularly groups of people in the urban environment, the main thematic focus for this exhibition.
Exhibition curator Angie Taylor says, 'Both Opie and Alexandrovics create a snapshot of people in unremarkable moments such as walking through the city, making their way to work, waiting for the tram or train, walking or waiting with an anonymous group of others. It is a fascinating portrayal of being in the presence of a group but not known to each other.'
MPRG also has a range of school holiday workshops for kids and teens, including a soft sculpture workshop inspired by artist Hiromi Tango and paint your own sneakers with teenager James Campbell of JCSoles. They also have a program for VCE students with artist Vera Moller who will explain concept development in her own creative practice and how to create sculptural works for various installation formats.
Head to the MPRG website to find out more about their exhibitions, workshops and events.
---
A: Civic Reserve, Dunns Road, Mornington
P: 5950 1580
W: mprg.mornpen.vic.gov.au
Peninsula Essence, The Essence of Art on the Peninsula – January 2023