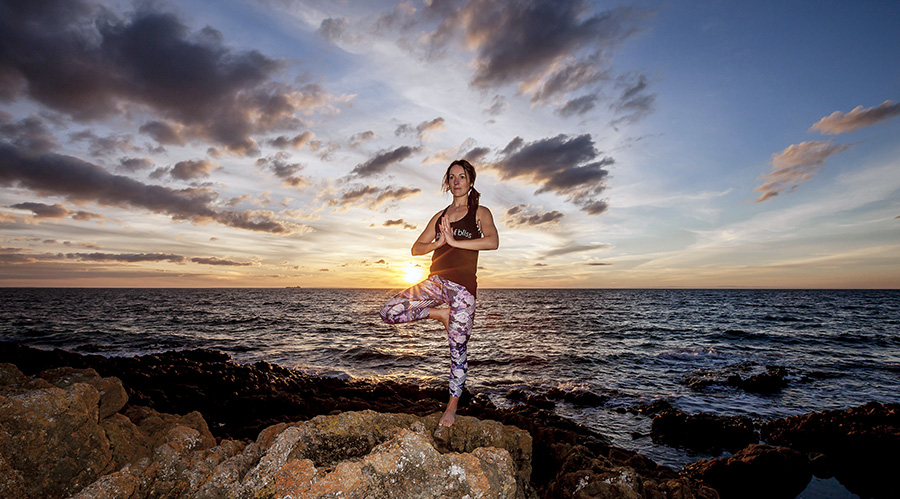 The Bhagavad Gita, the ancient Hindu scripture, states that "Yoga is the journey of the self, through the self, to the self". A practice of self discovery, as much as a practice of health and relaxation.
It is no surprise then, that devotees have often overcome great hurdles during their lives to arrive at the place where they have found peace and tranquillity.
Melanie Coghlan of Mount Martha is one such person. Someone who has battled at times in her life, found peace through yoga, and now wants to spread the word through her business "State of Bliss".
"I had always struggled," said Melanie. "That struggle manifested itself in many ways, but most prominently as an eating disorder."
"It began in my early teenage years. I felt so out of control and as strange as it sounds, my eating disorder was something I could control."
It was her natural reaction to hardship. To shut down. To turn inward. To refuse food.
Her parents were supportive through her teenage years, and she finally broke out of her bad situation in year 2000 when she met her future husband, Brendon.
"Brendon was great. A breathe of fresh air. But getting to know him better, I came to the realisation that he too struggled internally.
"Men are told they can't show any emotion. That they have to be tough. But I knew he battled with a form of anxiety," said Melanie.
"We were both very driven people, but something was missing. An inner peace."
It was in 2003 that Melanie started on her yoga journey.
"I went to see a beautiful lady who ran yoga classes at Beleura Hill shops." said Melanie.
"It might sound strange, but I stepped on that yoga mat and thought 'I'm here'. I felt an instant release and an instant calmness that I had never felt before."
The yoga journey had begun for Melanie and so had the life that she and Brendon started together.
"We wanted to start a family. Before long I was pregnant and our first child, Savannah, was born in 2006."
"She was such a beautiful baby. Six months later we thought 'let's have another!'".
But after six months of trying, Melanie and Brendon were still unable to conceive. A trip to the obstetrician confirmed that Melanie had polycystic ovaries and, although she had conceived naturally the first time, it would be difficult for her to again conceive naturally.
"We decided to go down the route of IVF, which proved to be a very difficult time."
"IVF is like a rollercoaster; there are plenty of ups, downs, twists and turns, it's an emotional trip and a rock-solid relationship is the only way you'll survive".
Luckily for Melanie, Brendon was very supportive. And during this time, Melanie finally sought out professional help for the lingering eating disorder.
After three years of IVF their second child, Sebastian, arrived in 2010.
"It was such a joyous time. We finally had our second child".
But the journey was to continue for Melanie and Brendon.
"I had loved the dynamic of growing up in a house with three kids. And we had two embryos still frozen from IVF, so we thought we'd give it one last shot", said Melanie.
"One was found to be unusable, which left us with one viable embryo.
"We thought to ourselves 'If it is meant to be, it is meant to be'. We had it implanted and it took!"
It was a perfect pregnancy, and everything was travelling as expected when their world was turned upside down.
"I was involved in a car accident," said Melanie.
"The accident happened at lunchtime, and by 5.30pm, I was miscarrying".
That was February 2012, and the beginning of very dark times for Melanie.
"Women are supposed to have children. I began to torture myself mentally about what had happened," said Melanie.
"I know we had said 'If it is meant to be, it is meant to be', but I really struggled with that".
Melanie needed to work out who she was and where she was going.
"I threw myself into exercise," said Melanie.
"For some reason, I thought more exercise would make me a better person but really I was just running away from my issues and letting my ego take control."
That didn't fix the internal issues for Melanie that continued to haunt her and take her away from her family.
"In reality, what we needed was to come together more than ever. But my actions were pulling us apart".
It was only as injuries began to plague Melanie that she came to a realisation of where her happiness and peaceful place was.
"It was time to get back on a yoga mat."
Yoga is now an everyday thing for Melanie. Husband Brendon does it two to three times a week.
"This is the way I have found inner peace. I stopped letting my ego have control and started to listen to my heart."
"It is a total turnaround from where I used to be. I am now happy with my body and the fact it has been capable of carrying two beautiful, healthy children and on top of that I am by far the happiest I have ever been."
Of course, the story doesn't end there. Melanie now spends much of her life on a yoga mat. But she struggled to find one that was right for her.
"I kept on buying new ones, but they just weren't right! Some slipped. Some smelt like rubber."
"Brendon, being the 'ideas man' that he is, piped up with 'Why don't you just make what you want?'"
"State of Bliss" was born.
Melanie researched what was in the market, set her sights on a mat that had a luxurious feel and then created the design.
"We found a reputable manufacturer that made their mats out of natural tree rubber, microfiber suede, and non-toxic glues."
It started with an order of just 24 mats last September, and Melanie hit social media to show the world.
"The internet is an amazing thing. Before we knew it, we had people from all over the world ordering our mats from our online store!"
This little business in Mount Martha has exported mats to New Zealand, New York, and even Egypt.
"It has greatly exceeded my expectations".
The yoga mats were just the beginning; more recently State of Bliss launched an organic cotton clothing range.
"I wanted to start with just a few key items, garments that were made ethically, used environmentally friendly fibres and were affordable. Our range of t-shirts, singlet tops, crew neck sweaters and hoodies have proved to be popular especially the hoodie now as we head into winter" said Melanie.
"Social media has been amazing. Yogis are very active on Instagram. For example, the hashtag #yogaeverydamnday has over nine million posts!"
So, it has been a long journey. Melanie's business, "State of Bliss" continues to grow. But more importantly, Melanie has found a place where she is at peace and reconciled with herself as a person. As the Bhagavad Gita said, a journey of the self, through the self, to the self. Melanie has arrived. She has found her "State of Bliss".