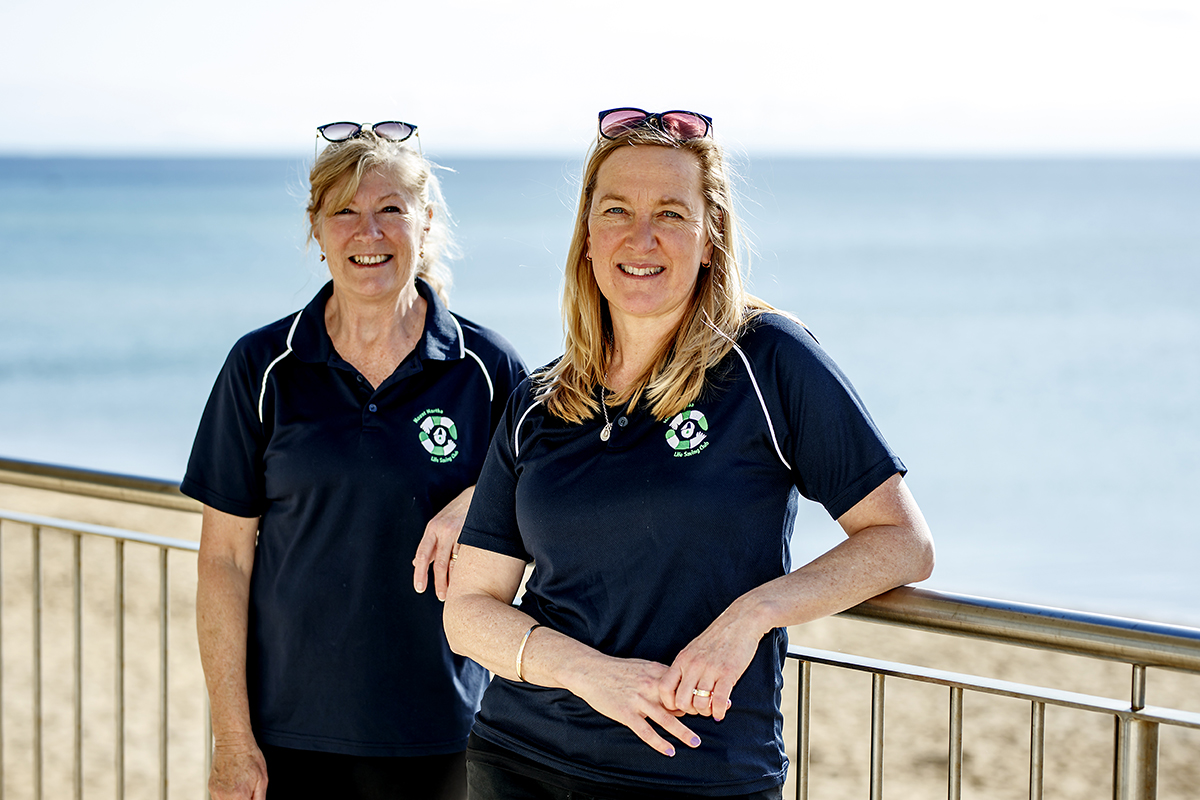 By Joe Novella Photos Yanni and Kim Edwards
One of the great benefits of writing for Peninsula Essence is you get to meet wonderful human beings, and we have plenty of them here on the 'Ninch' including Sarah Hilli and Julie Marshall, both long-term members of the Mount Martha Life Saving Club (MMLSC) and Program Managers for the club's Starfish Nippers program.
Starfish Nippers is a program for children older than six and young adults who have special needs. Their disabilities include autism, attention deficit disorder, Down's Syndrome, Cerebral Palsy, Asperger's Syndrome, physical and intellectual disabilities and learning difficulties. The program has been running for five years at MMLSC.
I asked Sarah how the program started. "I attended a Life Saving Victoria Conference, and I saw a presentation from Anglesea Life Saving Club promoting the Starfish Nippers program.
So I showed the MMLSC Committee a video of the program, and asked if we could start one.
"MMLSC had recently been rebuilt and I thought it was the perfect venue for Starfish Nippers. We had beach-matting to allow people in wheelchairs to get to the water and we had a lift, disabled toilets and change facilities. Our committee's response and support was amazing. They said to go for it, so we did. Julie and I started with one Nipper and it quickly grew to 5 in our first season. We now have 15 Nippers."
Kim Edwards is the parent of two of those Nippers, Holly and Cooper. Holly is 19 years old and on the severe side of the Autism Spectrum, being non-verbal and in need of constant care. Cooper is nine and also on the Autism Spectrum on the high-functioning side. "What I love about Starfish Nippers," Kim said, "is even though it's a program specifically for kids and young adults with special needs, the participants are made to feel like everyone else. They share the beach with other Nipper programs and they get to wear the caps and vests just like the other Nippers do.
"The other thing I love about the program is the way it makes the kids feel. Cooper may not be at the top of his class at school, but when he goes to Starfish Nippers and he can stand on a board or win at flags it makes him feel like he's good at something. And Holly just loves being out there; even though she's non-verbal she gets to interact with others through participating."
"So what's involved in a Starfish Nippers session," I asked.
"We start the session with a welcome and hello," said Sarah, "followed by a warm-up jog or stretch. Then we try to fit in rotations of beach games, flags, belt and reel, life saving and beach safety, swimming, boards, aquamat fun, just to name a few! We are pretty flexible with our sessions and change our program to suit the weather, interest levels and water conditions.
"And, there are no prerequisites. The kids don't need to know how to swim. Each Starfish Nipper has a designated helper that works with them, one on one, at their own comfort level and ability.
The helpers range from club members to Bronze Medallion qualified lifesavers. Some of our Nippers love the water and others are more hesitant. So their helper stays with them at the water's edge, or very shallow water, if that's what they prefer. There is no pressure to do anything they don't want to, only support and encouragement. And celebration if they overcome their fear."
It's abundantly clear the kids and young adults taking part in the Starfish Nippers program get a lot of benefit from it, but I'm also keen to find out what Sarah and Julie get out of it given they are volunteering their time to run it.
"Julie and I feel like the luckiest people to get to run this program," Sarah said. "The families we work with are wonderful, and we have so many club members offering to be part of the team. We are not special needs educators, we are just MMLSC members and lifesavers who want to share our love of the beach and water safety with people of all abilities. We hope one day to have one of our group becoming a patrolling member at the club!"
"For me," Julie said, "to watch the kids' progress is priceless. Kids that never thought they could stand on a paddle board yelling at their parents, 'Mum, Dad, watch me!' as they do it for the first time is beyond amazing.
"I also love watching the parents relax when they come to our program. They trust us with their kids and they get some precious time to sit on the beach and chill out, or have a conversation with other parents, something that many of them don't get many opportunities to do. So when I see parents sitting on the beach with a big smile, watching their child becoming part of our community and having fun, it makes me happy."
Starfish Nippers is free for the first year with sessions on Sundays from 10 am to 11 am through January and February 2022. The program is looking for sponsors to help make it even more accessible to special needs kids on the Mornington Peninsula so if you're a local business wanting to support a worthy cause, or if you're a parent looking for more information, you can contact Sarah at starfishnippers@mmlsc.com.au
The last words I will leave to Kim, mother of Holly and Cooper. "Starfish Nippers is the best thing since sliced bread and Sarah and Julie are amazing."
---
www.mmlsc.com.au/starfish-nippers