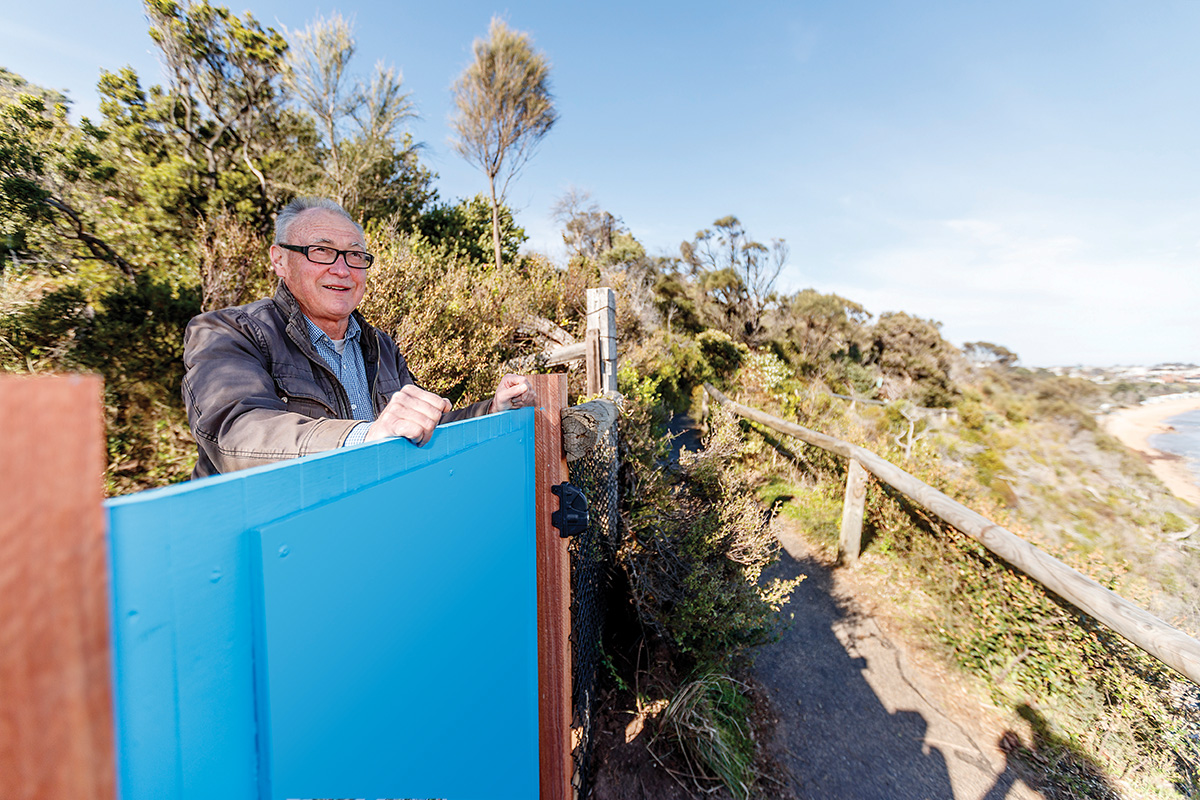 By Andrea Louise Thomas Photos Yanni
One of the best things about living on the Mornington Peninsula is that it is full of surprises. There are amazing people and places to be discovered at every turn. In Mornington, along the spectacularly scenic Beleura Cliff Path coastal walk you may notice a blue gate. Behind it lives a man not only dedicated to ensuring the future of this amazing public asset and its indigenous flora, but one who has also provided insight into Australian politics for decades.
Peter Nicholson enjoyed a long and successful career as a political cartoonist for The Financial Review, The Australian, The Age and The Nation Review. He won five Walkley awards.
He started his own film studio to make the iconic animated puppet series, Rubbery Figures, and sculpted the busts of six prime ministers from Malcolm Fraser to Julia Gillard.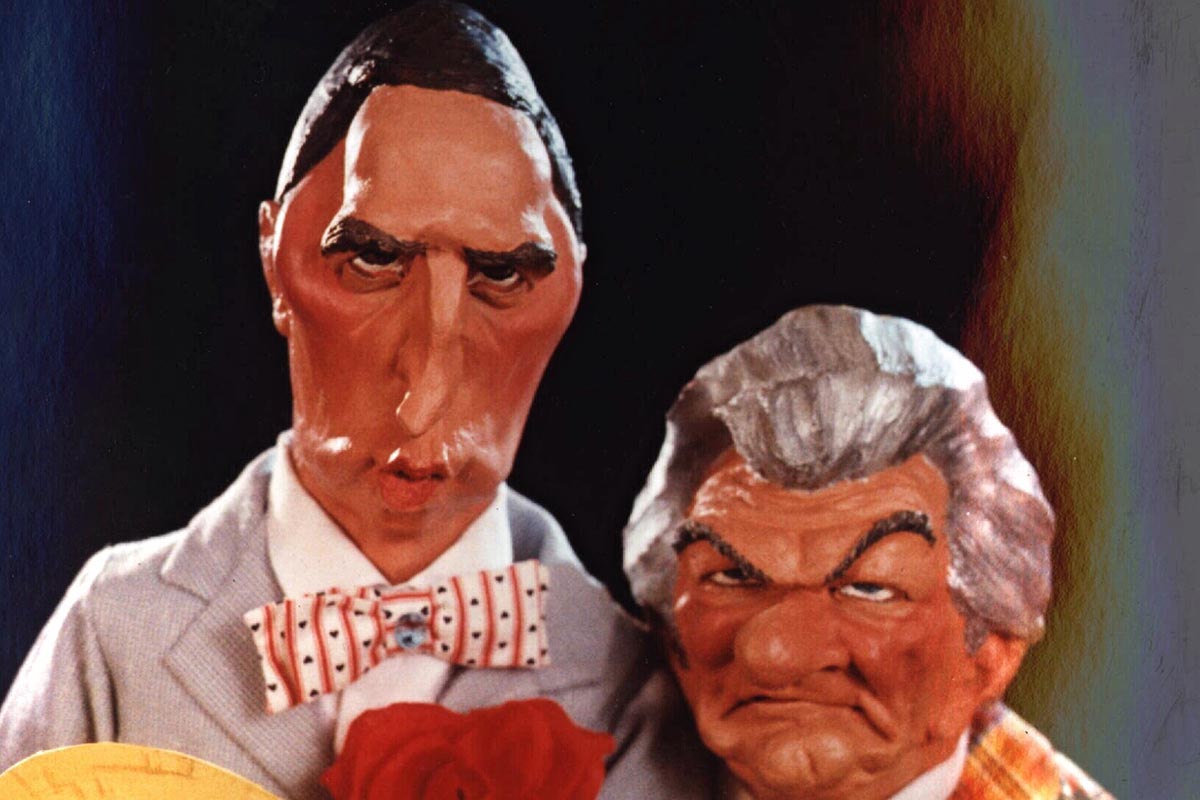 Peter never imagined becoming an artist. He was studying law (University of Melbourne), but dropped out in his final year. It wasn't for him. The Vietnam War was a hot topic at the time and he followed the politics of it closely. Inspired by the work of political cartoonist, Bruce Petty, Peter started to draw.
He went to Prahran Technical College to hone his skills. He started submitting political cartoons to The Nation Review and they were accepted.
Next, he went to The Age with a cartoon of Malcolm Fraser as King Lear dividing his kingdom amongst state premiers. The Opinion Editor loved it and asked for another the following week. Peter was on his way. Meanwhile, he was contacted by The Financial Review. They wanted him too. When The Age realised they might lose Peter, they offered him a contract. He worked there for next seventeen years.
Political cartooning can be a risky business with occasional backlash. Peter felt this early in his career when he made a cartoon of Gough Whitlam in bed with his wife. There had been a major earthquake during their trip to China. Margaret asks Gough, "Did the earth move for you too, dear?"
There was a huge hue and cry about this cartoon.
A few years after starting at The Age, Peter took a break. He wanted to improve his drawing and illustration skills so he took his family to live in Italy for a year. It provided inspiration and endless sketching opportunities. He gained valuable insight into the relationship between drawing and sculpture.
When he returned to The Age, Peter started sculpting caricature figures to help his drawing skills. He also made caricature puppets and then opened his film studio to create Rubbery Figures, a popular television program of the 1980s and '90s famous for its timely satire and merciless political lampooning with characters voiced by Paul Jennings.
In 1993 the Rubbery Figures puppets, along with some of Peter's cartoons and bronze caricatures, were featured at The National Gallery of Victoria in "The Exhibition We Had to Have". In 1994 another solo exhibition, "The Rubbery Years" was on display at The National Museum in Canberra. It went on to tour nationally.
Peter began working at The Australian in 1994. Initially, he enjoyed great freedom expressing his political views in the Letters section, but when his views became a mismatch with the views of the paper, he shifted to the Business section. He retired from The Australian in 2016 though he has produced some cartoons for The Financial Review since then. Looking back, he says, "I was lucky that my career coincided with the golden age of newspapers."
One of his most interesting projects was sculpting the busts of six Prime Ministers for Ballarat Botanical Gardens Prime Ministers' Avenue. Creating a likeness with only one sitting to capture a 360-degree view in video and one sitting for sketches proved challenging.
His favourite is Julia Gillard, though it was the most difficult. She allowed him to sketch her for three hours while she worked at her desk. He had to do it silently without disturbing her. She was so absorbed in her work that she didn't even notice when he left!
Peter described Kevin Rudd as 'jumpy' because his sitting was just prior to having to meet with the banks after the 2008 Global Financial Crisis. Paul Keating offered a running commentary on Peter's Rubbery Figures puppets during his sitting. Malcolm Fraser dictated letters to his stenographer as Peter captured his likeness.
Nowadays, Peter is more passionate about plants than politics. He has dedicated himself to learning everything there is to know about Coastal Headland Scrub, the species of flora indigenous to his property and the area that runs along Beleura Cliff. His property, in his family since 1916, is now planted entirely with indigenous species.
Peter organised the Friends of The Beleura Cliff Path, a group committed to indigenous revegetation and working with Mornington Peninsula Shire Council to protect the path in perpetuity. The popular walking track was built with pick and shovel between 1916-1923 as a public walking path and access to the beach for local residents.
---
Information about the group can be found on their Facebook page: facebook.com/groups/beleuracliffpath or posted to the blue gate.
Cartoon images courtesy of:
www.nicholsoncartoons.com.au
www.theaustralian.com.au