By Brodie Cowburn Photos Supplied
A long journey for Tahlia Fellows has brought her back home. Tahlia lives in Skye, and began her footballing journey as a junior in the south-eastern suburbs of Melbourne. Years of hard work paid off this year when she was drafted into Hawthorn Football Club's inaugural AFLW squad.
The new Hawk cut her teeth in football as a junior at Lyndhurst, before playing seniors with Cranbourne and Casey Demons.
She says that her early footballing journey helped prepare her for the big time.
"I remember an amazing culture, and really enjoying my footy playing with friends from school," Tahlia said of her junior days. "I went on the play seniors for Cranbourne, played some rep games in inter-league, then got picked up by the Casey Demons."
Tahlia set the VFLW alight last season. Her form for the Demons saw her awarded the Debbie Lee Medal for most promising young player in the competition.
Her outstanding year caught the eye of AFLW selectors, and it wasn't long before opportunity came knocking.
"This year I had my first good crack at a VFL season. Five games in I had clubs start to reach out to me. It was very exciting and a really overwhelming process, but I was able to make my decision."
The decision was Hawthorn. Tahlia made history by becoming a member of the club's first ever AFLW squad.
Tahlia ran out for Hawthorn's first AFLW match on Marvel Stadium this August. Thousands of people turned up to watch the Hawks take on fellow expansion side Essendon – by far the biggest crowd the young forward has ever played in front of.
"It was the biggest ground most of us had ever played on. Women's sport hasn't had much of those opportunities," she said. "It was a surreal atmosphere with all the fans and everything.
I really hope we can see more of it in the future, and that it's not a one-off."
After a blockbuster round one match at Marvel Stadium, Hawthorn is taking its show on the road. The Hawks will play three home games this season at Frankston's Skybus Stadium, not far from where Tahlia calls home.
In 2022 the AFLW expanded to include all 18 AFL clubs, resulting in more opportunities for young players like Tahlia to make their mark. Although Hawthorn's AFLW side is in its infancy there is plenty of experience to be found. The squad is led by Bec Goddard, the first person to ever coach a team to an AFLW premiership.
"I'm very privileged to be coached by Bec. She has so much passion and so much knowledge and is a great influence on the competition," Tahlia said. "I've been learning from the senior players – Tilly Lucas-Rodd, Kaitlyn Ashmore, and Kate McCarthy all have so much experience at AFLW level. They are professionals and they work so hard."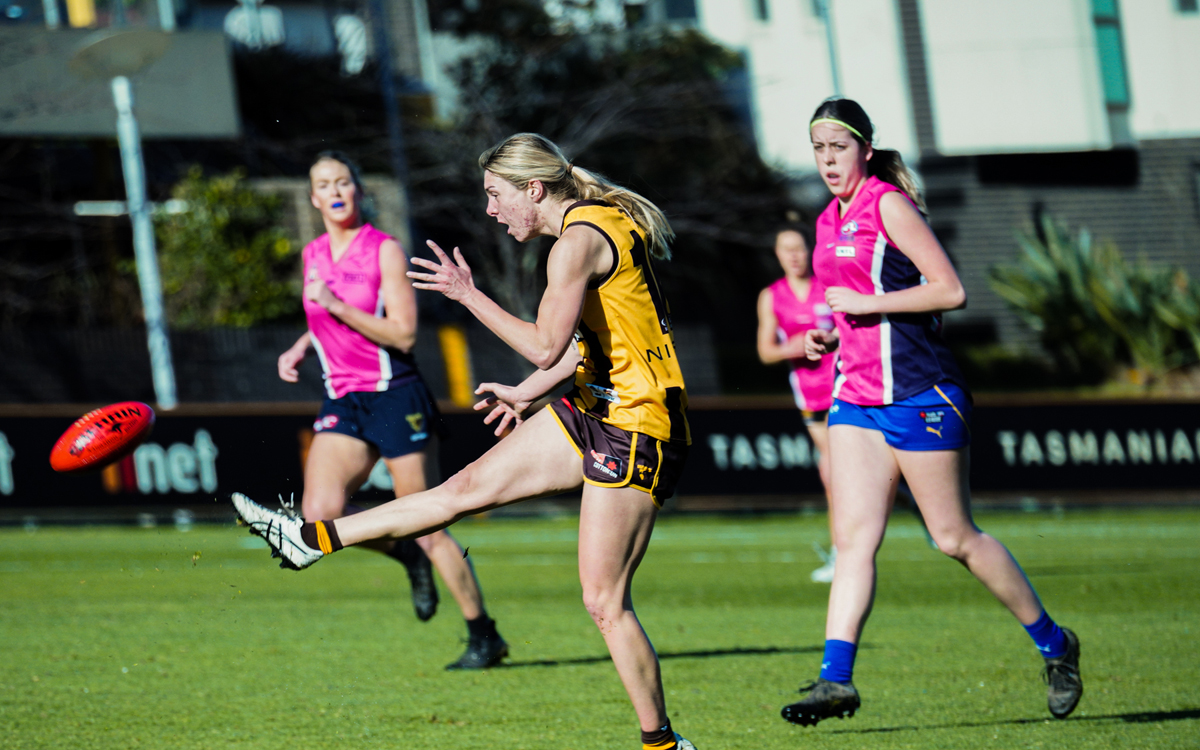 Hawthorn's AFLW side has only been playing and training with each other for a short time. Tahlia says the key to catching up to the established AFLW powerhouses will be to "work hard".
"Definitely as a new club we are going to progress every year. Our aim is to get better and better and be the best we can be," she said. "I've been privileged to come from Casey Demons, which has a high level of professionalism and standards. But the AFLW standard is still a jump – now we're surrounded by the best of the best who are at the elite level for a reason."
Although her sights are now set on bigger things, Tahlia hasn't forgotten where she came from. She credits two coaches with helping shape her into the player, and person, she is today.
"My Cranbourne coach 'Boomer' believed in me more than I did. He saw potential in me when I wondered if I could ever play AFLW and he believed in me," she said. "Peter Mercoulia was also a great coach. He didn't just care about football, he created a program that made you a better person on and off the field."
Tahlia is looking forward to the prospect of bringing football closer to home when the Hawks run out in Frankston. Skybus Stadium received new light towers in 2020, allowing televised AFLW matches to be played there.
"It's so cool and amazing for the locals to have something to look forward to. I'm excited for it and to see a local upgraded stadium host these kinds of events is pretty special," she said.
Hawthorn will play three AFLW games in Frankston this season. The Hawks took on the West Coast Eagles on 30 September and will meet Port Adelaide at 7.10pm on 8 October, and Brisbane at 7.10pm on 22 October.