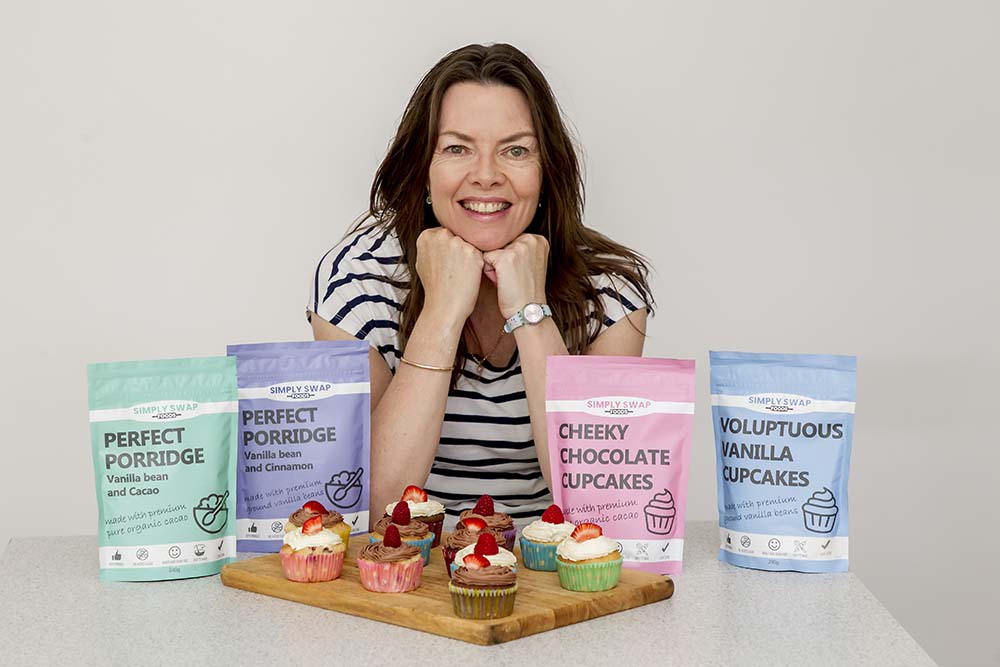 Linda Martinucci started Simply Swap Foods to help spread the word about the importance of changing to a real food low sugar diet to improve overall health and quality of life.
With a background as a food writer and cookbook author, she has spent the last 15 years following nutrition studies and medical research based on the best way to fuel our bodies for optimal health.
Three years ago, Linda made the decision to completely overhaul her lifestyle by switching to a real food diet which was naturally low in sugar and full of healthy fats. She was amazed to see 15kg of stubborn excess weight drop off (over a period of six months) and her energy levels and mental clarity increased to an all-time high. Her husband David also adopted similar habits and lost 20kg easily in around eight months, plus had energy he never thought possible.
One of the keys to successfully transitioning to this new lifestyle was being able to indulge in favourite cakes and desserts from time to time. She wanted to be able to enjoy family celebrations and not feel deprived during dessert time.
So, Linda went to work and spent countless hours in the kitchen perfecting the baking and porridge mixes that are for sale through her website. She knew that having low sugar treats to enjoy would be the key to sustaining this way of eating for life. She has also developed many low sugar recipes that taste just like their traditional versions and these recipes are available on her website and through ebooks.
All of the products are low carb, keto friendly, sugar free, use premium real food ingredients and plant-based sweeteners, have no artificial colours or flavours, no genetically modified ingredients, are pet friendly (no xylitol), super easy to prepare at home and taste great!
Linda says, "Our values are at the forefront of everything we do. We are so proud to be a 100% Australian owned and operated business and are passionate about education of our community around sugar and nutrition so everyone can live their best and healthiest life." To support this, each year, Linda we will be making a donation to SugarByHalf, an Australian not-for-profit organisation led by a team of health experts which provides education and resources so that Australians can live better, stronger and healthier lives.
Study after study is now proving that excess sugar is the main issue for many conditions in our community including obesity, type 2 diabetes, arthritis, inflammation and general low energy and loss of mental clarity.
Further to creating products that are beneficial to our bodies, Simply Swap Foods also strives to minimise environmental impact and have put lots of resources into sourcing services and products that are kind to the earth.
They use Sendle for most of their Australia-wide shipping. Sendle are the first parcel delivery service in Australia to offer 100% carbon neutral shipping and offer compostable sending satchels which are made from biodegradable materials. They also use recycled cardboard boxes for shipping cartons, packing peanuts which are fully biodegradable and compostable, and soft plastic product packaging which can be recycled through soft plastic recycling units found at most local Woolworths/Coles stores.
"The majority of our wraps and paper are sourced from environmentally aware businesses. We support Australian businesses and source our ingredients locally as much as we can", says Linda.
Linda hopes that her products and recipes will help others experience the enormous benefit of changing to a real food low sugar diet and taking care of the planet!
She said, "Simply Swap Foods is all about helping transition to a low sugar lifestyle by providing a range of indulgent and delicious, sweet premix products and free online recipes. I love creating nutritious treats for everyone to enjoy."
You really can have cake and feel great too!
---
Check out the range at simplyswapfoods.com.au and follow Linda on her Facebook and Instagram pages, @simplyswapfoods, for regular updates, photos and delicious recipes.