By Andrea Louise Thomas   Photos Gary Sissons
Simon West, head chef at Yabby Lake Winery, knows his cool climate regional cuisine. He has spent the majority of his professional career cheffing in some of the finest restaurants on the Mornington Peninsula, capitalising on the best ingredients the region has to offer. He cooks clean, honest food with an undeniable sense of place.
Growing up, Simon was fortunate to have a mother and grandmother who loved to cook. In fact, it was his grandmother's crispy skin roast duck for Christmas lunch when he was eight years old that inspired him to become a chef. He was obsessed with food after that. It also helped that Grandma had a cake and pastry shop. Sweet or savoury, there were great flavours in his young life.
His first job at Vogue House coffee shop in Mount Eliza gave Simon the inspiration to start cooking. The owner was a European lady who cooked beautiful old-school European food with sophisticated flavours. He wanted to be able to emulate that.
He started his four-year course in commercial cookery at Brighton Technical School before moving across in his last year to the newly built Chisholm Institute at Frankston. His apprenticeship was with Spotless Catering, a nationwide food service catering to big events like the Formula One Grand Prix.
Being a chef provides the opportunity to work anywhere so Simon was a bit of a professional nomad at the start of his career. He followed his love of sport, working in restaurants in Mount Buller during the ski season and North Stradbroke Island in Queensland during the surfing seasons. He also spent some time working in high-end catering overseas in London.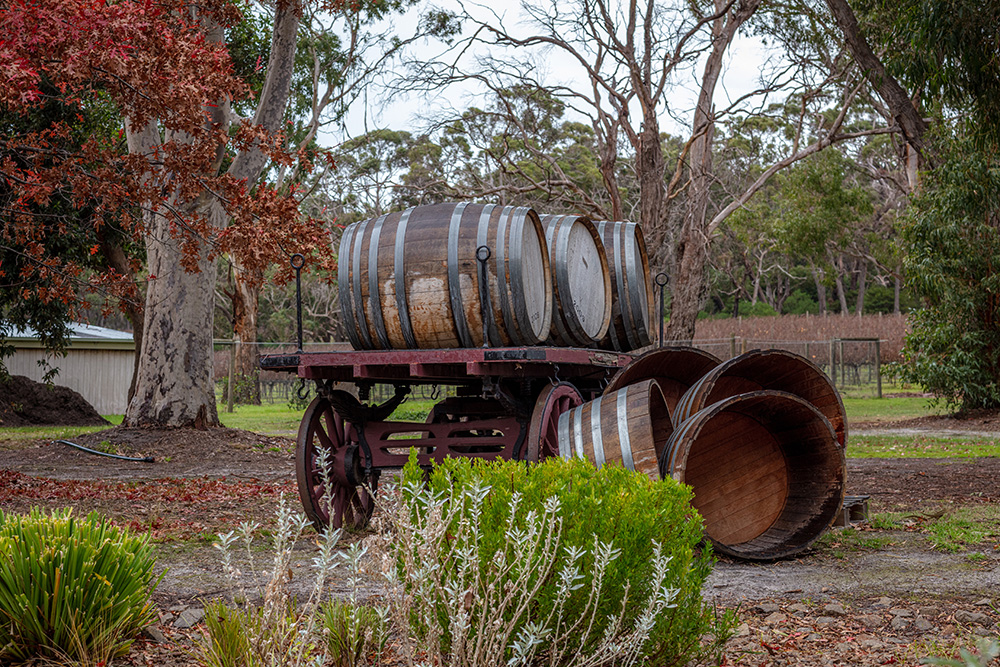 When he wanted to establish roots, Simon returned to the Mornington Peninsula. His first role as head chef was at Paringa Estate in Red Hill where he spent three years dishing up fresh, simple flavours from the finest local ingredients perfectly paired with cool climate wines.
Next, Tasmania lured him with the opportunity to work as head chef at Meadowbank Estate Winery. During his tenure there the accolades started to flow. Meadowbank was ranked one of the top ten restaurants in Tasmania and one of the top 100 restaurants in the Australia according to Gourmet Traveller Magazine. During this time, he also had the opportunity to travel to Hong Kong, promoting Tasmanian produce.
Simon returned to the Peninsula to help establish the restaurant at Port Phillip Estate in Red Hill. He spent four years there as head chef working 70 hours a week building a stellar reputation for fine dining in a spectacular setting. The restaurant was awarded a Good Food Guide chef's hat with Simon at the helm.
Having worked huge hours under high pressure, Simon was happy to take it down a notch. Accepting the role as head chef at Yabby Lake was a good fit as it's a lunch venue. It has given him more time to focus on family; he can get home in time for dinner, even if he is cooking it! Simon is very proud of what he and his terrific, tight-knit team is producing at Yabby Lake. "We offer honest, fresh, local flavours in a low key, relaxed, informal and elegant environment," he says.
Experience is what Simon brings to the table. He has an intimate knowledge of local, cool climate wines so he knows what ingredients to use in his cooking to complement them. It comes back to that sense of place. "There are so many good producers on the Peninsula. Everything is at our fingertips," he says. He sources seafood from the bays, beef and lamb from South Gippsland and predominantly uses organic herbs and produce from the Yabby Lake's kitchen garden and local producers. Eggs come from the estate's own free-range hens. Ethical farming is a strong focus for Yabby Lake. Their aim is to be completely organic in the future.
Letting the ingredients speak for themselves is foremost in Simon's cooking. "It's got to be fresh. You start with good product and minimise what you do with it. I like to follow the seasons. I get daily updates about what is available and run with that. In winter I like to focus on long, slow cooking techniques," he says. Simon is not interested in masking flavours, being fancy or pretentious; he just wants to make good clean food that people come back for time and again. And it's working. Come taste it for yourself.
Recipe
King George Whiting,
bay mussels, herb & caper butter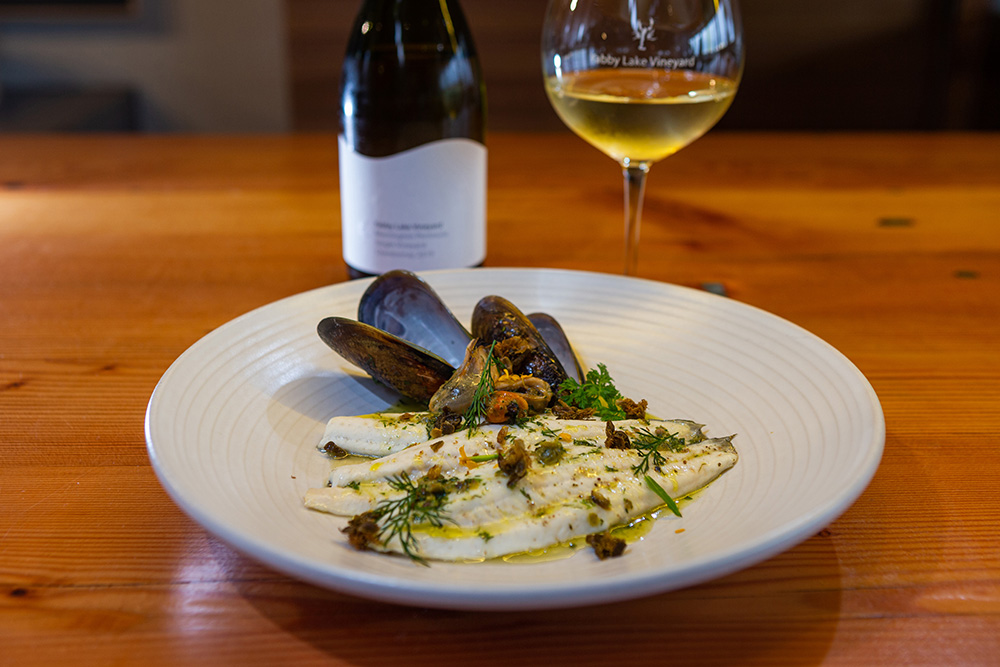 INGREDIENTS
8 x fillets of King George whiting (your fishmonger will fillet these for you)
1kg x whole mussels
150ml white wine
1 x small leek, sliced & washed
Sprig of thyme
100ml x olive oil
Pinch of sea salt
Pinch of cracked black pepper
200g x good quality unsalted butter-softened
100g of coarse chopped capers
4 x finely chopped anchovies
Zest of 1 lemon
Juice of 1/2 lemon
100g of fine chopped herbs-
chervil, tarragon, dill, parsley
METHOD
For the mussels
In a heavy based pan with a tight fitting lid drizzle a little olive and turn on to a medium heat.
Add the leeks and sprig of thyme and sauté until leeks are tender. Add the white wine and turn up the heat to high until it starts to boil then add the mussels and place lid on pan. Steam the mussels for 3 to 4 minutes or until starting to open then remove pan from stove top and allow mussels to cool slightly in their own juices.
For the butter
Combine capers, anchovies, lemon zest, lemon juice and chopped herbs with the softened butter. Mix thoroughly and return to the fridge to firm.
For the whiting
Heat the oven to 250C.
Place fillets skin side down on a lightly oiled oven tray and drizzle with a little more of the olive oil, season with sea salt & cracked black pepper.
Place the whiting into the pre heated oven to cook for 3-4 minutes.
To Finish
Take some of the mussel meat from their shells and reserve some in the shell for garnish.
While fish is cooking add the butter to a saucepan and gently warm until it starts to melt, add the mussels and a little of the mussel cooking juices until warmed through.
Remove whiting from the oven and place onto 4 warmed plates.
Drizzle the warm butter and mussels over the top of the fish and enjoy!
Best served with a Yabby Lake Chardonnay!
Note: whiting could also be pan fried or placed under a hot horizontal grill to cook.
---
Yabby Lake Winery, 86-112 Tuerong Rd, Tuerong
P: 5974 3729