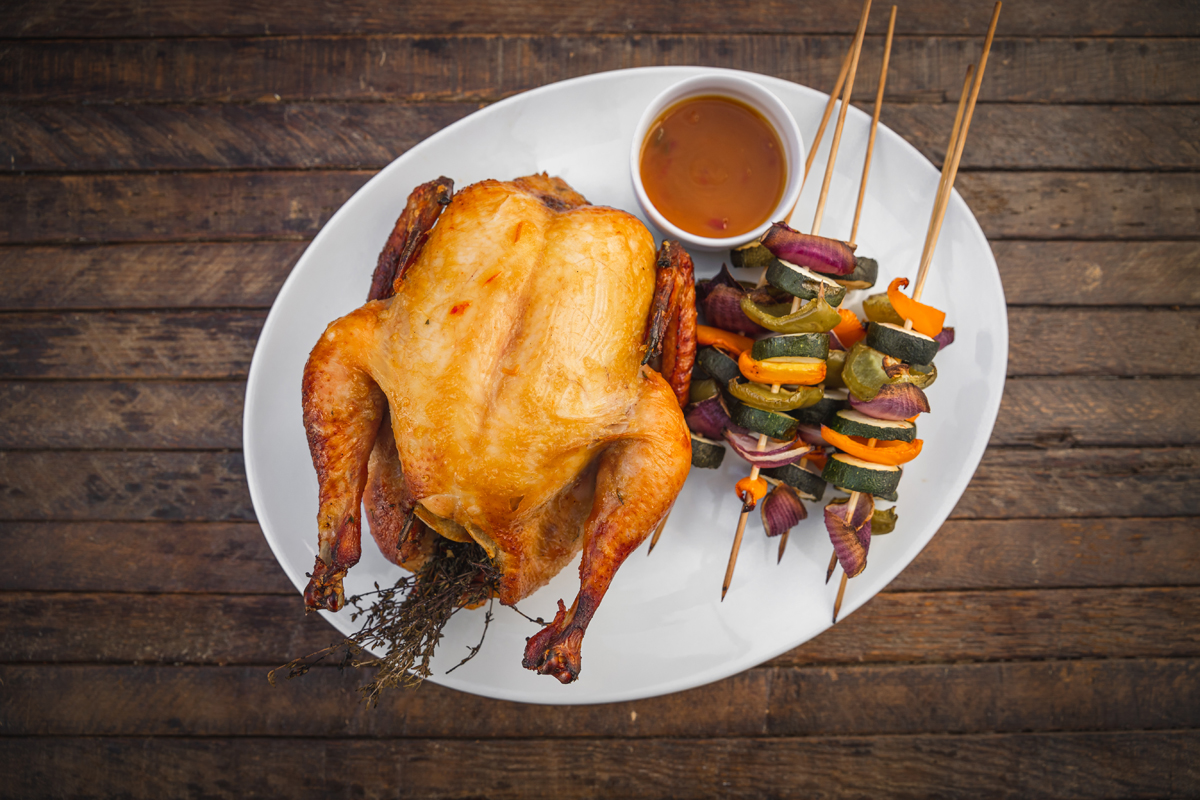 Serves 6
Ingredients:
1.5 kg whole chicken
1 lemon, halved
4 garlic cloves, smashed
5 sprigs of thyme
2 tablespoons butter, melted
1 cup Traeger Mango Habanero Glaze or glaze of choice
Brine
⅓ cup salt
1 lemon, quartered
4–5 sprigs of thyme and rosemary
2 tablespoons brown sugar
4 garlic cloves, smashed
1 tablespoon black peppercorns
Mediterranean grilled vegetables
1 zucchini, sliced into 1.5 cm thick rounds
1 red onion, quartered and layers separated
1 orange capsicum (bell pepper), sliced into 1.5 cm pieces
2 tablespoons olive oil
1 teaspoon sea salt
2 tablespoons lemon juice
Method:
Place the brine ingredients in a saucepan with 2 cups of water and simmer over medium heat until the salt is dissolved. Remove from the heat and allow to cool to room temperature, then add another 2 cups of water. Stir to combine.
Pour the brine into a container large enough to fit the chicken, then submerge the chicken, breast-side down, in the brine and set aside in the fridge for 12 hours or overnight.
Remove the chicken from the brine and rinse it thoroughly to remove the excess salt. Pat dry with paper towel, then stuff the chicken with the lemon, garlic and thyme and rosemary. Combine the butter and glaze in a bowl, then brush this all over the chicken.
Preheat your grill to 100°C and set it to Super Smoke mode. Close the lid and increase the temperature to 140°C.
When the grill reaches the desired temperature, place the chicken, breast side up, directly on the grill grate. Insert a meat probe into the thickest part of the breast and cook, with the lid closed, for about 3 hours, until the internal temperature of the meat reaches 65°C. Increase the temperature to 180°C and continue to cook the chicken for another 30 minutes or until the internal temperature reaches 75°C.
Remove the chicken from the grill and rest, covered, for at least 20 minutes before carving.
Meanwhile, to make the Mediterranean grilled vegetables, in a large bowl, toss together the zucchini, onion and capsicum with the olive oil and salt. Alternately thread the vegetables onto skewers, then place on the grill and cook for 3–5 minutes, until lightly charred. Flip the skewers and cook for a further 3–5 minutes, until the vegetables are soft.
Remove the vegetables from the skewers and place on a serving platter. Drizzle the lemon juice over the top and serve with the smoked chicken.