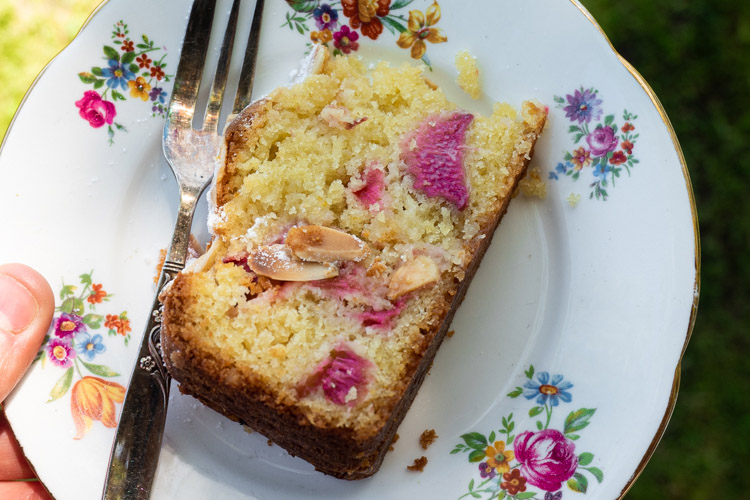 Ingredients
150g softened unsalted butter, chopped 150g caster sugar
Zest of an orange
2 free range eggs, at room temperature 1 tsp vanilla extract
100ml buttermilk
150g self-raising flour, sifted 150g almond meal
100g white chocolate, chopped
200g rhubarb, ends trimmed and cut into small chunks 25g flaked almonds
Icing sugar, to dust
Method
Preheat your oven to 170°C (fan-forced). Grease a 20cm springform cake tin with butter and line with baking paper.
Beat the butter, sugar, and orange zest in the bowl of a stand mixer, (or in a large bowl using handheld beaters), until thick and pale.
Add the eggs, one by one, allowing each to combine well before adding the next. Pour in the vanilla and continue to beat until combined.
Fold through the flour, almond meal, and milk, followed by the chocolate and rhubarb. Spoon into the prepared tin, and then scatter the flaked almonds over the top.
Pop into the oven, on the middle shelf, and bake for about 50-55 minutes, or until a skewer inserted into the centre comes out clean. Cool cake in the tin for at least 10-15 minutes before removing and placing onto a cooling rack.
When ready to serve, dust with icing sugar.
It makes a perfect picnic cake to share with friends and can also be dressed up with a dollop of crème fraiche sweetened with a little icing sugar for a very simple summer dessert.
Cook's note
*If you don't have a springform tin then you can use a regular tin, just be careful when inverting the cake as you may lose a few almonds off the top, simply pop them back into place.
**Raspberries, strawberries, or blueberries also make a wonderful alternative to rhubarb.
aminikitchen.com I Insta: @amy_minichiello_