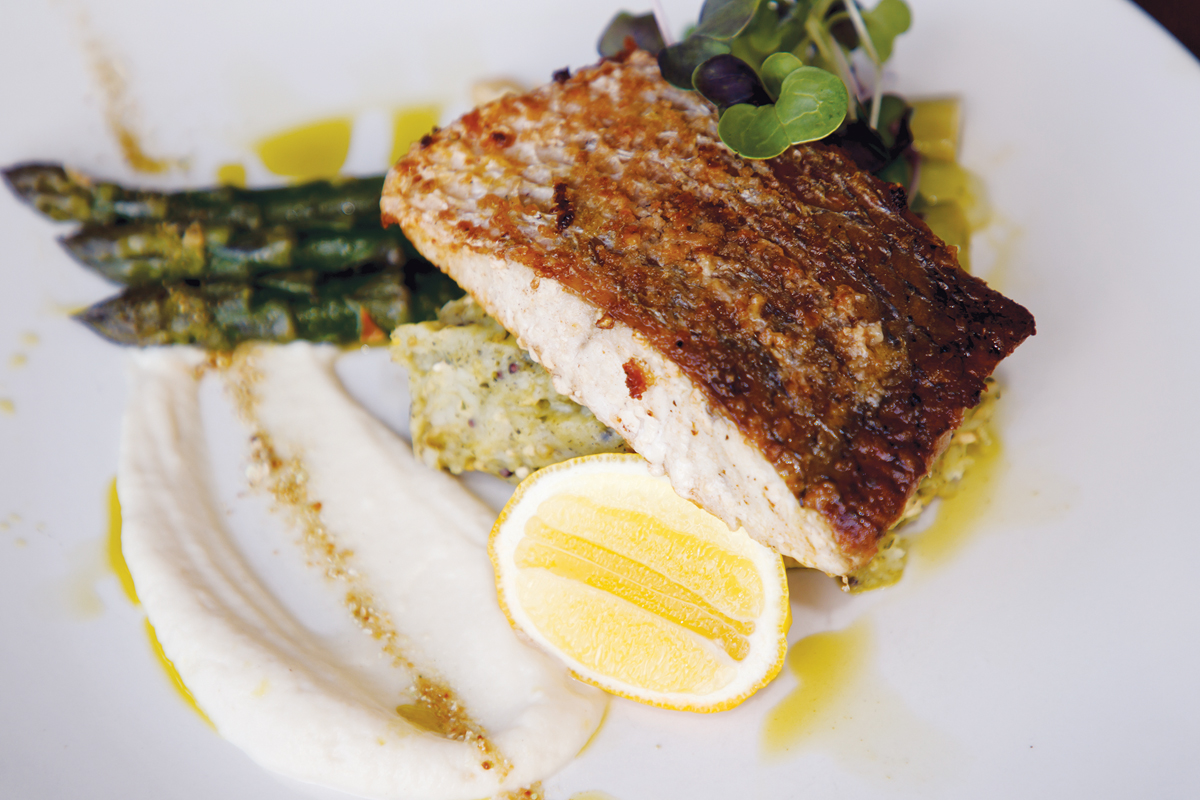 (GF) COOKING TIME: 10-15 MINS
SERVING: 1
INGREDIENTS
200g Barramundi fillet skin on
14.5g Cauliflower puree (see recipe below)
120g Smashed basil chats (see recipe below)
4 pcs Asparagus
6g Butter
20g Almond flakes
1 tsp Basil oil
For garnish: Green ash (see recipe below)
1 pc Lemon cheek
Procedure:
Add vegetable oil and sea salt to the skin. Cook the fish, skin side down in the fry pan on medium heat until the skin starts to crisp or the flesh closest to the skin turns white.
Transfer the pan in to the oven 180 degrees for 8 min to finish cooking the fish.
Bring a small pan to the boil and blanch the asparagus until al dente.
Add asparagus, butter and almond flakes to a fry pan cooking until the almonds are toasted.
CAULIFLOWER PUREE (5 serves)
1 qtr      Cauliflower
½ cup    Milk
½ cup    Brown onion, minced
¼ tsp     Cumin powder
Salt and white pepper to taste
Procedure:
Sweat the onion on low heat (no colour), add milk and cauliflower cooking until cauliflower is tender.
Separate the cauliflower from the milk. Place the cooked cauliflower into a food processor and slowly add the hot milk while mixing until combined.
Add the cumin, salt and white pepper.
SMASHED BASIL CHAT (5 serves)
600g Chat potato
1 cup Basil pesto
2 Tbsp Seeded mustard
½ cup Baby capers
¼ bunch Spring onion
¼ bunch Parsley
Salt and pepper to taste
Procedure:
Boil the potatoes until soft
Meanwhile chiffonade the spring onion and parsley
Put all the ingredients into a large bowl and slightly smash together. Make sure the potatoes are still chunky.
Season to taste
BASIL OIL
¼ bunch fresh basil
⅛ cup Olive oil
Ice bath
Procedure:
First wash the basil and tear the leaves from the stem.
Bring a small pot of water to boil.
Add the basil to the boiling water for 15 sec to set the colour.
Remove immediately and cool the basil in Ice bath
Combine the basil and olive oil in the food processor blend it until smooth.
Strain oil through a Muslin cloth or Chux.
GREEN ASH (prepare ahead)
Broccoli stem or any hard green vegetables
Procedure:
Cut the vegetable in thinly, place in the dehydrator overnight.
Once the vegetables are dried out, put them in a coffee grinder or food processor to make a fine dust.
PLATING
On the plate spread a spoonful of cauliflower then place your basil chat in the middle. On the side are the asparagus with almond flakes. Place your Barra on the top of the chat. Drizzle with the basil oil and make a straight line of your green ash. Ready to serve.
---
Deoro by the Bay – 21 Skinner St, Hastings – 5979 3699 – deorobythebay.com.au