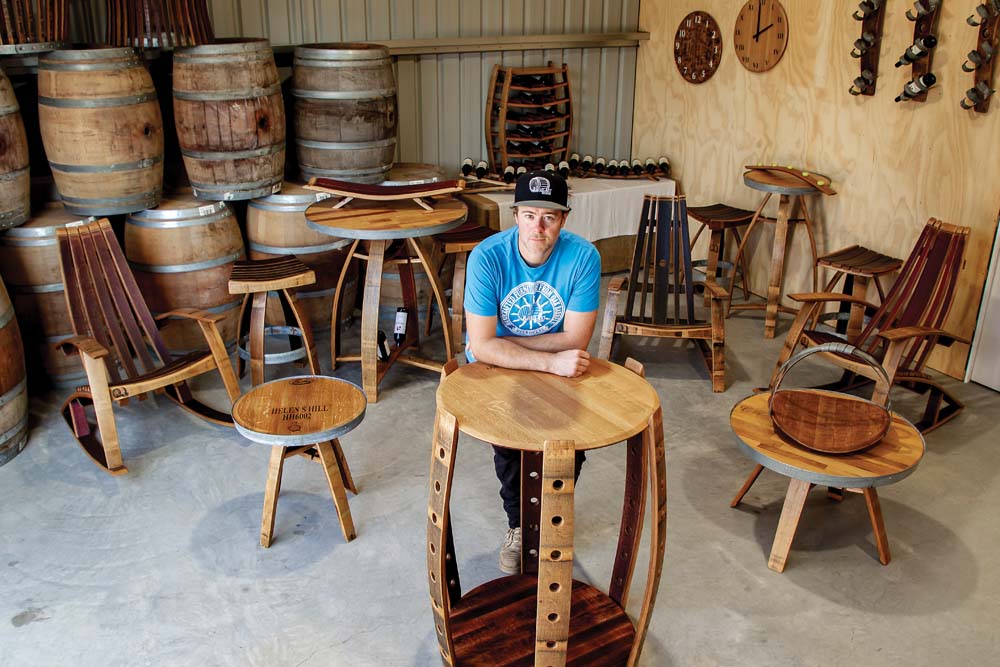 By Andrea Louise Thomas Photos Yanni
Who would think that an inanimate object could have a life of its own? Take the humble barrel for instance. The oak it's made from begins its life as a living organism, but once cut, it is considered a lifeless 'thing'. Well, barrels are a bit different.
Once their oak is staved and hooped and sealed by a cooper, the barrel becomes a living vessel. That vessel may hold wine, whiskey, beer, bourbon or rum, but each inhabitant of the oak lays down a layer of history and that barrel takes on a life of its own.
Some barrels date back hundreds of years. Over its lifetime it has many tasks to complete. A barrel breathes. It expands and contracts with temperature and weather. The oak absorbs the wine, beer or spirit as the barrel expands. As it contracts, it pushes the fluid back through its oak seams and the charcoal inside filters it. It's a perfect process.
Champion of the oak barrel and the many stories it holds, is fine woodworker Carl Smith, proprietor of Barrel Art Designs. He unpacks each story as he deconstructs the barrels and reconstructs them into functional art and furniture. He is dedicated to reclaiming these old storytellers and breathing new life into them.
Carl's passion is evident in the care he takes making each item in his range of handcrafted products. He loves discovering how each barrel unfolds and creatively reimagining its next incarnation. Clever engineering and beautiful design are hallmarks of his work.
His loafer chairs and rockers are a uniquely Australian take on the American Adirondack chair. Their smart design means his chairs fit virtually any body, though he can custom-make them to suit. "I use the right angles and take advantage of the curve. Not many people use curved timber, but it works for me," he says.
Each one-of-a-kind chair is made from an entire barrel and bears the marks of the hoops, interior stave stains and cooper's marks. His tables, bar stools, wine racks and wall clocks also bear their original maker's marks and coloration from the wine or bourbon that had been inside the barrel.
His original inspiration came from a family dinner party. There was a fruit bowl on the table made from a wine barrel. He loved the curve. This is where his journey began exploring the many things that could be made taking advantage of the curve. Through a process of experimentation his product line grew.
He started selling at local markets in Red Hill and Mornington before opening his own showroom in Langwarrin. He's been making his barrel oak products for over five years now and hopes to expand his business into a larger line of furniture, a range of custom lighting, making custom cabinets, and fitting out cellar doors.
Most of his barrels are sourced from the Mornington Peninsula where wineries are plentiful, but they would have begun their lives in France or America – some of them centuries ago. Bourbon barrels are harder to source in Australia as they often have to travel from America. Carl likes the bourbon barrels' deep internal charring, which makes for a strong contrast to the light coloured oak exterior.
Barrel Art Designs has a strong conservation and environmental ethos. Sadly, many ex-wine barrels are cut in half to be used as planters or burnt as firewood. Carl rescues barrels and makes them into products that have a very long, almost maintenance free life lifespan (though the furniture, if kept outside and not under cover, will need occasional re-oiling).
Carl uses eco-friendly food grade finishes and waxes on all of his products. These plant-based oils enhance the natural beauty of the timber, are UV safe and good for the environment.
It's important to note that as a solo craftsman, it takes a lot of time to make his products so patience is necessary when ordering larger items such as chairs, tables and wine racks. A single chair takes 12-15 hours to handcraft. Demand for chairs is high as spring rolls around and very much in demand coming into Christmas. A month's prior notice is always a good idea.