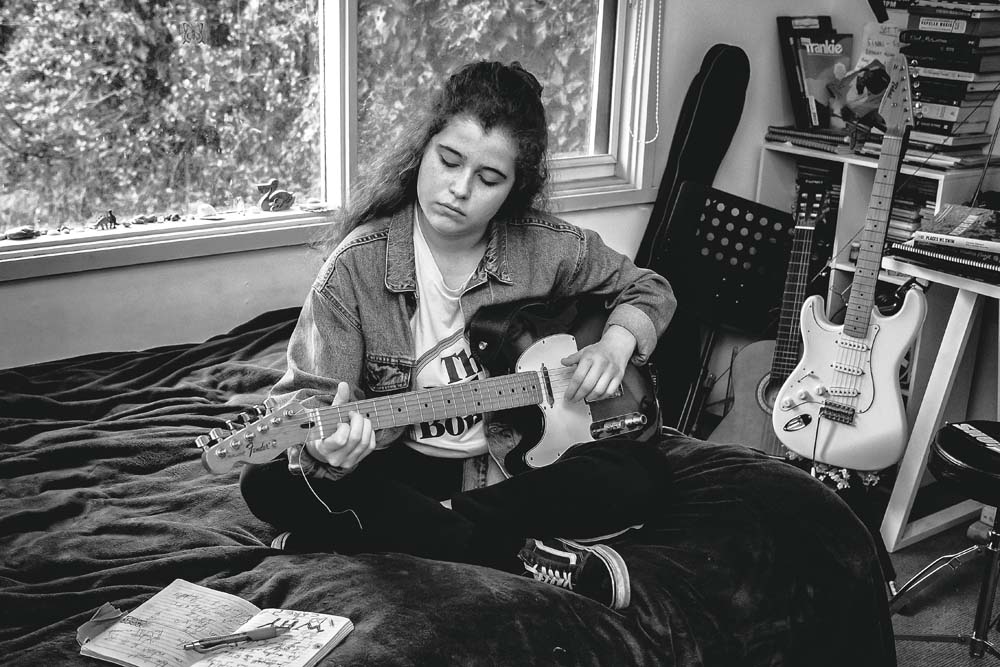 By Melissa Walsh  Photos Yanni
She may only be 17 and still attending school but Bridget Allan is a young singer/songwriter with a massive future. The Elisabeth Murdoch College student talks to Peninsula Essence about her love of writing and music and how important it is to put yourself out there for your passion.
"I have always loved music since I was a little girl and would sing around the house all the time," said Brigid from her home in Dromana. "Mum and dad organised singing lessons from the time I was six and, by year seven, I was learning guitar at school which took my passion for music and writing to a whole new level."
For Bridget and her band, with fellow musicians, Jake Hammill and Marlon Cini, the road is just beginning.
"We won the Push Music Comp Regional Finals, and the prize enabled them to record their debut EP 'Attrition of a Daydreamer' which came out the 18th of March, and has received airplay on Triple J, Triple R, PBS, 3CR, and SYN," said the peninsula girl. "That was fantastic and we now do local festivals and gigs supporting the likes of Rya Park, Slowly Slowly and The Hardaches."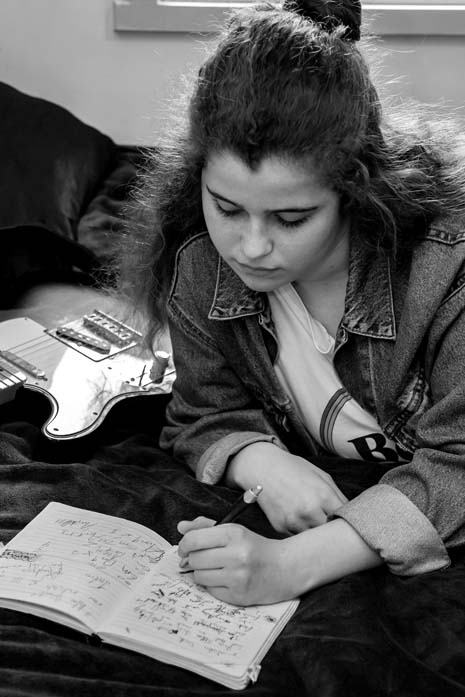 Bridget loves the vibrant local scene on the peninsula and has made some lucrative contacts with the Teenage Dad's lead singer who has lent the studio to Bridget and the band for their further recording.
"I absolutely love their music and reached out to them.
I couldn't belive it when they let us record in their studio in Mt Eliza. They have been so encouraging to us," said Bridget. "The Bridget Allan Band is recording our next EP, which has been written, over the last few months."
For Bridget, growing up with a musical dad has been a blessing.
"When I was younger, dad and I used to play the ukulele together to the Beatles songs. I still use his first guitar to this day," she said. "Dad even wrote songs when he was younger which I haven't had the chance to listen to yet but I hope to one day."
Bridget describes her music as rock with an acoustic feel.
"I play an alternative rock with the band and love lay-back acoustic. I like acoustic shows and relaxing with the crowd," she said. "Being under-aged and going to do pub gigs, I have to have parental supervision but mum and dad are great as they are willing to tag along."
Spending most of the time writing her music at home, Bridget says it is important for her to write about her passions.
"When I first started writing it was inspired by being a teenager and the discovery of rock music. Now I write about political and environmental issues without feeling like I am preaching," she said.
 "When I finish school I would definitely like to go and study more music but I'm not sure what yet. In the meantime it is so good to be able to play gigs on most weekends and be inspired by the wonderful musicians around the peninsula."