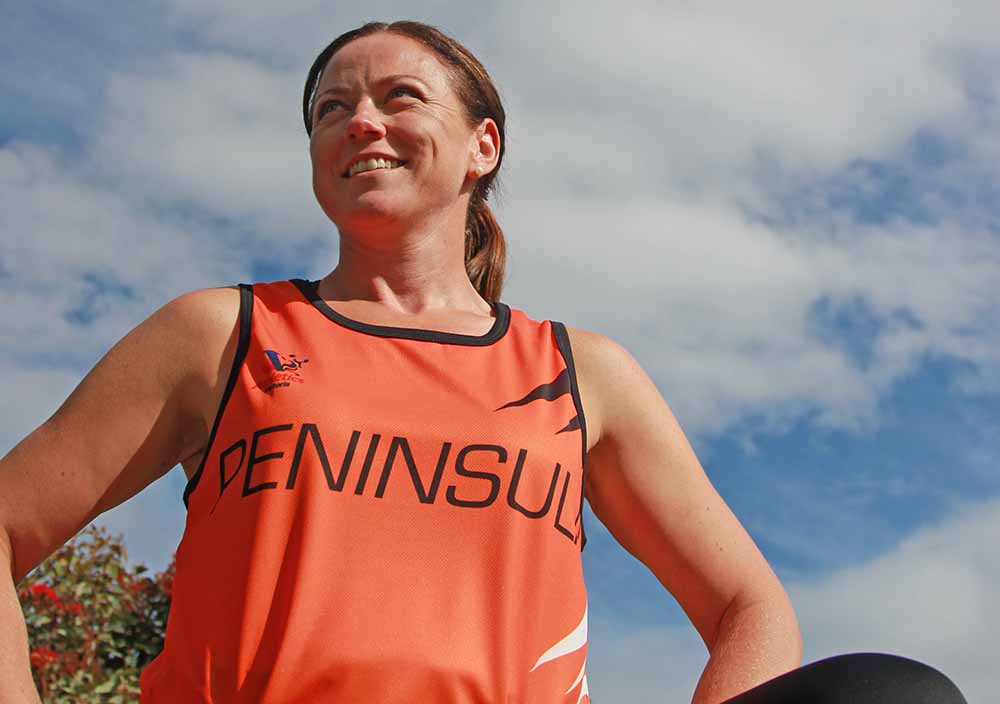 Photos Graeme Dahl, Jerrod Lim & Melissa McCullough
Rhiannon Lester has never been afraid of a challenge, personally or professionally. The mum of two moved to Mornington four years ago, knowing no one. She set up a life, started work as a myotherapist at Beleura Health and eventually took up her passion for sprinting and athletics again, culminating in a plethora of awards and ribbons. In April, Rhiannon took part in the Australian Masters Athletics Championships at Albert Park, and is ready to take on her next challenge.
"I had been into sprinting and all sorts of sports when I was at school and was actually quite good at it," said the track and field athlete who stopped after high school and was reminded how much she loved it about three years ago at a sports day at school. "There was a parents sports day at school and my daughter said you should go into the sprint race; that was three years ago, and I have done three since then."
For Rhiannon, who hadn't run a race in 22 years, getting back into the sport came easily, and since then she has won a series of events.
"I recently won the masters state championships at Doncaster where I put my name down for nine events as I love the multis," said Rhiannon, who won six gold, one silver, two bronze and five personal bests."I broke my record in the 60 metre sprint which I ran in 13.6 seconds.I am definitely getting there but want to shave off another second."
For Rhiannon, it is not about the medals but the personal bests which she sees as such a personal accomplishment.
"I fell back into it so easily; the feedback also pushes you to take that extra step, and I love having something to strive towards," said Rhiannon who is turning 40 this year. "The Masters' athletics offers fitness, fun and fellowship across a range of athletic activities for men and women aged 30 and over, and it is like a family environment where everyone is encouraging and you meet some inspirational people."
For Rhiannon, two people who have inspired her in her journey over the past three years are her coach, Craig Mahoney, and her 80 year old friend and mentor, Mike Hall.
"I have been so lucky to have met these people who have encouraged me endlessly", said Rhiannon, who has an ultimate goal of competing in Toronto, Canada for the World Masters Track and Field Championships in July/August 2020.
Training four or five times a week, and following a reasonably strict diet, Rhiannon says it has become second nature to keep up the routine.
"I tend to have lots of protein and carbs in the morning, with a few eggs, gluten free bread, a salad for lunch and dinner is usually protein and vegetables. I also drink apple cider vinegar with lemon and hot water," she said. "I love a glass or red or two as well."
---
For information on the Victorian Masters go to www.vicmastersaths.org.au