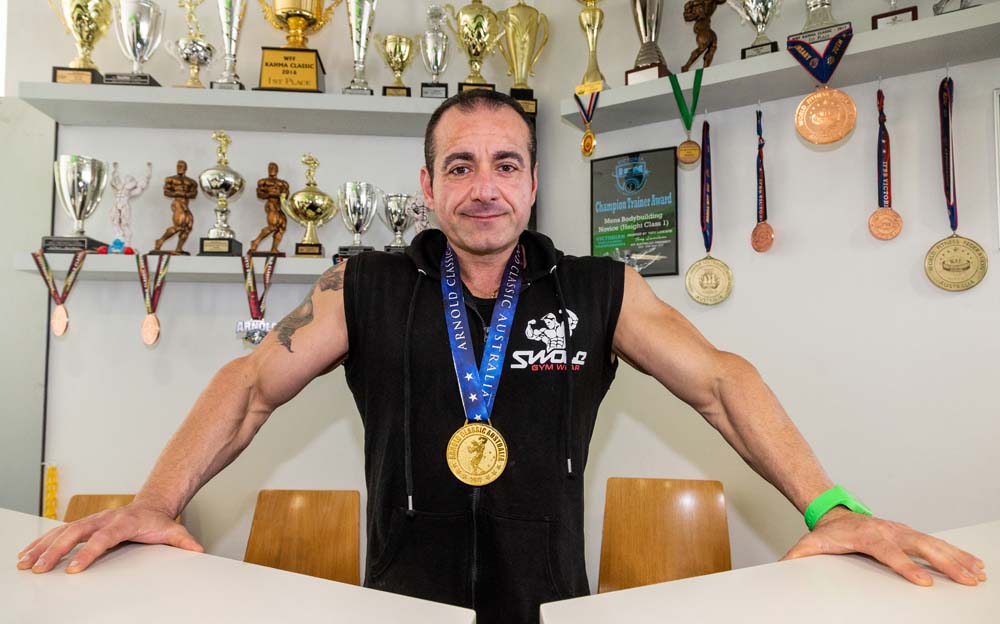 He's a former pizza shop owner who now owns a busy gym in Rosebud and has taken out some of the world's most prestigious titles in bodybuilding. Paul Jayilian at 42 won the world title for bodybuilding in Cypress last November, before winning the Arnold Classic in March.
"I had been chasing these titles for years," said Paul from his newly-opened Empire Fitness Gym.
"I went to America several times and then when they brought 'the Arnie' to Australia, tried again only to come in second and third. At last I won in 2017 and I was thrilled."
For his most recent acquisition, the world title in Cypress, Paul had to first tie down the Victorian title and then Australian, proving this athlete is not afraid of putting in the blood, sweat and tears.
"Mental strength is crucial in bodybuilding as we have to exercise and diet meticulously and train flat out to reach our ultimate physical shape. We have an off season where we eat seven meals a day to bulk up, then 12 straight weeks of strict dieting and exercising at least three-hours a day."
For the former pizza shop owner, the big test for him is not to eat chocolate.
"I can stay away from fatty foods and pizzas but I am a massive chocolate addict. I usually allow myself one cheat meal a week," he says with a laugh.
Being born in Lebanon and coming to Australia as a young boy, it was being bullied at school that made Paul take up kick boxing and started his road to fitness.
"I joined a gym in 2005 and that is where I discovered body building. I had put on 25 kilos after giving up kick boxing and wanted to get back into shape," said Paul, who was discovered by a trainer at the gym and inspired him to work towards competitions. "Within two years I was in competitions and won a string of state and national titles with my ultimate goal to win world titles."
With a long history and expertise in the body building industry, it was the next obvious step for Paul to open his own gym and so in April he achieved this with Empire Fitness in Rosebud.
"The process of opening the gym was easy. I was being sponsored by five different gyms, wanted to do something for myself and athletes but do it my way from what I had learnt. Since we opened we have been  inundated with memberships and have started training 20 athletes," said Paul, who loves everything about his job.
"Now I am prepping again to defend the World Championship title in America which will be on 3 November. For that I do one-and-a-half hours of training and then when 12 weeks from the event will start doing "cardio"; training will go up to three hours a day as well as cutting down food.
Empire Fitness is set up for everyone from beginners to extreme athletes.
"These machines won't hurt you in any way. They isolate the muscle and are easy on the body. All my members here are given a full program, whether they want to lose weight, tone or train for competition.  One thing for sure; I guarantee that I will put in a lot of time to help as it is my passion."