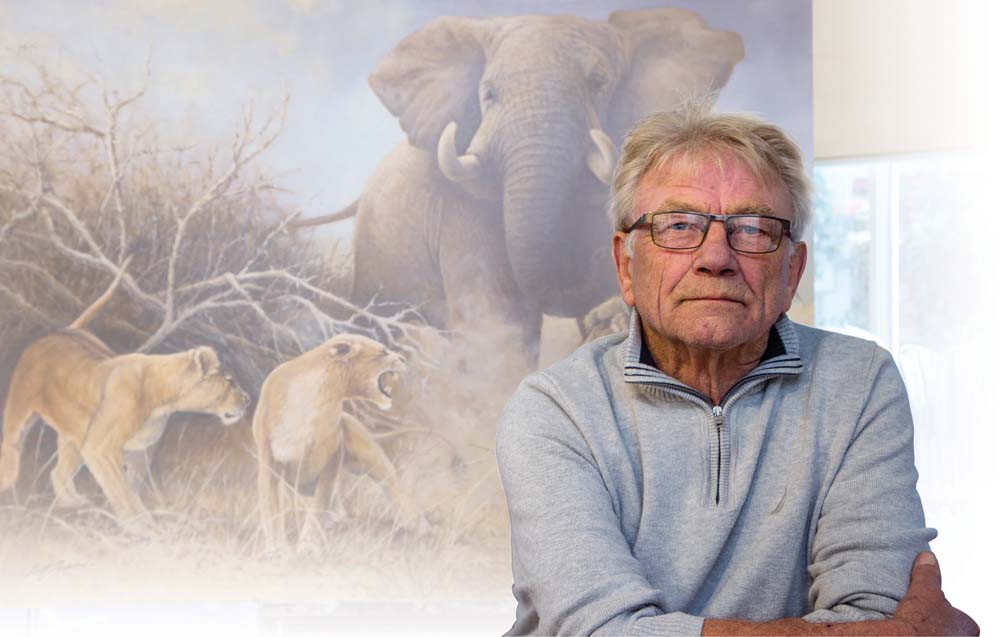 By Melissa Walsh  Photos Gary Sissons
With looks like a mature Daniel Craig and a twinkle in his eye, local artist Eric Shepherd is still producing diverse works of art, from portraits to wildlife and landscapes, even in his 80's. Peninsula Essence talks to the Mt Martha painter about his life of art and adventure, and the secret behind his youthful attitude.
"Art is a lifelong process of learning," Shepherd says as we sit in his home surrounded by decades of his work. "In my younger days I had to learn not just surface preparation and colour mixing but to paint everything, from sign writing, travelling amusement rides, gold leaf application and mural work, and I'm still learning."
Best known for his birds and wildlife art, Shepherd says starting out in the sign-painting industry was just what he needed to help develop a solid skill set.
"I started my working life as a sign painter, learning the ropes at a young age. In those days we had to learn the skill of creating colours and special effects, like painting the top of tables to look like they are timber," he explained.
His love of birds and wildlife started early, growing up in country England where Shepherd would spend plenty of time outdoors.
"We spent a lot of time in nature where I used to love to watch birds for hours," he says with a laugh. "They fascinate me; you sit and look at the bird and how it operates. You look at a little bird and you can become part of it in your soul. I also paint animals, elephants, lions. I can't stand cruelty to animals, or seeing animals being slaughtered, and have a spiritual affiliation with birds and animals."
With a passion for wildlife that began in the forests of Derbyshire England, Shepherd would seek out birds' nests, or just watch a kingfisher darting back and forth to its nest as he sat on the bank of a pond fishing with his friends. It was these memories that would be the catalyst for turning his talents to portraying his love of wildlife. He first started his working career as a sign writer, learning the skills of the bygone old masters, from wood graining, marbling effects, and gilding, to mural painting, which were all part of a sign painter's trade in those days.
As a young married man, Shepherd's wife saw some paintings of birds that she wanted to buy and that gave the artist the idea to paint them himself.
"I said 'We don't need to buy them, I can paint them for you'.  There was a particular artist at that time called Basil Ede and his work was immaculate. I decided I wanted to be as good as him and taught myself. I used to go the museum in England where they would let me borrow stuffed specimens to take home and paint," he said. "After completing my apprenticeship, I was employed as the sole sign artist for a large Brewery Co. in Nottingham where I produced pictorial swing signs and general signage, mainly all done in 23ct gold leaf," said Shepherd, who went on to become a studio manager for a large group of fashion stores in the Midlands, producing point-of-sale advertising for over one hundred stores within the group.
"After many years I decided to form my own company in pictorial signage and had a contract to work in Florida, USA, producing 60 x 20ft murals for the film industry," said Shepherd who was personally concentrating totally on painting wildlife when he made the decision to come to Australia.
"It was 1980 when I arrived in Australia with my wife and family and  I became a member of the Wildlife Art Society of Australasia," said Shepherd, who went on to receive many of the top awards in their annual wildlife art shows.
It was after a drive down to the peninsula for a music festival that the artist decided to move to Mt Martha and has since spent his time perfecting his craft with his work now produced on greeting cards, calendars and china for Maxwell & Williams.
"My work is mainly done in oils or acrylics on conservation canvas board, working from field studies and photographs," says Shepherd who was inspired by international artists Basil Ede, Robert Bateman, and Raymond Harris Ching, and has his work held in many private collections around the world.
"There is a certain preciseness that you must have when painting birds as true bird lovers will know every minor detail about the type of bird," said Shepherd who is a fan of realism and traditional techniques. "You need to research to make sure you're getting everything right from the eye to the bill to the claws, right down to numbers and which way the claws are pointing."
Always learning, the Mt Martha artist is working on a World War One battlefield painting commissioned for the  Holt Armistice 100 year art exhibition at Narre Warren Mechanics Institute Hall in October.
"I was commissioned to do a painting for the armistice and there are about 30 artists involved," said Shepherd, who loved the challenge.
With the same dedication that goes into each wildlife painting, Shepherd says a lot of research has gone into his oil on canvas work "Battle of the Somme" to ensure it was accurate.
"It is a mark of respect to get the image right, using information from the War Memorial, getting memorabilia, making sure the uniforms and rifles are correct as a lot changed between World War One and World War Two," says Shepherd, whose painting aims to evoke an emotional understanding of what it was like for the young men in the trenches. "I am trying to show the bravery and fear of these young men who are most likely going to get shot as they climb out of the trench."
Shepherd also paints portraits and is trying his hand at landscapes to keep pushing the creative boundaries.
"What I am trying to do now is look at the old masters' works and trying to see what they were thinking when they were painting that. It's a new interest of mine. Always keep learning."