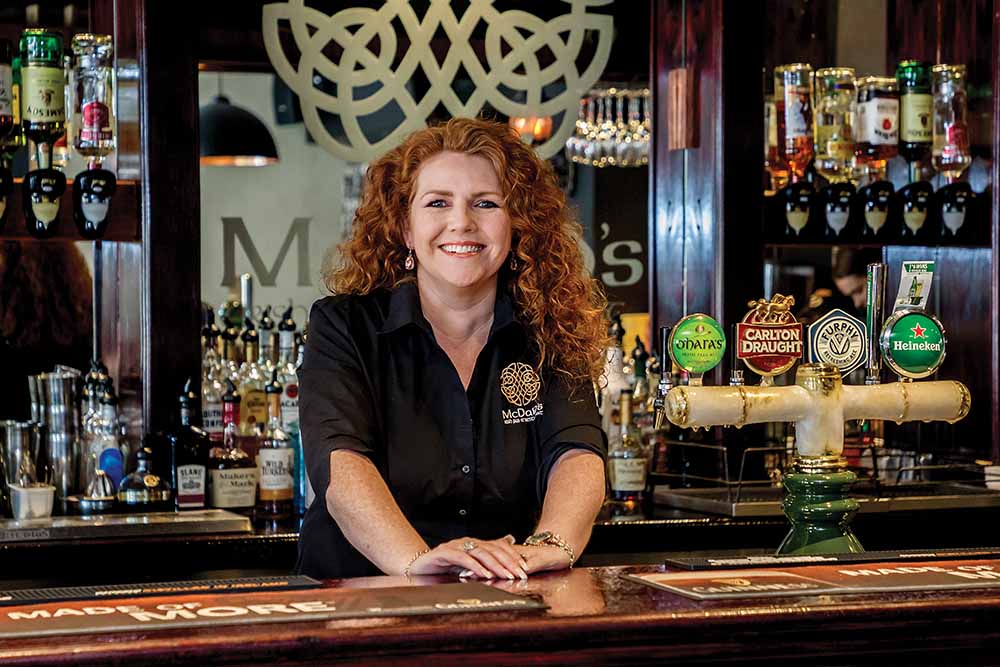 By Melissa Walsh  Photos Yanni
When you are born in Northern Ireland chances are you are going to be a tough cookie and this could not be truer of McDaid's Irish pub owner, Caroline Leslie who has seen her fair share of challenges but still retains that famous Irish humour and drive to succeed.
With her flaming red locks and bright blue eyes, the Irish go-getter was always a high achiever and now lays claim to the titles of business owner, author, makeup artist and mum, with her recent venture opening a real Irish pub in Rosebud with her husband, Peter.
The moment you walk in to McDaid's, it is like a slice of Ireland on the Mornington Peninsula where the sign 'Céad míle fáilte' literally means a hundred thousand welcomes.
"I had been thinking about opening an Irish pub for years, as I am very patriotic about my homeland and wanted to bring the feel of Ireland to where I live now," said Caroline, who has been a peninsula local for 23 years. "I grew up in County Derry in Northern Ireland which, as you can imagine, was a tough place. Dad was a painter and decorator and mum worked in the local factory which was the norm in those days. I did some time in the factories but always worked in pubs as a teenager, and was a true 'Derry girl'" said Caroline, who is still immensely proud of her Irish heritage. "As soon as I arrived on the peninsula I said 'This place needs an Irish pub' so I guess you could say I have been planning this for a long time."
For the published author, entrepreneur and business owner, and mother of three there was always projects on the go so it took the better part of two decades for the Irish pub idea to come to fruition.
"I had my own Home Maid Green Cleaning service for many years, released a book, 'Clean Green — It won't Cost the Earth' and have always found a way to set up businesses, but this opportunity came out of the blue," she said. "It was February 19 last year, my husband's birthday, and we were at the GPO Hotel having dinner. As I looked around I thought it would be a great Irish pub and asked our waitress if it was up for sale by any chance. To my absolute surprise she said 'Yes I think it is'. Cutting the dinner short, we went home and googled it and sure enough there it was."
The rest is history for Caroline and Peter who bought the business after many months of negotiation, and started renovating in August.
For the self-confessed "walking cliché of Ireland" creating the perfect Irish pub was a no brainer as Caroline had spent much of her youth working in pubs in Ireland.
"I knew you couldn't just throw some Irish memorabilia around and call it an Irish pub," she said with a laugh.  "We put lots of planning into the décor, using wallpaper that I got from Ireland, creating the mahogany bar, stonework and wrought iron. There is even a piano on the stage where patrons can get up and have a singalong."
It is the warm and welcoming attitude of Caroline that has made all the difference and created an environment where Irish charm and hospitality oozes through the walls.
"I think that people really feel it when they walk in and the response has been fantastic," said Caroline, who loves socialising. "I especially love that I can share a part of my own country with the place that I now call my second home. People feel like they have walked into a pub in Ireland every time they come in here, with the food, the Irish drinks and the hospitality."
McDaid's has an amazing collection of Irish drinks with Guinness, Kilkenny and O'Hara's Pale Ale and Magner's Cider on tap.
"We also support our local wine and beer industry so have a large range on offer for all our customers," said Caroline in her pub that fosters warmth and fraternity. "We have trad night every Wednesday which is open for all to come and join in and will be doing quiz nights soon as everyone loves a trivia night."
One thing's for sure; this is not an Irish-themed pub. It is the real deal where the hospitality is authentic and the barman knows the noble art of the two-part pour.
"Everybody loves an Irish pub and we are making sure that people of all ages get to experience the hospitality and inclusion that I grew up with. I called it McDaid's as that was my maiden name, and a little chance to honour my own family and history. And rest assured there'll be plenty of craic."
---
McDaid's Irish Pub is at 1003 Point Nepean Road, Rosebud.
Phone 5982 3200