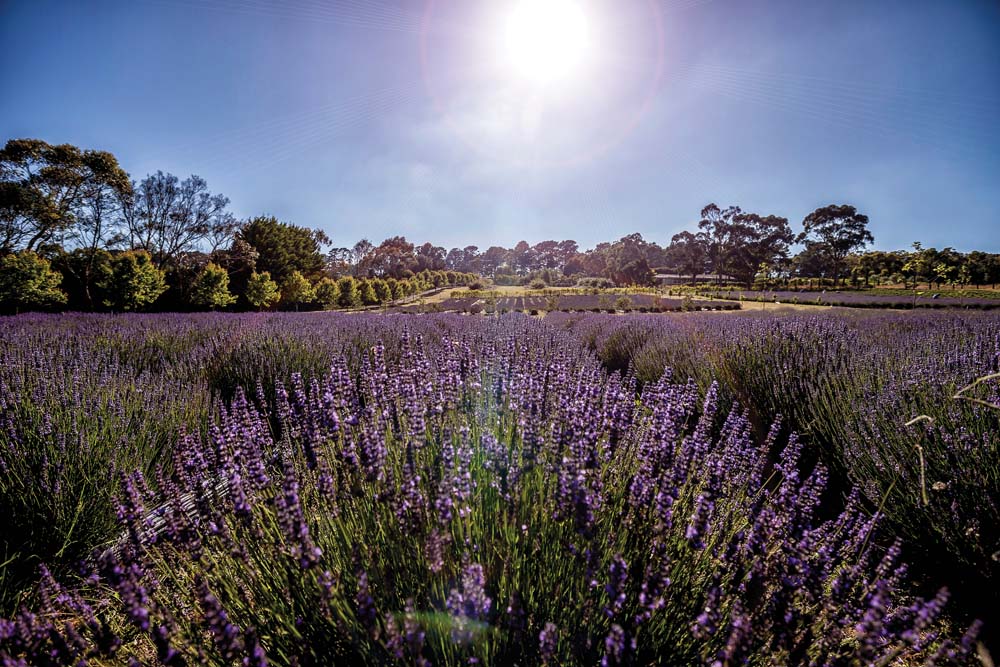 By Kristy Martin   Photos: Jarryd Bravo & Yanni
Kristy Martin visits the Red Hill Lavender Farm and Distillery and discovers a boutique operation where time-honoured traditions reign supreme.    
It is an overcast summer's morning in Main Ridge with grey clouds blanketing the sky.
An athletic blonde woman in a blue apron is crouched over a vibrant lavender field.
She is using a small rusty sickle to harvest the plants, one handful at a time.
Oblivious to the rest of the world, she purposefully packs the purple and green bunches into a wicker basket, while a golden labrador bounds playfully at her feet.
The fields are alive with the buzzing of scores of bees, a gentle hum that gives the scene its own sweet melody.
It is a romantic setting, reminiscent of regional France, and one you wouldn't readily associate with Victoria's Mornington Peninsula.
Welcome to the Red Hill Lavender Farm and Distillery, the peninsula's only commercial lavender farm and a place where time-honoured traditions are favoured over modern agricultural practices.
The woman harvesting the crops is Kylie Crump, owner of the 27-acre property with its rows of lavender, café and farm gate store, tranquil lake and farmhouse.
"Harvesting is a massive job, as you can imagine," Kylie says.
"We don't mechanically harvest for two reasons: the first being the fumes and chemicals from the machinery and the second that it  damages the plants.
"We hand harvest everything so it takes a good few hours just to do one row."
The farm is a family affair, run by Kylie and her husband, Brad, along with their four daughters aged 18, 16, 14 and eight.
The Crumps choose to keep their lavender pesticide and chemical free and opt to use traditional methods, like those preferred in provincial France, to harvest and process the plant.
This ensures purity and makes for a higher quality final product.
The family does all the harvesting themselves, along with a handful of workers, each summer when the lavender flowers.
They collect the lavender before stripping it, bundling it and hanging it up to dry or else it is placed directly into the distiller, which extracts the lavender oil.
"That is exactly what happens in France," Kylie explains.
"It's a simple process, really."
Lavender farming has been a huge learning experience for the Crumps, who had limited knowledge of the multi-faceted herb when they decided to plant the crops in favour of the property's established vineyard.
Kylie previously worked in clinical research and Brad, who is now in finance, comes equipped with a background in agriculture.
"We bought the property in 2007 and it was another Mornington Peninsula vineyard.
"Most people thought I was crazy for pulling out vines, but I don't know anything about wine, and I think it's a real passion for the people here that do it.
"You really have to love what you're doing when it comes to wine."
Kylie says the lavender has been a process of trial and error, and it all began with one throwaway line to her husband that it would be nice to look out over a field of flowers from the property's elevated café deck.
"I thought it would be really lovely to have something that flowered in summer, when all the people are coming down to the peninsula."
When someone suggested that the couple try lavender, Kylie began researching the conditions required to grow the plant and whether the orientation of the property would be suitable.
She joined The Australian Lavender Growers Association (TALGA), which to this day she still finds amusing.
"I knew absolutely nothing and did not have one lavender plant at my house," she laughs.
As part of her education, she spent a month in Provence, in southern France, where she got an insider's look at the region's famous lavender industry.    
In 2010, the family hand planted the first of five acres of lavender, a culinary variety called angustifolia, but it wasn't until three years in that they yielded their first oil.
"The first few years are really labour intensive," Kylie explains.
"The hardest thing about planting lavender, if you're not spraying, is the weeds.
"You've got to weed around (the bed) so you can find the lavender."
Today, the Red Hill Lavender Farm produces a range of natural botanical skincare products, including essential oil, hydrosol spray, soaps and hand wash, plus a range of candles, fragrance diffusers and tea.   
"Everything is hand made locally and none of it is synthetic; it is all natural."
Kylie says the benefits of lavender and its uses are wide-ranging.
"It stimulates the olfactory nerve so it is predominantly used for relaxation and sleep.
"It can also be used for skin conditions like eczema, or to treat stings and burns.
"They use it in pet shampoo for fleas, or it can be used for mosquitoes instead of citronella.
"It's phenomenal," she says.
"No one even has to do anything to it.
"It is amazing just as Mother Nature produces."
Kylie says that while most people recognise the purple plant, it can be tough convincing them that lavender is so much more than something you might find in Granny's sock drawer.
"We are trying to educate people to the fact it's actually quite contemporary," she laughs.
"But we also do a range of modern scents like lemon myrtle, orange and vanilla and French pear for the younger crowds."
Kylie and her team use traditional steam distillation to extract the lavender oil, a process used in France.
The still is located inside an old timber fishermen's shed at the rear of the property and resembles a huge pot, or kettle, topped with a mesh tray that the lavender is placed on for steaming.
The oil filters down a tube and is collected for bottling.
Some companies water down their oil to cut costs, but you won't find any of that here.
The hydrosol contains small quantities of essential oil, along with water-soluble properties from the lavender plant, and is actually a convenient byproduct of the steam distillation process.
The lavender that is to be sold as tea or in scented bags is stripped by a machine with a spinning brush and then hand sifted to clear out the dust.
It is fascinating to watch such antiquated techniques being used today.
"It's lovely," Kylie admits, "but it is a lot of work."
The lavender fields are open to the public from 8.30am to 4pm over summer (closed Tuesdays) and people can also visit the adjoining Main Ridge Harvest café (run by the expanding Epicurean Group) and enjoy excellent views of the lavender fields from the deck.
The property also features a stunning lake surrounded by native trees – a popular site for weddings – and the luxury four-bedroom farmhouse is available to be rented out by visitors looking to stay in the area.
While the lavender farm is definitely a passion project for the Crumps, who live in East Hawthorn, Kylie says she is always exploring new ideas and different ways to further use the idyllic peninsula property.
She talks about the potential to host yoga groups, to hold local produce markets and says it would even be the ideal site for a festival featuring local bands.
And for someone who took an unlikely idea and forged a successful business within a few short years, it is safe to say anything is possible.