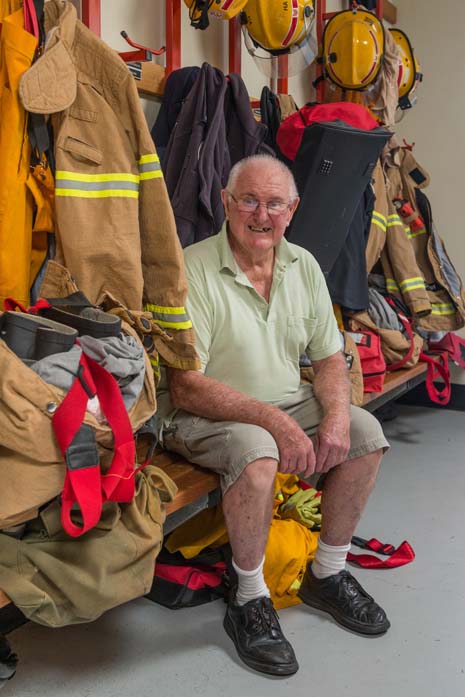 By Melissa Walsh
Photos: Gary Sissons
For six decades Michael "Squizzy" Taylor has been involved with the Mornington Fire Brigade, as a demonstration runner, fire fighter, trainer, representative at the VFBV (Volunteer Fire Brigade Victoria) and the VUFBA (Volunteer Urban Fire Brigade Association) and served as Captain for seven years. He has attended fires like Ash Wednesday, the Dandenongs, and Arthurs Seat on numerous occasions, and dealt with arson, accidents, and rescues big and small.
At 79 he still has a twinkle in his eye when he sits down to regale stories of the CFA years that have been such a big part of his life.
It didn't start out this way, however, as young Squizzy often got into mischief as a kid. In fact, his first run in was with the fire brigade after he and a few mates decided to light a fire in a paddock near their house.
"I was living in Wilsons Road, Mornington and was about seven. There wasn't lot to do in those days so me and a few buddies thought we'd see what happened if we a lit a block a couple of doors from our house.  We thought it would be fun but didn't realise it was going to burn the way it did," he said. "So the next thing along came the fire brigade and the captain who gave me a swift kick up the backside and said 'Don't do it again'."
Squizzy had moved down to Mornington with his family when he was four and has been here ever since, marrying his beloved Yvonne and raising two children, a girl Lizzy and boy Nicholas.
"I met Yvonne in Mornington when she was playing netball for St Macartans and I was playing footy for the local footy club. We were all part of a gang and hung out all the time," said Squizzy, who found himself in strife again 12 years later.
"At 19 I had my second mishap with the fire brigade although I never lit another fire. This time some mates and I had made bikes out of old parts we found at the tip on the corner of Craigie Road and Nepean Highway. There was some ripper things in that tip as the Yanks who were staying at Balcombe used to throw heaps away. Anyhow, we had our bikes and would ride down the steep road to the pier and then ride off the pier at the end into the water. The locals all knew it was us causing mischief but visitors were upset and screaming. One day, the then captain of the fire brigade, Stan Hutchins, who was also a fisherman, saw us. He grabbed me when I got out of the water and said "Do you run?" and I said "Yes" so he sent me to the top of the hill to go in the running demonstrations for the CFA. I ended up joining and going to heaps of competitions all over Australia in a running career that went for 28 years," said Squizzy, who will celebrate 60 years with the brigade in November.
For Squizzy, and many of the fire fighters, a lot of the appeal is the camaraderie.
"You meet some amazing people and get to have great experiences. I travelled a lot with the demonstrations and I also travelled with my positions within the two associations," said Squizzy, who has seen a lot of changes over those years. "For a start, when I first started going out to fires, I wore shorts and a t-shirt – basically whatever I had worn to work that day. We were never supplied with safety gear, so you just wore your work gear. There were ten coats that you had to share, but as captain you don't get a coat because you have to look after everybody else. In the 70s we got hard hats, but full protective gear didn't come in till around 2000."
For Squizzy and his wife, Yvonne, firefighting became a part of their life, at one point even having the FRS Recording system in their home.
"That was a phone that was connected to the fire station so we would get calls if there was a fire, and Yvonne would raise the alarm back at the station," said Squizzy.
The brigade would get in their truck, which was much more primitive than todays, and head to the fire.
"Some of us would go straight there depending on how bad it was," said Squizzy, who has seen it all over the past six decades. "I can't count how many people we pulled out of the bay because they did stupid things. We've rescued many kids with fingers in the plug hole requiring us to pull the bath apart, and rescued a heap of kids out of the tee tree that used to be in Mornington Park."
Dealing with arson was a regular problem for anyone in the fire brigade.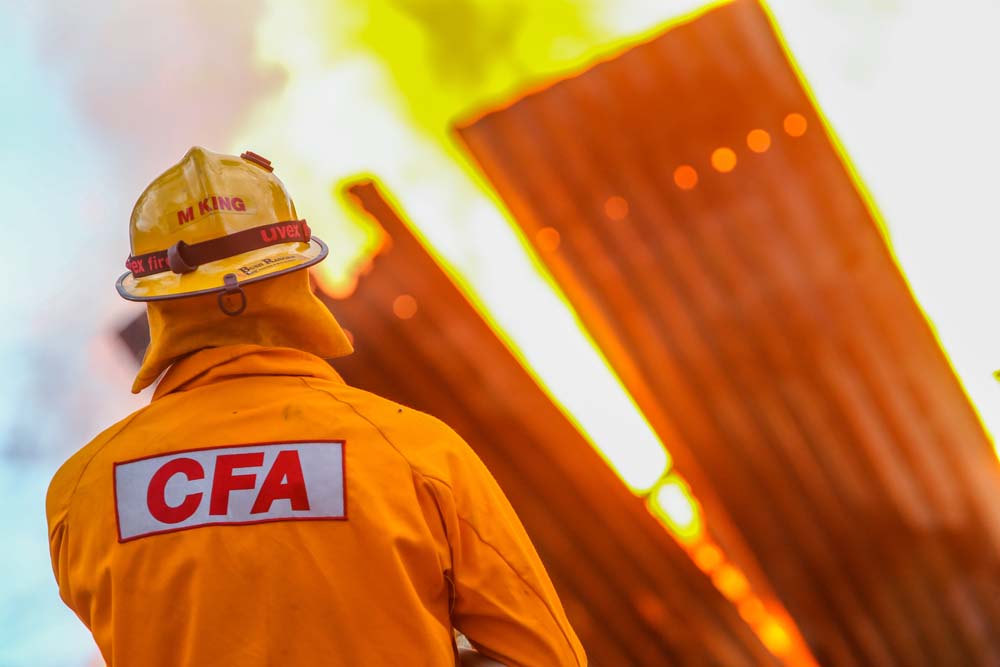 "We had to deal with arson as well and sometimes the arson squad would attend.  The first time we had them turn up here was when we lost the Overlander, which is where Bunnings is now. It was a restaurant like the Swagman, and the Waltzing Matilda which all burnt down, so the arson squad was there.  When they turned up we said "Do you need anything?" and they replied  "Oh yeah we could do with rubber boots, and then they said "Would you have a spare hammer and would you have a pinch bar?" They had showed up in a stolen car from their lot at the station as they didn't have a car to use, and they disappeared with all our stuff when they left."
These days, Squizzy admits all the organisations are a lot more switched on, including the arson squad.
"Now the arson squad and police are super tactical, and we have a more scientific approach too," he said.
"What arsonists used to do is dip a cat's tail in kerosene and light it and the cat would run around and burn everything in the place. That was something we got used to. When we lost half the Mornington High School, the arson squad were brilliant, and even came in a police car," he said with a laugh.
"Some arsonists used to put three inch nails in the fuse box which kept the fire lit. So the first thing we did was go to the fuse box when we got a fire."
Squizzy says a lot changed after the tragedy at Linton in 1998 when five volunteer fire fighters were killed.
"Linton changed things dramatically because there were so many people killed. They got out in front of the bulldozer which you should never do and they didn't have any water left. There's a line on the truck for water and you never get below that or you'll never get out."
Squizzy says when people ask about his worst fire he says it was a five sided one.
"That is when it is all around and over the top of you. It happened in Gippsland and we knew what we had to do. So we went down to the football field and put the fire trucks in a circle and sprayed the water over our heads and we didn't get burnt," he said.
These days Squizzy is found at the fire station every Monday night for training, as he has for the past 60 years.
He's not an active fire fighter any more but is still involved as a mentor, trainer and is always the first person in there to help.