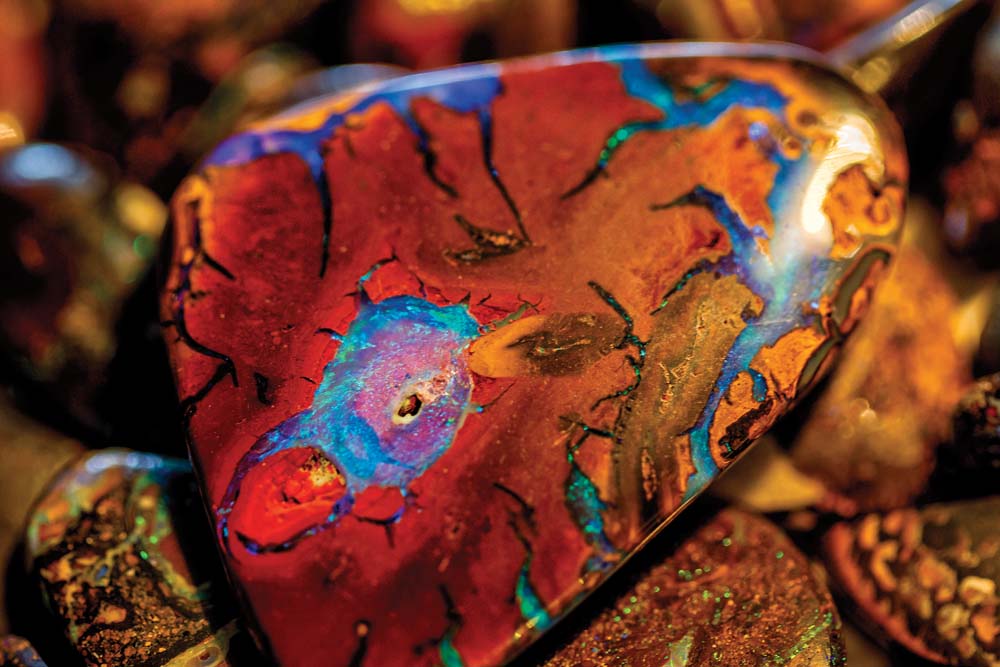 He's mined opals in Lightning Ridge, slept in a pool full of stingrays, lived in the same room as redback spiders and a pit full of tiger snakes for weeks at a time and at 73, the adventure for Nick Le Souef still continues.
The Australian daredevil known as "the spiderman" has spent his life travelling across the outback, but always managed to come back to his base in Blairgowrie.
"I first started out as a teacher, but during my university days would often head up to Lightning Ridge and mine for opals. From the time I got my first opal I was hooked, and so only lasted for a year doing teaching before I followed my true passion," says Nick from his Blairgowrie home. "My interest in nature and reptiles came from my father who was an avid naturalist and specialized in butterflies. I would say he was Australia's foremost butterfly hunter."
For Nick growing up in a household of creatures meant he was bound to follow a different path. With a dad who chased butterflies, an uncle who mined opals in Coober Pedy and a long history of relatives that started zoos across Australia, it was only right and just that Nick's forte lay in a more unique direction and his life's work speaks for itself.
"When my uncle introduced me to opal mining and the money you could make I immediately started imagining trading my Mini for a Jaguar," he says with a laugh. "That was around 1961 and I haven't lost the drive ever since."
So for many years Nick spent his time mining for opals in Lightning Ridge, living in Alice Springs and the outback, and venturing back to the peninsula for a couple of years to take over his father's Aquarium in Rosebud.
"During that period I decided to turn it into the Rosebud Marine and Reptile Park and that's when I did my first stunt of sleeping in a snake pit to draw attention to the business. I sent out press releases to the papers and radio stations, caught the snakes and put them in a pit and stayed in there for two and a half weeks," said Nick, who found the gimmick very successful. "That was my first bout of infamy and the following year I decided to do the same thing in a shark tank."
"This time I slept on a lilo for three weeks in a tank full of stingrays and jelly fish," said Nick who a few years later ended up staying in a shop window full of redback spiders in Melbourne for three weeks.
"There were about 400 of them until they started eating each other," said Nick, who suspected that spiders were more interested in each other and less in him. "Its not that I like spiders. I don't particularly but I didn't feel scared of them as I thought if I don't bother them, they wont bother me."
Turns out Nick was right and he remained untouched and unbitten for the three-week stint.
Between the opal mining and cutting, and reptilian adventures, Nick became somewhat of a celebrity, enjoying time on talk back radio on 3DB where he met some interesting and infamous characters.
"I have a picture in my store of myself with another radio announcer and a particularly well-known adult entertainer from the '70s and '80s. Its very funny to see the men's expression when they look at the photo and realize who it is while the partners cannot recognize her," he said.
Nick's photo gallery is a plethora of famous people, having met many celebrities through the opal industry.
"There was a girl called Nancy Spencer and she was as roadie for Bon Jovi and bought her roadie mates in and it was like a domino effect. She would look after the wardrobe for Bon Jovi, Melancamp, and Cher, and organize for them to check out the opals while they were here. Sometimes we would deal with the roadies and other times the band members. Black Sabbath were in town recently and the tour manager was in to check out the stock in our Melbourne store. When Neil Diamond comes to town, as I'm a good mate with his drummer, we would often catch up. And many times we are asked to set up a mini shop back stage for the various bands. I actually spent five days with Motorhead once and you can imagine how calm and peaceful that was," he says with a laugh. "One of my best customers was Joe Walsh of the Eagles, and Stevie Nicks is a good friend who rings me for opals as well."
Even though he's rubbed shoulders with the rich and famous, runs a successful opal mine shop in Melbourne with his children, lived among the Aborigines, who gave him the honorary indigenous name "Jungala", and continues to test the limits with snakes and spiders, Nick says he will never be far away from his peninsula home.
"I have always had my family home here from when I was 11. My Mum and Dad owned and operated the Blairgowrie store for years; my wife had a family holiday house in Sorrento so we spent a lot of time there. It's part of me, seared into my soul being here on the southern peninsula, I've lived in Alice Springs, Coober Pedy and Lightning Ridge but my heart will always be here."