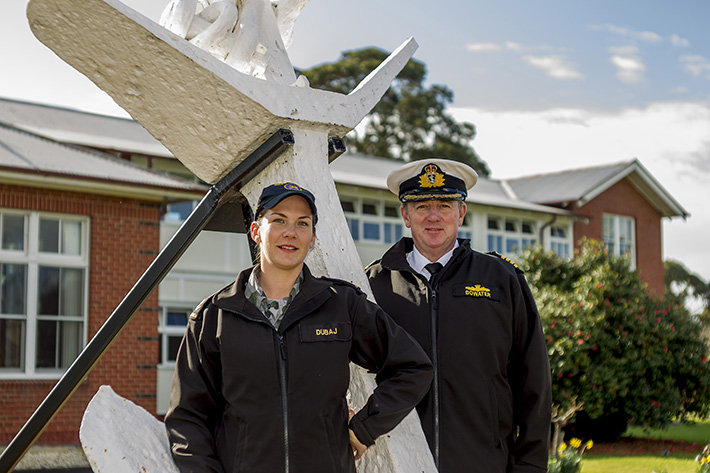 Leading Seaman Kirsten Dubaj always wanted to join the navy but being the only girl in the family with two brothers, her dad was a little surprised when it was his daughter who made the move at the tender age of 19.
"I wanted to travel and see the world and thought the best way to do it was to join the navy. So I left Queensland where we lived and travelled to HMAS Cerberus to do my training," said Kirsten, who was this year awarded Sailor of the Year 2016 and is the face of the HMAS Cerberus Open Day. "It was different to what I had expected in a lot of good ways. We have a real sense of family, bonding and teamwork."
Now 31, Kirsten has well and truly made a life in the navy with a burgeoning career as a communications officer and teacher, meeting and marrying her soul mate on the base, and having two beautiful children together.
"I met Julian when we were 20 and got married three years later. Life as a navy family is great. We live on the base and both get amazing opportunities for career advancement. Julian has just completed his officer changeover program at RMIT after four years and also has an engineering degree," said Kirsten, who admits one of her favourite parts of deployment is the sunsets at sea. "I went out on my first ship to Southeast Asia after three weeks and found out then I had sea sickness but you learn to manage it and then get to work with an incredible team and see the most beautiful sunsets."
While both Kirsten and Julian have to travel to various postings, the young family always make it work.
"This year we will spend 125 days together. When Julian gets back I am off to my next posting and he will be here with the kids."
Being named Sailor of the Year in December was another unexpected surprise for Kirsten, who says the only time she became suspicious was at the ceremony when all her friends and family were there.
"I had a feeling something was up and was shocked and delighted when they called my name," she said. "I am just doing what I love and it is a lovely surprise to receive an award like that."
For Kirsten and the thousands of navy personnel at HMAS Cerberus, having an open day on October 23 this year is an important way to showcase the work that is being done at the base.
The organisers are offering a great opportunity to come along and visit the Royal Australian Navy's premier training establishment and see incredible displays with the RAAF Roulettes, vintage cars, military bands, navy helicopters, local community displays and much more.
In collaboration with the Tyabb Aero Club there will be flyovers and vintage plane displays with a PSI Mustang Australian built plane from the Second World War, and one of the three part squadron that were stationed in Italy.
There will also be fast roping displays from the helicopter, a Navy diver team display, flight simulators, and the Seahawk to name a few.
HMAS Cerberus Open Day is on Sunday October 23 from 10am till 4pm. Entry via South Beach Road, Crib Point.
First published in Peninsula Essence – September/October 2016