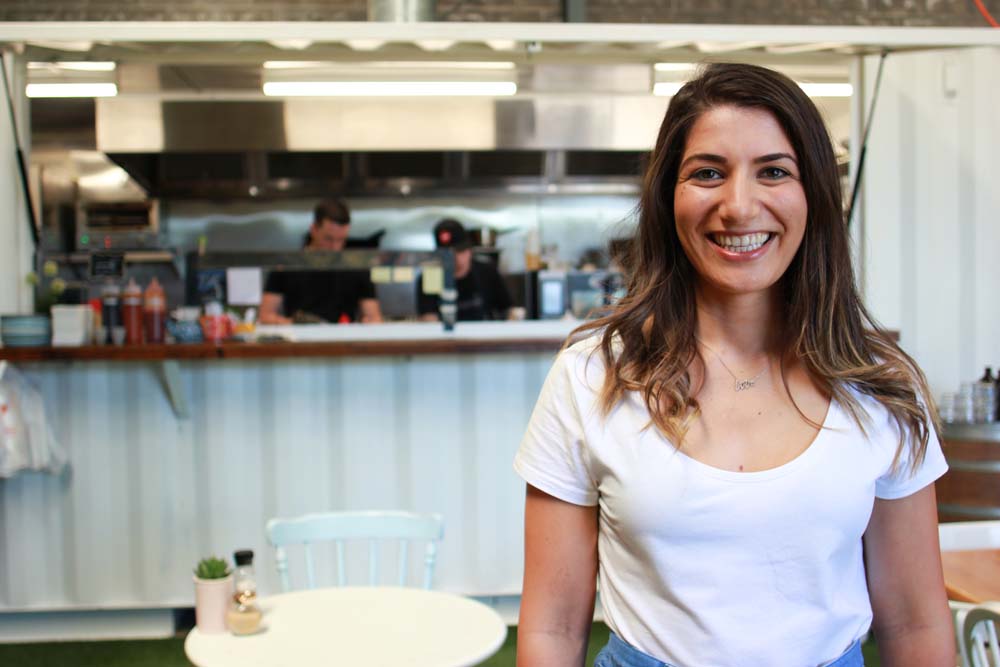 It is hard to imagine the leap of faith required to leave your family and friends, and travel to the other side of the world in search of a better life. Imagine not being able to speak a word of English, and starting from scratch in a foreign land.
This was the experience of Syrian-Lebanese migrant George Makool who arrived in Melbourne in 1971. It was a single-minded belief that life would be better here that spurned him on as he rode his pushbike to his factory job each day. He worked tirelessly to raise the money needed to bring his family here.
His wife and children arrived in 1974. Reunited at last, they continued to build, with George buying a milk bar.
It was his son, Eddie Makool, who went into the bakery trade, buying a small and run down bakery in Murrumbeena in 1998. It was called Oasis Bakery.
Over the years, the bakery flourished. They ended up taking over neighbouring shops and in 2010 completely renovated to create an enterprise that included a Middle Eastern bakery, café and grocery store.
The store in Murrumbeena is famous for everything from their shawarmas, falafel and meat plates right through to a huge selection of pastries. Not to mention coffee, grocery lines, and mouth-watering breakfast and café menus.
Hugely popular, the Makool family have now spread their wings with a "pop-up" shop in Mornington, and the promise of huge things to come.
"We'd been looking for a new site for some time," said Mornington Oasis Pop-Up manager, Jessica Makool.
"My cousin went along to the auction for a vacant block of land on Nepean Highway, and bought it. It was as simple as that… we think it was meant to be!"
Jessica was working as a supervisor at her uncle and aunt's Murrumbeena store when her cousin tapped her on the shoulder.
"He asked me if I'd like to manage the new store," said Jessica.
"After that, nothing was said for a while until I received a text message from him saying 'have you hired staff yet?'. I quickly got organised and in two weeks had all my staff hired."
The Makool family aren't ones to sit around and ponder. Rather there is a 'get in and get it done' attitude.
"Once we decided to do the pop-up café, it was all hands on deck," said Jessica.
"We literally repurposed the existing shed. Uncle Eddie made the counter. We then commissioned a shipping container that was built into a fully-functioning commercial kitchen."
The food served at the pop-up is the same as the food in the renowned Murrumbeena store.
"We run a smaller menu here while we operate as a pop-up, but apart from that, there is no difference at all".
The Makool family have built a successful and innovative business on the foundations of exception food and peerless service.
"People probably think that the owners of a company like this one would never be seen, but that is far from the truth," said Jessica.
"They are at the bakery every day, making sure things are running smoothly".
Jessica puts the success of the store down to commitment and passion.
"We have a great family and I believe the warmth we show each other shows through to the service we offer our customers and in the quality and consistency of the food we provide."
Presentation is crucial to Oasis. The food is not only delicious but beautifully presented.
"I believe that food must be beautiful; like a piece of art," said Jessica. The social media savvy 26-year-old runs the pop-up's Instagram page, and is quickly building a loyal following.
"You eat with your eyes first, so when the food looks beautiful, people know they are going to taste something very special."
And the visual presentation of the food is just the beginning. At Mornington's Oasis pop-up there is something for everyone.
There are a number of options for the sweet tooth, including blueberry buttermilk hotcakes (blueberry buttermilk hotcakes with caramelised banana, berry labneh, rose meringue and maple syrup), or the delightful waffles (baked waffles with, passionfruit curd, Turkish delight semifreddo, pomegranate gel, grape molasses and a choc rose duqqa).
The savoury dishes have close ties to the family's Lebanese roots, with Lebanese Breakfast (traditional scrambled eggs with soujouk, ful medames, olives, grilled halloumi, tomatoes, cucumber, chilli labneh balls & pita), and a crowd favourite Teta's Lamb & Eggs (grandma's  recipe of seared lamb with scrambled eggs and maras chilli on sourdough with green pea-shoot salad).
The Nepean Highway site is huge, and Oasis Bakery has plans
to match.
"We are going to build something spectacular", said Jessica. "The plans are at council at the moment, and the building will have a function room and a bar upstairs, a restaurant and café downstairs, plenty of light and space with outdoor gardens, and even a petting zoo for the kids!"
They are hoping to make a start in the new year.
"It will be amazing. It will be much bigger than our Murrumbeena store, and will showcase our proven products in a venue with a modern look and feel," said Jessica.
Now open for five months, Oasis Bakery's Pop-Up in Mornington is quickly building a loyal client base with their improvised store. Don't let the outside fool you. Oasis Pop-up is refined and sublime. It is a foodies paradise, and if you haven't eaten there yet, well…. you've really never eaten.