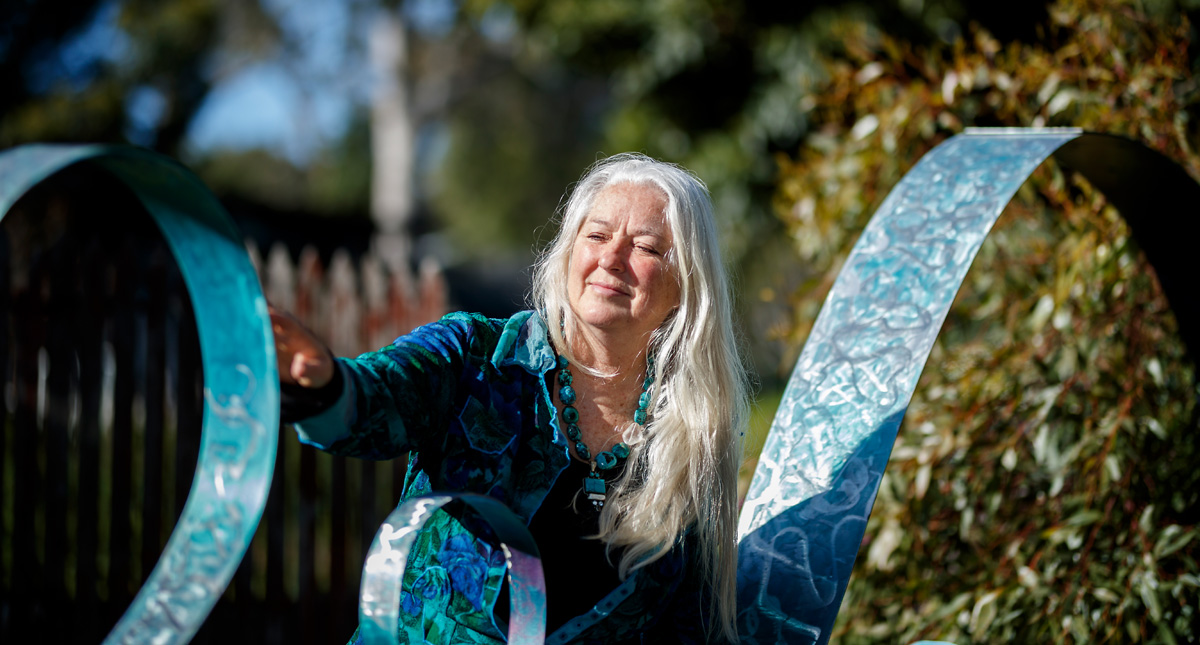 By Andrea Louise Thomas Photos Yanni & Supplied
Mount Martha artist Caroline Graley can do it all – sculpture, drawing, painting, ceramics, and multi-media installation. Using a variety of mediums and techniques, she creates everything from portraiture and abstraction to clay figures and steel and aluminium sculptures.
Caroline has won awards for drawing, painting and sculpture. She's been a finalist in major national art prizes, such as the Portia Geach Portrait Prize, Helen Lempriere Sculpture Prize and the Montalto Sculpture Prize. She was also a semi-finalist in the Moran Portrait Prize and won the Prime Minister's Award for her Portraits of History Community Arts Project.
As a young child, Caroline moved from Wangaratta to Flinders where she spent her childhood on the beach, in the surf, wading through seaweed and running along the clifftops absorbing the beautiful views. Great grounding for an artist.
Caroline's mother painted in watercolours and occasionally took young Caroline to her art classes, but it wasn't until high school that Caroline started making art herself, drawing and creating clay sculpture. She then went on to receive a Diploma of Art and Design at Caulfield Technical College (now Monash University).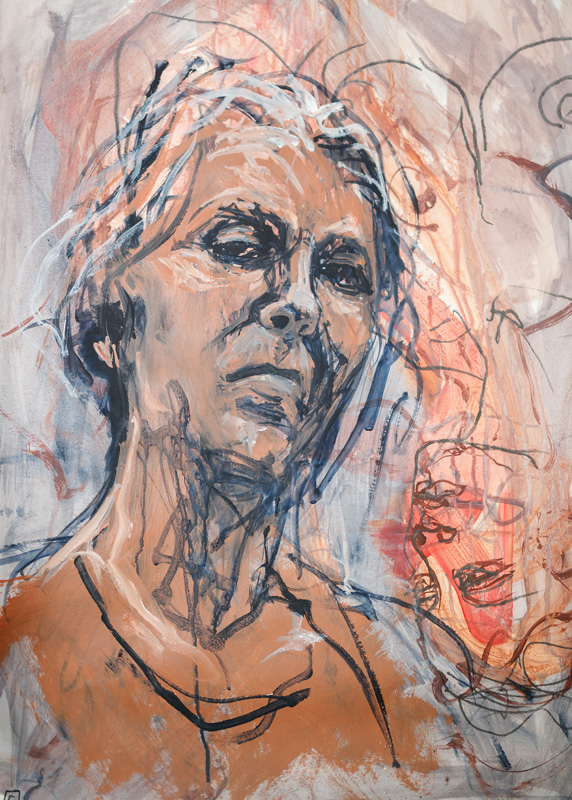 Art wasn't Caroline's first passion. "Dance was my first experience of the arts – my first language. Dance stimulates the imagination and is a generator of creative energy," she says. Caroline danced ballet from the age of four to sixteen. She was shortlisted for the Australian Ballet School.
Instead of dance, Caroline chose a career teaching visual and performing arts. She taught during the day and made art at night. Her background in dance can be seen in her artwork, particularly the sculptural pieces. "I have incorporated my study of dance movement therapy into the development of my work," she says.
Caroline finds art therapeutic. "Art has been my confidant. It's been the way I have companioned myself through life. It speaks to me. The act of making brings unconscious content into conscious awareness. I learn from it. Art making is imagination's playground – its power comes from the sensate and symbolic," she says.
"I love live art installations. The viewer is immersed in a multi-sensory experience, like live theatre. I also like sculpture because it animates and activates the physical space. It's visceral," she adds.
Some of Caroline's sculptures are on a very grand scale. Her Arabesque multimedia installation at Cube 37 at the Frankston Arts Centre featured huge spiralling, twirling, flowering metal sculptures which occupied the entire glass cube. After dark, the sculpture was bathed in video projection.
Caroline loves living on the Mornington Peninsula. She finds it nourishing. She enjoys looking out at the water changing and observing how it responds to the weather. The organic beauty and natural rhythms of nature in this coastal environment are inspiring. As with forms and movements in dance, the flow of nature often informs the shapes in her drawings, paintings and sculptures.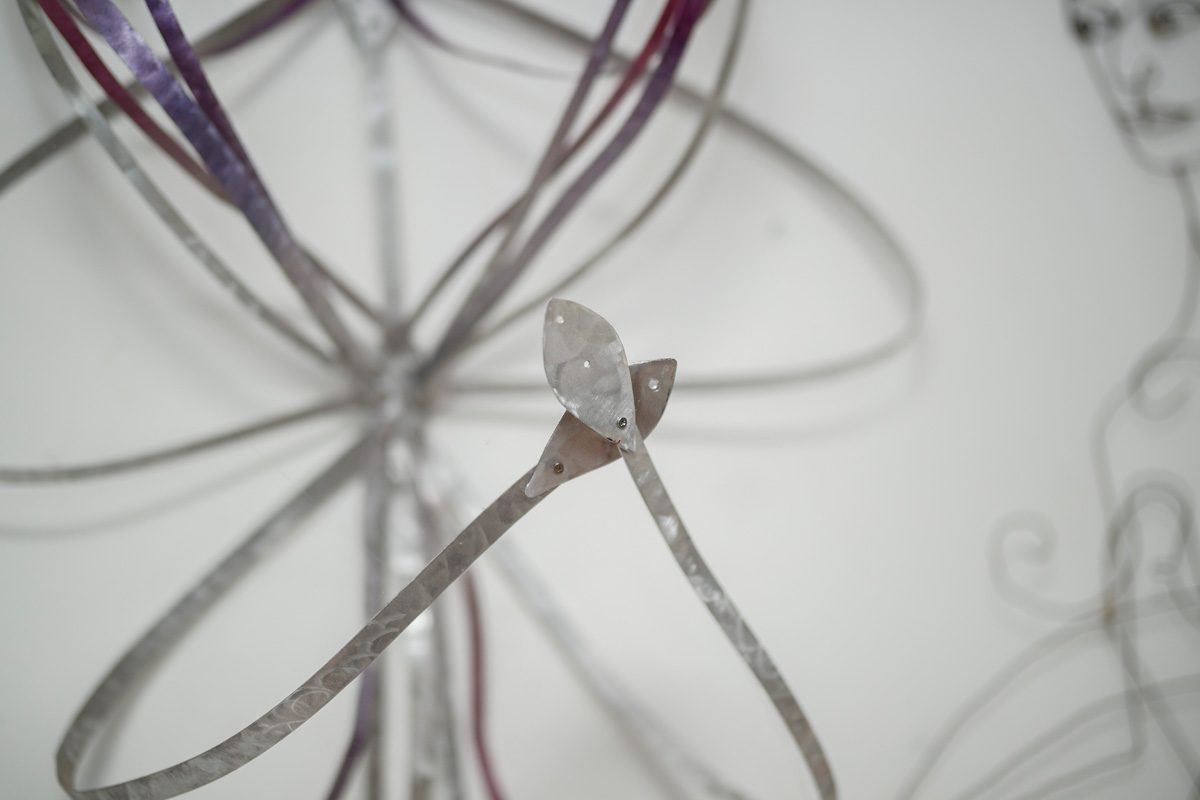 The human figure also features in Caroline's work. Her beautifully rendered portraits are deeply emotive. This year she was commissioned by Frankston Arts Centre for a project called Poetic Portraits – to draw portraits of the fourteen women writing poetry for the project. The poetry and portraits will be published in a book which will be launched with a live poetry reading and exhibition on Thursday, October 13 at Cube 37.
Connection is what Caroline finds most satisfying about art. Having exhibited in group and solo shows, as well as having her work in public and private collections, she's had a lot of opportunities to connect.
Caroline recently joined Peninsula Studio Trail, a group of artists who open their studios to the public. Caroline will open her studio in November.
During lockdown, when face to face connection wasn't possible, Caroline was granted a place as a Mornington Peninsula Shire virtual Artist in Residence. She shared her art and invited others to share their art online. In February 2022 she did her Artist in Residence at Police Point, Portsea, in person; it provided a whole different kind of connection.
In the future, Caroline would like to design and fabricate more public art. Currently she's producing a performance piece in which dancers interact with sculptures and projections. Caroline's imagination knows no bounds.