By Andrea Rowe Photos Yanni
A conversation with Jason and Andy Quin is as refreshing as their ETCH Sparkling beverages. The husband-and-wife team are the effervescent force behind ETCH Sparkling, a non-alcoholic adult sparkling beverages business based on the Mornington Peninsula.
While the couple pour impactful philosophies into their successful business, their products are being poured into heathy-option glasses throughout global tables.
ETCH sparkling beverages have become a table favourite for a growing number of Australians choosing to drink less, or looking for an alternate to alcohol, while enjoying a sophisticated sugar-free option. The new beverage company utilises Australian native fruits and herbs sustainably farmed from natural growing regions across the country.
But it took a life changing realisation for Jason to trailblaze this health-focussed business with a social conscience. ETCH Sparkling comes with some heavy-hitting history, and hopeful offerings for others.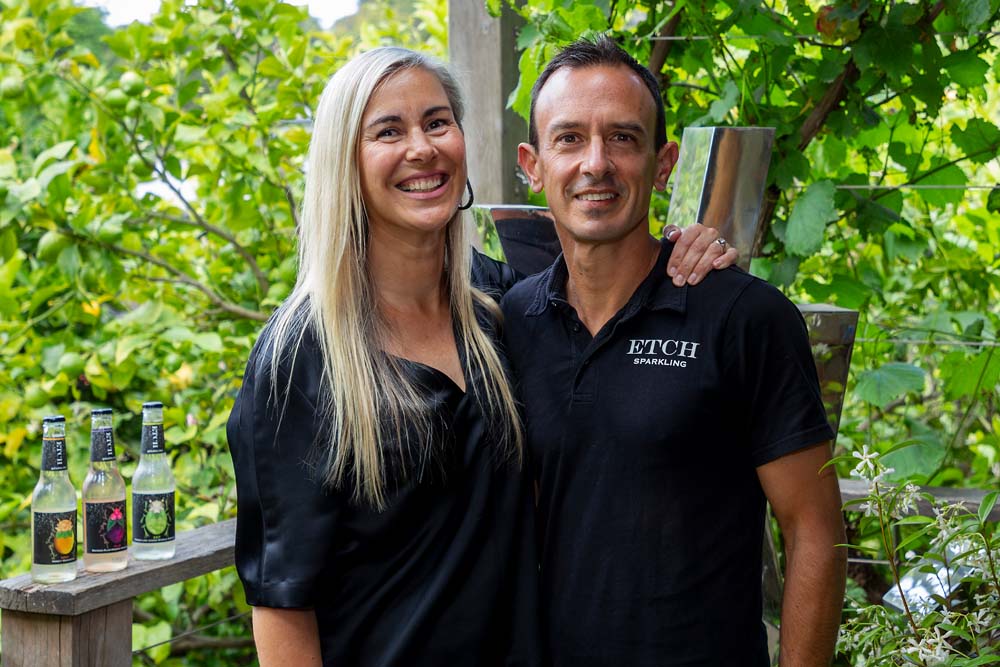 For Jason, that business spark came after a creeping reliance on alcohol inspired him to quit drinking. The respected wine merchant of 23 years had began consuming more alcohol after work, as his battle with alcoholism "snuck up" on him.
"I crossed the line. My family journey in alcoholism affected everyone and it was time to change it. I'm one of the people who was able to sort myself out and came back from that. Re-setting gave me a chance to check in on what was acceptable, and redefine my relationship with drinking."
That's no easy feat for a heavy hitter in the wine industry where alcohol consumption is deeply woven into the culture. Sobriety realigned Jason and his wife Andy's vision to work in business together, integrating their values and careers, and fast-tracking collective knowledge to launch ETCH Sparkling.
They sourced and brewed non-alcoholic, sugar free flavours to be paired with good food, and presented stylishly so consumers didn't feel like the odd one out at social events often dominated by alcohol rituals. This stylish vision has motivated others to flick a switch for healthier social drinking options.
Australia has seen a growing movement in consumers seeking responsible drinking and non-alcoholic options, tapping into the Hello Sunday Morning and Dry July sober-curious culture.
"Taking a break or changing habits in your relationship with alcohol is more appealing if you're given options. Current products on the market were limited; they look and taste like sugary drinks that don't help you blend in. We want people to be feeling great about what they bring to the table and the choices they make."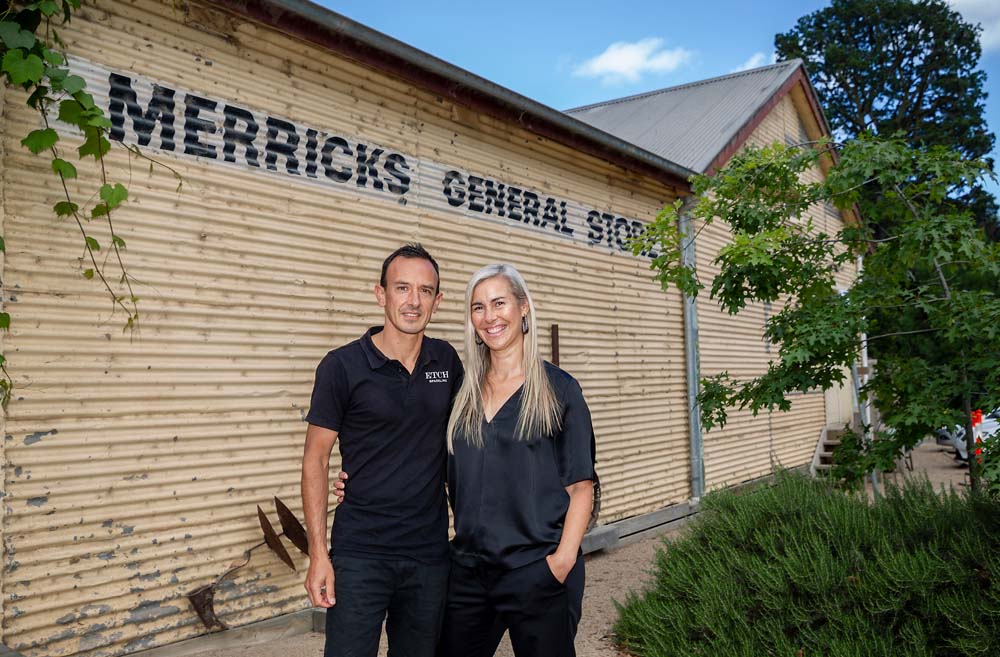 It's elegant abstinence, but it's no ordinary beverage.
Jason and Andy applied their industry background into sophisticated production, branding, and packaging.
While the essence of ETCH Sparkling is native Australian plant based, no sugar and alcohol free, it taps into a growing pattern for Australian consumers. Health, inclusion, and social conscience aren't just words on a page for the ETCH Sparkling team, they're absorbed and played out in all they do.
The phrase 'Table Proud' features in the Quin's conversation, referencing how the products enable enjoyment of an 'adult drink' presenting well and complementing instead of overwhelming meals. ETCH stands for Every Time Choose Health, an ethos built into sourcing their ingredients.
The sparkling water-based beverages feature natural Australian native botanicals. The couple source from sustainable farming regions, and incorporate Australian herbs and plants traditionally used by First nations people. Jason spent time with local Gundijtmara Kirrae Wurrung-Bundjalung man Lionel Lauch of Living Culture as well as communities across Australia gaining inspiration, insight and learnings.
"We locate fruits and herbs where they naturally thrive, and bring out those intensely flavoursome tastes during the blend and brew stages. Our flavour profile takes people on a journey. That journey led us to native Australian plants, alcohol free, no sugar and sustainable farming where water management and native pollination occur, and the soil management isn't manipulated."
From the tables of Merricks General Store to restaurants and stockists across Australia and Singapore, the flavoursome match of this quality non-alcoholic drink to a wonderful meal is gaining popularity.
"People are discovering that it's OK transitioning away from alcohol, and enjoying a fabulous drink without overpowering flavours," says Andy.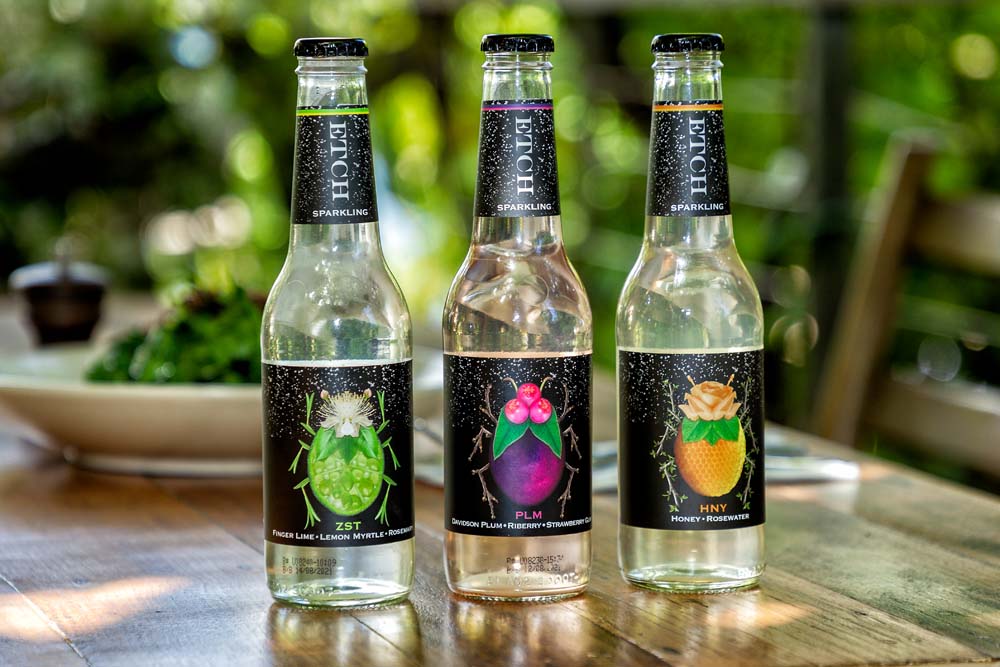 With 3 flavours, a citrus based Sparkling using Finger Lime, Lemon Myrtle and Rosemary known as ZST; PLM, a dry Sparkling using Davidson Plum, Riberry and Strawberry Gum; and  a sparkling drink with sweetness from raw, native flora Mornington Peninsula Honey and Rosewater. HNY references honey and Happy New Year, a sure summer 2021 crowd pleaser.
The couple are as excited bottling beverages in their Seaford factory as they are serving up ETCH at Farmer's markets, a decidedly family affair.
Thirteen-year-old daughter Maya is a budding horticulturalist, interested in Australian edible gardens while ten-year-old Darby provides hands-on logistics support and customer service.
While the couple promote a sense of balance through their beverages, they do the same as a family spending time in the parks, beaches and community venues across the Mornington Peninsula. Jason, a keen marathon runner, invigorates his mental and physical health by running the tracks of Bushrangers Bay and Arthurs Seat.
The couple reflect that during 2020 many people chose to "check in on themselves and took it as an opportunity to become healthier," says Andy.
"The pendulum has started to swing. Presence is important and people are making the change for their own health, aware that what we consume doesn't have to impact our environment, families or how we feel tomorrow."
That's a powerful message for social change bottled in a single serve.
---
etchsparkling.com.au
Facebook: @etchsparkling
Insta: @etchsparkling