Mother-daughter design duo Amanda Saunders and Rory Saunders-Shaw value vintage and savour sustainable fashion. The two are the talented designers behind Quirkie Su, makers of mindfully-made creations from upcycled materials.
Their quirky and considered pieces range from Australian keepsake soft toys to re-purposed clothing created with fashionable focus in their St Andrews Beach studio.
After a year of revisiting where we spend our money, and focussing on buying local, the Quirkie Su designers have found themselves a popular choice for the conscious shopper. They're happily putting upcycling and slow fashion front-and-centre, remodelling pre-loved fabrics into clothes and toys, and made-to-order commissions.
"We're saving so much from landfill which is so important, and we love thinking through how we can repurpose and salvage material for new styles each time. We are inspired when making new pieces, and encouraging people to rethink how they can wear handmade clothing," says Amanda.
Tackling fashion's ethical and environmental issues, and reducing landfill has been a key focus for Quirkie Su's small batch productions for the past seven years. Rory and Amanda offer a refreshing take on fast fashion's negative impacts on people and the planet, constantly rethinking how and where they source their materials to stitch into distinctive creations.
Quirkie Su is a nod to the duo's names, "My middle name is Sue," says Amanda "and Rory is Rory-Sioux. Besides, we make things that are a little odd and unconventional"
Spend time in their cosy studio and it's apparent much of what they create is intuitive and adaptive. Jackets styled from classic Laconia and Okaparinga vintage blankets, and cardigans created from crocheted rugs hang beside baskets brimming with cute fabric animals and cosy woollen knits and slouchy jumpers.
At the heart of their sustainable design and production is their clever utilising of offcuts and textile waste to inspire unique designs. And while they excel at producing unique pieces, the pair have skilfully adapted to their own life experiences.
The hands of 57-year-old Amanda have seen her master a career as a masseuse, and then return to her love of making, which tapped into art/design at Frankston Tech art and design background, and  an Associate Diploma in Ceramics in the late 1980's.
"Qurkie Sue started at my kitchen table making animals for pleasure and market stalls."
Rory, 24, who struggled with anxiety throughout high school, adapted to home schooling and found her true calling designing and making upcycled creation and clothing.  'She is just a natural," says Amanda.
"Distance Education worked for Rory and she had an aim to work creatively in an environment where she felt comfortable. It was an obvious choice that she keeps working with me as I expanded to sell at Finders Keepers markets. At 17 she was suddenly learning commerce and business management, writing market applications, and researching sustainable methods."
"Anxiety is a part of me, and I've learnt how to cope. Working in a home-based business means I can make decisions based on how I feel, and I can control some of that environment around me," says Rory.
"I've always liked working out things for myself. Mum showed me how to sew and we were working on collaborations from the beginning.
"We do so much together, like scouring for vintage fabrics, creating designs, figuring out how to make a product and production finishing" Rory adds.
Their individual skills complement each other "Mum doesn't sew zippers – that's my department – and I can't crochet at all," laughs Rory.
"I like to make, make, make," says Amanda "and Rory is fantastic with stockists' communications, photography and marketing. We make a good team."
They both share the thrill of sourcing material; "It's like a treasure hunt," confesses Amanda. As is "researching overseas trends for the next seasons colours, and styles", enthuses Rory.
Vintage scouts, favourite op. shops and Instagram vintage hunters offer support for fabric acquisitions. Reflecting ethical and sustainable fashion while displaying self-expression excites them.
"We're open to genderless, non-binary clothing and markets don't often cater for men's clothing options. It's a worthy challenge creating for people exploring who they are through clothing."
"Artists like Harry Styles wears genderless clothing. We're making clothes just as attractive to the guy who wears what he wants, not what society tells him he should be wearing," Amanda reinforces.
For Rory, she's motivated by thrill of the one-off designs. "There's no guarantee we'll ever find another fabric in the same colour, or design. I like that connection. Buyers do too and they're seeking us out for bespoke creations. It's their own wearable art."
Their quirky keepsakes and soft toys menagerie are just as artistic.
From dogs, bunnies, cats, foxes and kangaroos, Quirkie Su's studio overflows with colourful critters made from upcycled vintage blankets, felts, and fabrics, sporting bespoke embellishments and features.
"Our dog breeds keep growing, from schnauzers to pugs. After the Black Saturday fires our koalas and kangaroos were sent across the world. Along with our dogs, cats, and foxes they've been given as baby and birthday gifts, and even décor statement pieces."
"We fill them with 100% recycled PET stuffing to ensure they're environmentally friendly, and we love adapting fabric to create personalities for each animal," Amanda shares.
The vintage animals sell well at select boutique stores, and Quirkie Su is well-regarded in the maker industry, with Finders Keepers Marketplace's showcasing them in the Top 5 Designers Curated Clothing for winter.
While they downed tools temporarily last year for noble causes, volunteering to sew life-saving wildlife pouches in the aftermath of Black Saturday, and over 300 stylish masks during lockdowns, they're happy to be back doing what they love most: heads bent, hands busy stitching the fabrics of the past with the expression of contemporary styles, ethically and quirkily creating together.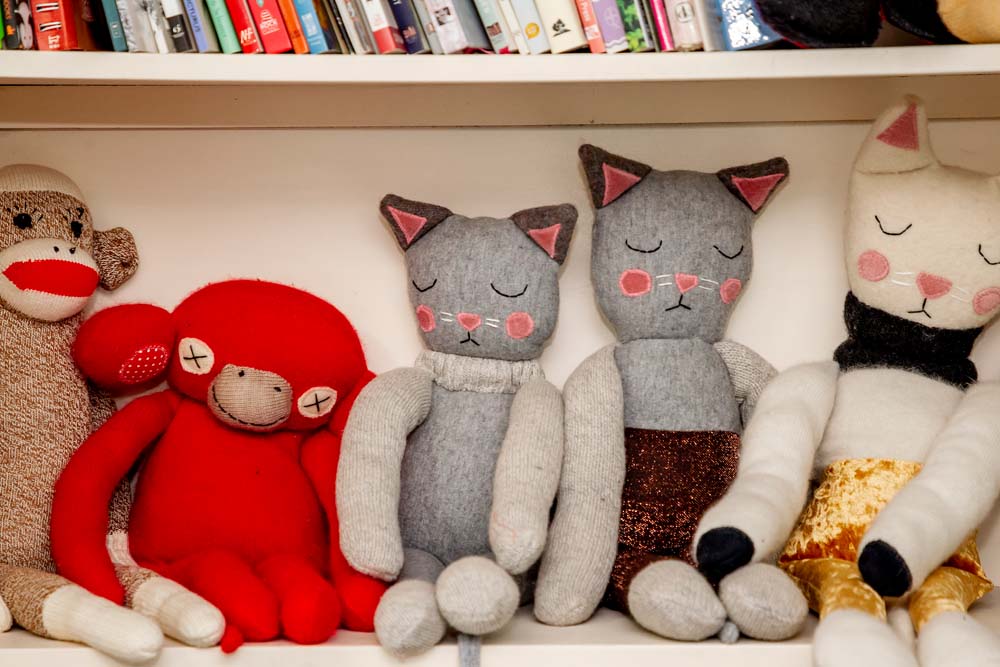 ---
W: quirkiesu.squarespace.com
Insta: instagram.com/quirkiesu
FB: facebook.com/QuirkieSu
By Andrea Rowe  Photos Yanni