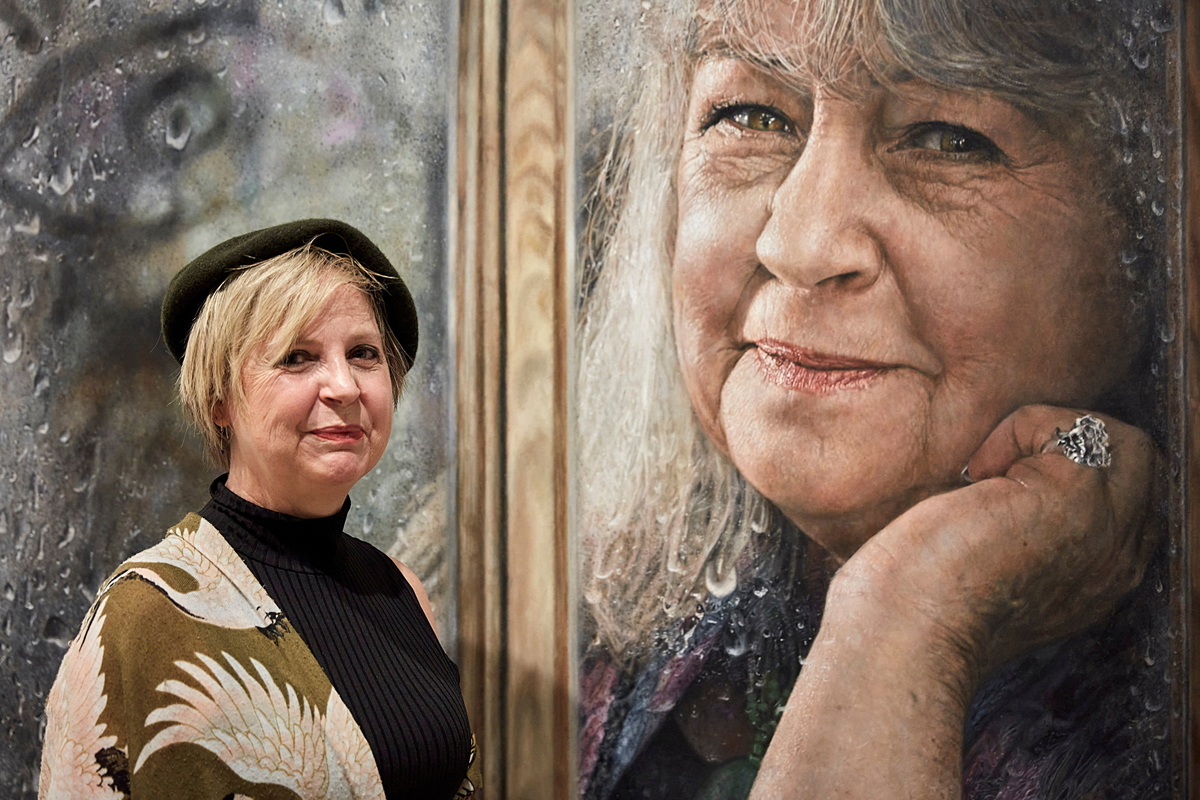 Carrum Downs artist Jaq Grantford has always had a passion for art. She recalls from the age of five drawing portraits of her mum and loving the challenge of making it just like her. Jac says, "Not only how she looked physically, but the essence of who she was."
Channelling her focus and detail has paid off with Jaq being named as the Archibald Prize 2023 'People's Choice' winner for her winning portrait of former Playschool presenter and beloved Australian personality Noni Hazlehurst. Of her subject, Jaq said, "She's a brilliant actor, and a brilliant presenter, of course, we all loved her in Play School." Jaq hoped to capture Noni's warmth in the award-winning piece, and the votes cast by the 15,542 visitors to the Art Gallery of NSW certainly proved that she's done so.
Showing exclusively at the Mornington Peninsula Regional Gallery, the Archibald Prize 2023 is Australia's oldest and most prestigious art award. Thousands of art lovers and curious cultural adventurers will head to Mornington to see the 57 portraits hanging side-by-side, including Jaq's now famous portrait and this year's winning work of Montaigne by Julia Gutman.
Portraits have always intrigued the viewer: the eyeline, the position of the model, the story behind the sitter. For many, it's the first time a visitor can be up close and personal with a public figure or cultural identity from this generation. A portrait reflects the people of our time for future generations to experience and discuss. "I think that's the real challenge as a portrait artist. And not only for portraits, but for anything else that you are creating. To paint or sculpt something that tells a story about that subject, and conveys to people something of its essence, is just such a joy for me," says Jaq.
For more than a century, art lovers have flocked to the annual Archibald Prize event to experience people and faces of our time and culture, and Jaq's portrait of Noni Hazlehurst is no exception to the array of works by Australian artists in the 2023 touring exhibition.
This is not Jaq's first award-winning portrait. In 2022, she took the top spot at the Darling Portrait Prize at the National Portrait Gallery of Australia and in 2019 the Melbourne artist won the 2019 Kennedy Art Prize and Best in Show at the American Art Awards.
Jaq's winning portraiture work can be seen in collections around the world including the European Museum of Modern Art in Barcelona, as well as locally in the National Portrait Gallery and the NGV Collection. Her work is often the chosen favourite of gallery-goers and has won various 'people's choice' awards including the Lester Prize and the Shirley Hannon Portrait Prize.
Jaq says, "I am fascinated with faces and people and often find myself staring at interesting faces and people as they pass by. I can't help myself. I also love the extensions of people – our creations that make a statement about who we are as a society. It can be a building, a floating piece of plastic, or a hole in the ground."
Archibald Prize fans can experience Jaq's winning portrait up close and reserve a spot to hear the artist speak about her work, process and style in an intimate lunch event in conversation with MPRG curator Dunja Rmandić at the picturesque Montalto Winery in Red Hill on 27 October.
For a more informal event, gallery-goers can join Jaq on a tour of the Archibald Prize 2023 exhibition and enjoy local wine, cheese and conversation in the Gallery's late night series, FRIDAY UNWINDS on 13 October.
The Gallery will be open late every Friday night until 9pm throughout the Archibald Prize 2023 exhibition. FRIDAY UNWINDS is an art lover's exclusive Friday night pass to admire the exhibition after dark with local beers, wine, cheeses and live music.
Tickets are selling fast for Australia's most prestigious art event, the Archibald Prize 2023 which will be on display at the Mornington Peninsula Regional Gallery until 5 November.
Timed entry, flexible entry and open late tickets are available now.
To book your spot and to view the array of curated programs visit the MPRG website.
---