Photos: Yanni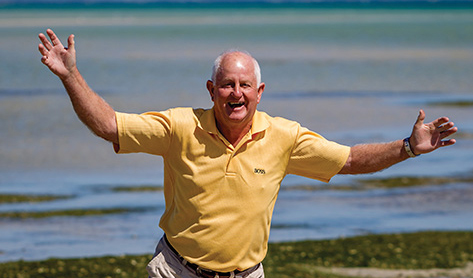 He directed Hey Hey It's Saturday for 20 years, was the lead cameraman for Graham Kennedy, and Bert Newton, set up the Today Show, directed The Panel, and Deal or No Deal, invented the WWF slow motion replay, and has rubbed shoulders with the rich and famous.
When you've been in the television industry for as long as Ray Punjer, there sure are some tales to tell. Peninsula Essence writer, Melissa Walsh, sits down with the Australian director and producer to get an insight into life behind the scenes on the small screen.
"How did you start out in the television industry?
I was around 15 and one of my mates who worked at Channel 9 said they were looking for another office boy. Mum bought me a pair of long pants and took me to the interview with the manager of the Channel 9 network and I got the job. It was a whole new world to me as I had never been out of my backyard so to speak.
Back in those days there were no emails so everything was hand written memos typed by the secretaries which I had to deliver. I also ran around with the fan mail to the stars and put it in their pigeon holes.
How did you progress so far in the industry?
After I did that for three months, I got a promotion into staging, doing props and scenery and setting up the shows. The studios were running for 24 hours, seven days a week in those days, and I learnt about production, camera, directors lighting, and audio. I loved it and felt like I had fallen into my niche.
After staging I went into production which is the next step to becoming a producer. I worked very hard to become a good cameraman and became one of Graham Kennedy's personal cameraman, working in camera and production on In Melbourne Tonight.
When did you become a director?
In 1974 I was asked if I would like to become a director and jumped at the opportunity. When you are doing your training as you go through production, management would be impressed if you were creative or had a good sense of music, but particularly if you had quick reflexes, as it was all live to air.
What was it like working on Hey Hey it's Saturday?
With Hey Hey being the longest running show, I started off as the director when it was a cartoon morning show around 1975. It was all fun and games, young people, no rules, you just did it. We went on air and did three hours, then to a pub and have a lunch. It was fun but obviously as time went on there was a product there so we nurtured it and developed it and years later it almost went off the air but became a night time program instead.
How did the night-time Hey Hey come about?
As Hey Hey developed they put in live music with Molly Meldrum promoting rock and roll bands that were touring or had new releases. It started evolving with people like John Blackman who is a very clever broadcaster and brilliant at ad lib, a total professional, and Ernie Carroll, the voice of Ossie Ostrich, was incredibly talented. Daryl Somers, Ernie Carroll and Gavin Disney packaged the show to the network as it was in danger of being cancelled, and the rest is history. We continued on for many years.
Why do you think the show finished?
Over the 20 years it became less fun. It became very big and as time went on people changed. It became more of a challenge with a big clash of egos.
As a director I've always believed in a live ad lib situation. You need to let the mind flow with anybody and just let in happen; you can't construct it live on air and there were a lot of restrictions put in place sadly.
I think ultimately the downfall was the fact the Melbourne ratings always propped it up, and it was not supported as much by the other network stations in other states. The bottom line is, like anything, it had a use-by date. Still, we had great longevity. Not many programs last as long as 20 years.
As a director, what was it like dealing with egotistical personalities?
If a situation occurred where a celebrity and I had a conflict, I would say this is the way we are going to do it. Actors and television personalities must have respect for their director and producer. Many years ago I did something for Charlton Heston where I had to ask him to do a take two. He's a big man and he came up put his arm around me and said "Ray you're the first director that's ever asked me to do a take two but I'd be happy to do it for you."
What did you do after all those years on Hey Hey?
I finished with the show in 1995 but it didn't really worry me as there were other opportunities coming up. I was approached by Working Dog productions to direct a show they were looking at doing, and was very interested as Working Dog put the Midas touch on everything they do. I sat around with Jane, Rob, Tom, Santo, and Michael the executive producer and they quizzed me on video type set up and how I did Hey Hey its Saturday. They wanted to do The Panel and be able to introduce a lot of replays and ad lib moments along with a news and current affair type show. I ended up doing The Panel for the next five years and it was great.
Also during that time, Crown Casino started and Steve Vizard's company had the contract to do the video production. I was employed by artists services to set it up and teach them marketing through their in-house television system, which was great.
What did you do after The Panel finished?
I was at a loose end and looking for something else to do and rang a friend, Dennis, in Sydney, who was working on a project. He said to go off and play golf for a few months, and then I'll let you know if it's going ahead. That was for Channel Seven and before I knew it we were starting Deal or No Deal. I helped set it up with the even network and did that for four years.
Do you enjoy teaching your skills and passing down your knowledge to people starting out in the industry?
Yes I had a few interesting years with channel 31 training their camera operators, production and kids giving them a helping hand and showing them the shortest possible way to get from a to b. It was great helping and sharing my experience with them, doing training but also working on the programs, riding shot gun over someone's shoulder.
What stands out the most in such an illustrious career?
I would say the years I did The Panel with Working Dog. Working with one of the most respected production units of Australia was extremely satisfying and very professional. Going back over the years it's all been fantastic. World Series Cricket was fun. Kerry Packer would come out to the cricket and stick his head into the "OB" van where I was directing and say "How's it going son?" I would say "All good Mr Packer", and then he'd say "Righto."
You've worked with thousands of stars over the years; can you name a couple of other interesting people and stories?
When the Beatles came out to Australia they did a show at Festival Hall and I was doing the camera that was on the stage. If you recall they were standing on the hotel balcony and there was a sea of people and I was standing with them up there. After the show the next day, we all went back to the Channel Nine boardroom and had a couple of beers and who would've thought what was going to happen with the Beatles.
I also became friends with Sammy Davis Jnr. Every time he came to Australia, I worked with him and he would bring me out to the audience and introduce me. He gave me his phone number and my wife and I rang him in Vegas and went down to see his show. He was half way through his gig and pointed out Barbara Streisand and then said "I've got a good friend from Australia" here and the spotlight came on me. He pulled me up on stage and we had a chat. After that everyone in Vegas knew he I was.
I remember one time also taking Tom Jones home to have a cup of tea with mum and dad because they loved him. They couldn't believe it.
When did you move to the Mornington Peninsula?
I officially moved here about three years ago but am very familiar with it as I've always come here to play golf. I joined the National Golf Club in 1992.
What do you like about the peninsula?
There's quite a few guys on the peninsula that used to work in TV and we catch up but I like the clean fresh air of the peninsula after living in Richmond for many years.
What is life like now?
I keep myself active, play a lot of golf, do professional caddy work with the professional golfers, am involved with the Safety Beach Golf Club, and love the National and St Andrews beach, and The Dunes.
What's your handicap?
I play off 8 which is pretty good I reckon. I have been playing golf since about 1990.
What have you learnt along the years?
The key thing I've learnt is to never give up. If you have a passion about something then pursue it. I've learnt a great deal from entertainers and the people who have worked in the background of TV, especially to not follow trends but create them.  It's difficult these days but if you put your heart and soul into things it will definitely happen for you.