By PETER MCCULLOUGH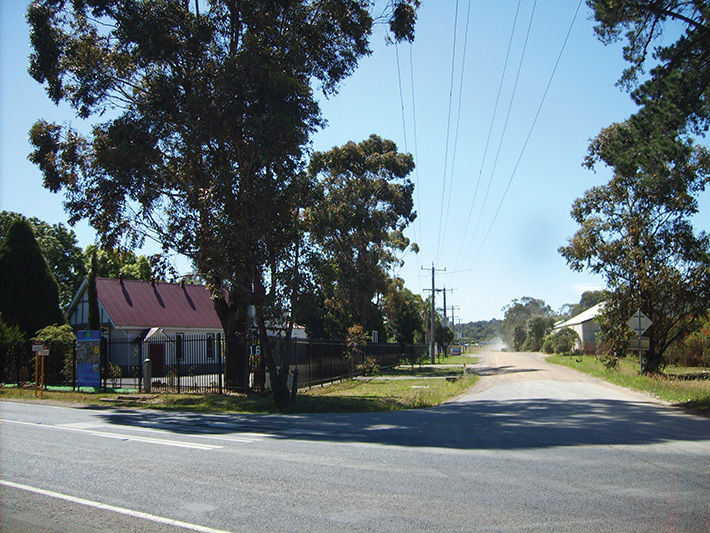 Peacock Road can be found in Tyabb. It used to be called "Peacock Lane" before its status was upgraded. "Lane" is probably more appropriate for it is a short dusty track which peters out at a double gate into open paddocks. On the right hand side is the former Tyabb Coolstore, now the home of Tyabb Packing House Antiques; on the left is the former All Saints Anglican church and Parish Hall, now The Hungry Peacock family restaurant, then a few factories, including the former Tyabb Cannery, and two old houses.
But why "Peacock" Road? It was in fact named after Doctor Samuel Knox Peacock who not only owned a large area of land in Tyabb but was also the proprietor of a hospital in East Melbourne which specialized in illegal operations for young women. His "trade" led to him being charged just over a century ago with the murder of a young woman named Mary Davies, and it was only after three greatly publicized trials that he was eventually found not guilty.
Early Life.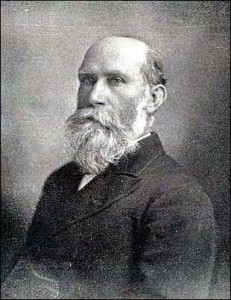 Although born in County Antrim, Ireland, in 1839 Dr. Peacock gained his medical qualifications at Glasgow University and at the Royal College of Surgeons in Edinburgh. In August, 1872 he arrived in Melbourne via Adelaide and then practised in Bundoora for two years before moving to Fitzroy where he lived and had a surgery at 120 Johnston Street. In 1900 he started to practise in East Melbourne where he built Eastbourne House on the corner of Wellington Parade and Simpson Street in 1902. It was used as a residence and as a hospital solely for female patients.
The Alleged Crime.
On 31 August, 1911 The Argus shocked its readers with the headlines "Charge of Murder-Young Woman Missing-Doctor Arrested." Dr. Samuel Peacock was charged with "...having between 16 August and 29 August wilfully and feloniously killed or murdered Mary Margaret Davies, 27 years of age." It was alleged that Dr. Peacock performed an abortion on Mary, that she died as a result, and that he disposed of her body. The main witness for the Crown was 21 year old Clifford Poke who boarded with the Davies family and who was described as being "...responsible for her condition."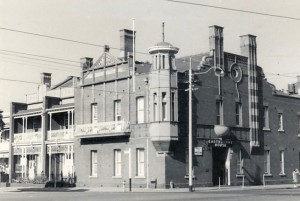 After receiving the report of Mary's disappearance from Mr. Poke, police looked for the body at Eastbourne House. They took up the floor boards, they ripped out wall panelling, and they dug up the sewerage pipes. They found nothing.
Running a hospital exclusively for women must have been a profitable occupation for, apart from Eastbourne House, Dr. Peacock owned land at Cheltenham (now part of Sandringham Golf Course), Mordialloc, Neerim South, Cranbourne, Buln Buln, and Tyabb. All were subject to police searches.  However the main focus of the police was a farm of 260 acres owned by Dr. Peacock at Carrum, part of which is now the practice fairway of the Patterson River Country Club. An extensive search was conducted by police, trackers, dogs, and forty local volunteers. Even the nearby Patterson River was dragged with grappling irons with no result. There was a flurry of excitement when a pile of sand 30 cm. high and about 100 cm. in diameter was found, suggesting that something was buried there. After digging, the anticipated feeling of triumph dissipated when the carcass of a skinned horse was found! In the end only two items were found in the remains of a fire: some personal items (a metal clip from a purse, metal buttons and a safety pin) and a tooth plate. At the first trial it was acknowledged that the personal items could have belonged to anyone, and the Ballarat dentist who had fitted a dental plate to Mary Davies some eight years before stated that this was a different plate.
The Trials.
Dr Peacock's first trial took place before the Chief Justice, Sir John Madden, over eight days in October, 1911 and, largely on the evidence of Clifford Poke, he was found guilty and sentenced to death. The Full Bench of the Supreme Court heard an appeal during November, 1911 and dismissed it. Dr. Peacock then appealed to the High Court which heard the appeal in November/December, 1911. It allowed the appeal and ordered a retrial.
On 20, 21 and 22 February, 1912 the second trial took place but the jury was unable to arrive at a unanimous decision and was dismissed.      
Only three days later (which included a weekend)the third trial commenced. After three days of evidence and four and a half hours of consideration, the jury returned a "Not Guilty" verdict and Dr. Peacock was acquitted. In this third trial the counsel for the defence was able to further discredit the evidence of Clifford Poke and this, together with the continued absence of a body, made the difference. Remarkably, the period between the date when Mary Davies entered Dr. Peacock's hospital and the conclusion of all these hearings was less than eight months.
Dr. Peacock was reported, without any show of emotion, to have slipped from the dock and quietly greeted several friends. While no demonstration followed the acquittal, The Argus reported that there was animated conversation in the corridor amongst groups of men and women who had been present in the court during the day, suggesting that some people were surprised by the verdict.
The Press.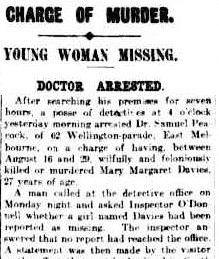 Needless to say, the press had a field day, not only at the expense of Dr. Peacock but also Clifford Poke who, it was revealed, fled his native Tasmania leaving a young lady in a similar predicament to that of Mary Davies. Reporters swarmed to Carrum in large numbers and, although the search was unsuccessful, The Age stated that the excitement was at "white heat."
Samuel Peacock might have been in his seventies and under enormous pressure, but he wasn't going to let the press have it all their own way. In September, 1911, about a week after he was charged with murder, he brought contempt of court proceedings against the editors and publishers of The Age, The Argus and The Herald. The nature of the contempts had been the publication of statements made by potential witnesses about peripheral matters, followed by comments by the newspapers that went much further than the statements and inferred that Mary had gone to Dr. Peacock's hospital and died as a result of an abortion, and that Dr. Peacock had secretly disposed of her body. In reality the newspapers were jumping to conclusions, and there was a risk that those conclusions might influence any members of the public who read the newspapers and then become members of the jury.
Most of the editors and publishers were found guilty which led to appeals to the High Court. After awaiting the outcome of the third trial the High Court dismissed the appeals in March, 1912 and ordered the newspapers to pay Dr. Peacock's costs of the contempt proceedings.
After the trials.
Dr. Peacock continued to practise at Eastbourne House until about 1919 when he would have been 80 years old. He died at Kew, a resident of "Ivy Grange", a Rest Home in Princess Street, and was buried in the Melbourne General Cemetery on 27 July, 1936. He was 97 and the cause of death was listed as senility and heart failure. His wife, Jane Hughes, had pre-deceased him. There were no children by the marriage. Eastbourne House still remains intact-classified by the National Trust!
The Tyabb Connection.
Although it would be inaccurate to claim Dr. Peacock as a resident, he became a keen supporter of local activities after he purchased land in Tyabb around 1891. His brother became an early manager  and by 1903 the doctor held 760 acres. This extended in an irregular fashion west from Peacock Lane (Road) towards Jones Road and then in a northerly direction beyond the present Seaview Road. His holding south of the Mornington-Tyabb Road was even more extensive and on this  large farm he carried 3000 sheep, 50 head of cattle and grew crops of vegetables. There was a blacksmith's shop, storerooms, an up-to-date piggery, fourteen stall stables and other buildings, including a six room residence.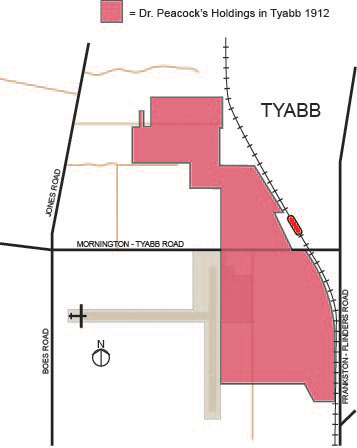 After meeting in the Tyabb Public Hall following its construction in 1899, and also attending services in the Upper Tyabb School (No. 3139), the Tyabb Anglicans, represented by Messrs. Woodhouse and Mair, met with Dr. Peacock in 1911 to secure some land for a church. Dr. Peacock agreed to sell a half-acre allotment on the corner of Peacock Lane (Road) for 25 pounds for the building of "All Saints" which opened in April, 1914.
That sale was the forerunner to a large public auction of Dr. Peacock's holdings, held in Tyabb in February, 1912. It must have been a busy time for the doctor as the second and third trials would have been in progress.
The approximate area of land available on auction day is shown on the attached modern day map. At the time land was opening up along the railway line to meet the demands of Western Port when the future naval depot opened. Accordingly, all the allotments on the southern side of the Mornington-Tyabb Road, particularly those close to the railway line, found a ready market on auction day, with the larger tracts of land attracting later buyers. Although the citizens of Tyabb no longer regarded Dr. Peacock as one of their own after his "Open Up Tyabb" auction, he still held some land there for more than another decade.
Acknowledgement: I am indebted to local historian Valda Cole who first acquainted me with the story of Dr. Peacock and who provided much of the information relating to his Tyabb links. I am particularly grateful for the map which Valda painstakingly compiled from documents collected relating to Dr. Peacock's land during the writing of her "Western Port Pioneers and Preachers" in the 1970's. Co-incidentally, Valda and her husband Harry lived for many years in Seaview Road, very close to Dr. Peacock's domain.