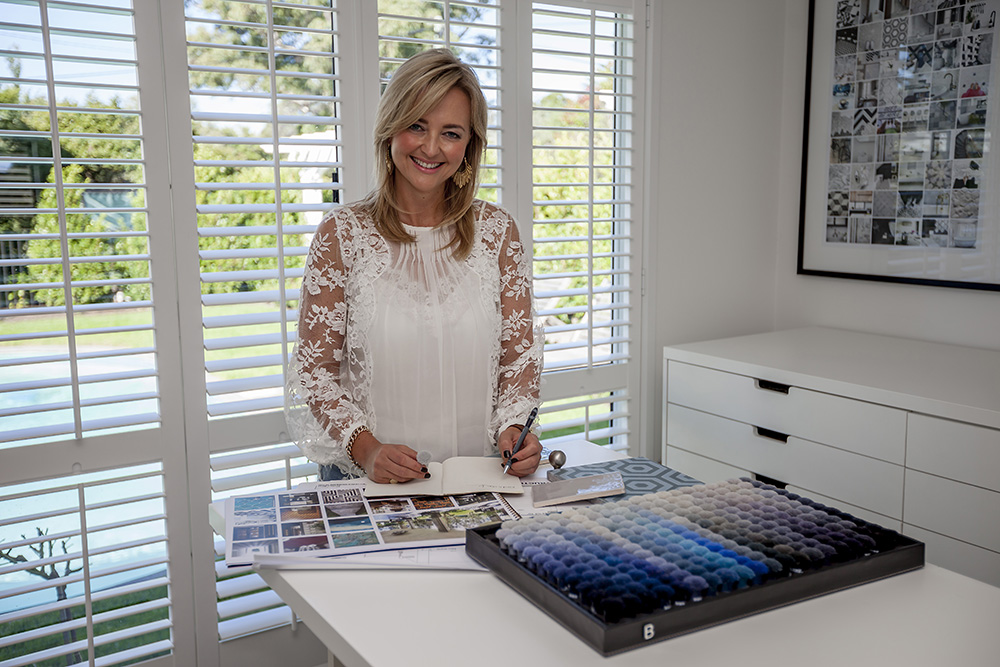 By Melissa Walsh   Photo Yanni
Running your own business is no piece of cake, but add children into the mix and it's an even tougher gig. Kate Walker knows all about this. As the owner of Kate Walker Design (KWD) and mother of Charlie and Jemima, the Mt Martha entrepreneur lets Peninsula Essence into her world to see what goes on behind the scenes.
When we meet Kate at her stunning Mt Martha property, you can see why she loves living there and working from her home base. The two storey white painted homestead has a Hamptons feel with French doors leading to wisteria covered pergolas, rose gardens and hedges that provide a sacred, private space necessary with such a busy lifestyle. The welcoming home feels like it has been there forever but Kate only renovated and moved into it last year.
Kate is the epitome of elegance and style and you would never know she works 15 hour days to run her successful, but reasonably new, business, starting KWD just four years ago.
Kate grew up in a well-known Melbourne family; her father is one of Australia's most successful ceramic tile merchants with Frank Walker National Tiles, and her mother is a much loved interior designer. Kate started working in the family business at a very early age.
"I started when I was young helping out on weekends and during the holidays and over the years have worked in all the areas of the business. It was when I was 20, and had finished university, dad said while you are working out what you want to do, come and work for me for six months. On my first day there I sold a massive job of timber flooring, and I was hooked. I loved being able to help people choose what they needed and supply them with a good product. I loved working for National Tiles," said Kate.
It wasn't until 15 years later that Kate decided to take a leap of faith and get out on her own.
"I learnt about the family business from the ground up, and became proficient in all facets of the tile and stone industry, and was trained in every aspect of the business from the retail floor and showroom design to working with major domestic builders, managing architectural and commercial sales and handling procurement. People would come in to buy tiles and I would help them with their carpet and timber flooring, splash backs and tiles. I became a hard finish expert," said Kate, insisting she is not an interior designer but she is definitely passionate about all hard finishes and creating a cohesive, quality and functional space.
Kate definitely won in the gene pool with a creative and passionate mother, and a father who taught her an indelible work ethic.
"I am very fortunate, as my dad has been an incredible mentor during my life. Still today even though I have gone out on my own, he is my biggest supporter," said Kate, who made her first steps away from the city lifestyle ten years ago, when she moved down to the peninsula.
"We had a gorgeous place in Armadale but it had no backyard, and my oldest child, Charlie was 18 months. Mum and dad had a holiday home down here so we were down most weekends and one day I thought, let's just move here," she said. "It was the best decision I made and we all love it here. The kids and I wander down to the beach on the weekends or walk into Mt Martha and grab a hot drink. I love that everyone is so friendly. The newsagent knows you and so does the pharmacist. It really is lovely. Even my daughter, who loves shopping and fancies a trip to the city every now and again, says she can't wait to get back. She even made the comment I can't breathe in the city."
Kate's love of her bayside haven is displayed above the fire place in a stunning painting she commissioned recently. "It is my favourite artwork of my children and me walking with our puppy down to Mt Martha beach like we do most weekends," she said.
Starting KWD in 2013 was a huge leap of faith for the young businesswoman. Although she had a wealth of experience working in her father's business, it was an overwhelming step but one she felt it was necessary to take. "I was petrified and felt like I was jumping off a cliff with a parachute but not knowing if the rip cord would work," said Kate.
"I have gone from starting out with my kitchen table as the office and my tile samples in the back shed, employing someone two hours a fortnight, to having a staff of ten and a purpose built office and showroom on the property," said Kate, who was working around the clock doing the deliveries, administration and payments in the beginning. "I started off doing this Instagram thing even though I had no idea what I was doing. I would put posts up about hard finishes and décor and before I knew it I had a following. Then I started to create this brand and people were following me and my services. Initially everyone would come to me for tiles and I would just bolt everything else on. Now I have aligned myself with great partners, timber joiners, stone masons and carpet experts and have such an in depth knowledge about all these things. While we are not interior designers, we guide our clients with the overall look. Livability and working to a budget are what we do."
For Kate the process has been an incredible evolvement of self-confidence, as she has learnt during the years just how strong she is.
"I started the business with nothing, except what I had learnt and years of experience. I knew what I had to offer and was determined to do everything from the heart," she said.
And it is from the heart she has continued to grow the business, with a team of people that are more like family.
"My kids are so incredibly proud of me and they see how hard I work. I have four mothers working with me and they help me raise my kids, and vice versa. When their kids are sick they bring them here and we all look after them. It is a real support network," said Kate. "I feel like it has been a rebirth for me and my family."
KWD specialise in a wide range of projects including low and multi-density residential projects, hotel refurbishments, multi-national corporate refits and high-end residential projects from Melbourne to Portsea and beyond.
For Kate, keeping abreast of the latest trends comes naturally, as does her innate sense of style. While she has her own personal design ethos, she loves working with all manner of design schemes, from the ultra-modern to coastal chic, and from chinoiserie to all things Hamptons – and everything in between. Kate listens to experts in the field and constantly researches forecast trends so she is always up to date with the latest industry news, colour creations and product innovations.
"I am so fortunate to have learnt with the best and travelled the world attending trade fairs and visiting manufacturing sites so that I have an in depth understanding of the materials we work with," said Kate, who has found design is her way of life.
It's not surprising that KWD has been such a success. You just have to look at the woman behind the brand to see she has the perfect combination of intelligence, strength and compassion, and a family history of work ethics that is second to none.
Kate is living proof that "If you want something done, give it to a busy woman".
---