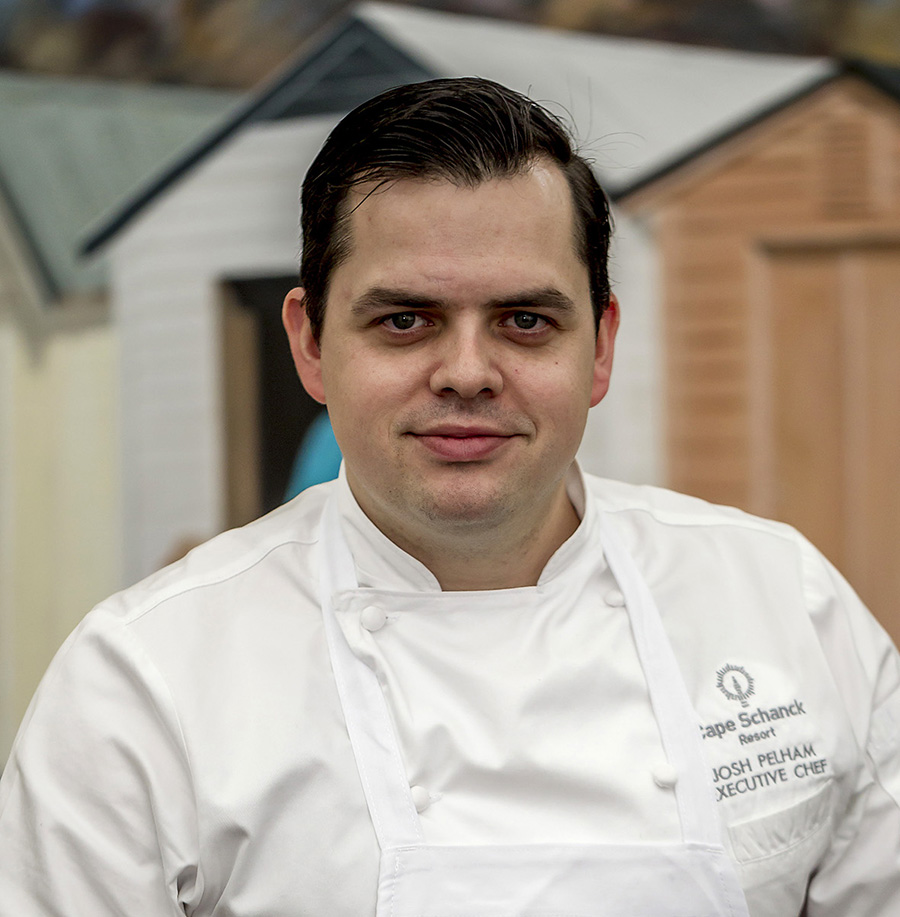 By Melissa Walsh   Photo Yanni
He's worked at The Square Restaurant in London, The Press Club and Fenix in Melbourne to name a few, rubbed shoulders with George Calombaris, Raymond Capaldi, Gary Mehigan, Shannon Bennett and Marco Pierre White. At 31, Josh Pelham has already achieved the highest industry accolades and now turns his hand at another challenge as Executive Chef at Cape Schanck RACV Resort.
"My inspiration for being a chef mostly came from sharing a meal with friends and family as to me that is what it's all about. I love being able deliver something that most people can't do at home and it has pushed me to keep pursuing this career every day and every step along the way," said Josh who has been working at the RACV Resort since February this year. "I started at 17 at Matteo's in North Fitzroy, and then spent the following two years of my apprenticeship at Fenix which is where I met George, Gary and Raymond."
For Josh working at Fenix opened his eyes to a world of cooking.
"It is a very international kitchen with people like Raymond Capaldi, and it fuelled my fire and passion for working overseas for such a long time. In the end I was working overseas for seven years, including five years working at the one restaurant, The Square, which was a two Michelin star for 22 years," said Josh, who started at the London restaurant at just 18 or 19. "It was a huge part of my life that I spent there; It  helped the way I cook but also the person I have become.  Phil Howard, chef and co- owner was my mentor and taught me a lot of life lessons. He was such a kind gentleman who knew how to cook that's for sure."
Making the move to the Mornington Peninsula for such a huge role is not unusual for a person like Josh, who thrives on constantly challenging himself and his food also reflects this philosophy.
"It was a huge challenge for me taking myself out of my comfort zone again at the RACV Cape Schanck Resort as it's a business with a lot of facets I have to run," he said.  "It's about learning to manage a big business which involves aspects like catering, functions, events, looking after the café, and of course fine dining in the restaurant.  Before I started here is was with Scott Pickett at Estelle ESP and we launched and rebranded restaurants together, which gave me the confidence to pursue this."
Since then Josh has developed new menus for winter and has made a few changes to the current menu adding a few more healthy options to the golfers lounge but keeping the current business achieving what it already has been.
"I have recently tweaked and refined the restaurant menu to slowly introduce different dishes," said Josh, who doesn't like to have one signature dish. "I don't like to pigeon hole myself to a signature dish as I like to continue evolving. I not only follow food trends but create them."
Josh says he plans to utilise the wonderful ingredients and suppliers we have on the peninsula and has already been along to Max's Mushroom Walk where he enjoyed chatting to the fellow chef.
"Even last weekend I went out early and went for a walk to pick mushrooms, that's the beauty of being down here," said Josh. "I am also working on new menus and currently using Boatshed Cheeses which is a beautiful cheese from Dromana, Gippsland beef, and honeycomb sheets with specially made frames. We are now developing relationships with local truffle growers, the diggers to get heirloom seeds, olive growers, and have just built the first stage of our herb garden.
---
Cape Schanck RACV Resort is at Trent Jones Drive, Cape Schanck.
Phone 5950 8000.
racv.com.au/travel-leisure/racv-resorts/our-destinations/cape-schanck-resort
Recipe
Cone Bay barramundi with mussels, leaks, kale & school prawns
INGREDIENTS
500g royal blue potatoes
100g salted butter
150ml milk
6x180g portion barramundi
3 leeks
500g mussels
1 bunch kale
1 bunch chives
300g school prawns
1 lemon
Rock salt for baking potatoes
METHOD
1. Preheat oven to 200c, on a baking tray lay a thin layer of rock salt, pierce the potatoes with a knife and bake for 60 minutes.
2. Trim and wash the leek, season with salt and olive oil, bake on a wire rack for 30 minutes at 200c. Once cooked cut into 3cm batons and remove the outer layers.
3. Melt the butter and milk in a sauce pan, once the potatoes are fully cooked cut them in half and remove the soft flesh, pass
through the drum sieve, slowly incorporate the milk and butter to your desired consistency, season with salt and white pepper.
4. Wash and de-beard your mussels, place a large pot with a lid on the heat and bring the temperature till you see a little smoke. Add the mussels, a small splash of water and then the lid, agitate the pot holding the lid on. Cook for around two minutes. Pour the mussels into a colander with a bowl underneath and a damp towel over the top until cool. Once cool remove the mussel from the shell and reserve the cooking juice to store the mussel meat.
5. In a large pan, fill 1/3 with frying oil to deep fry the kale. Fry at 180c until crisp.
6. In a large frying pan heat a little oil, season the barramundi and seal the skin side down for four minutes on a medium heat, place the barramundi into the oven skin side up for three minutes.
7. Once the barramundi is cooked add a table spoon of butter to the pan and sauté the peeled prawns, add the mussels, chives, leeks and lemon juice.
8. On a plate, place the barramundi, pipe the mash potato around the fish, sauce the fish with the prawns and juices and garnish with crispy kale.