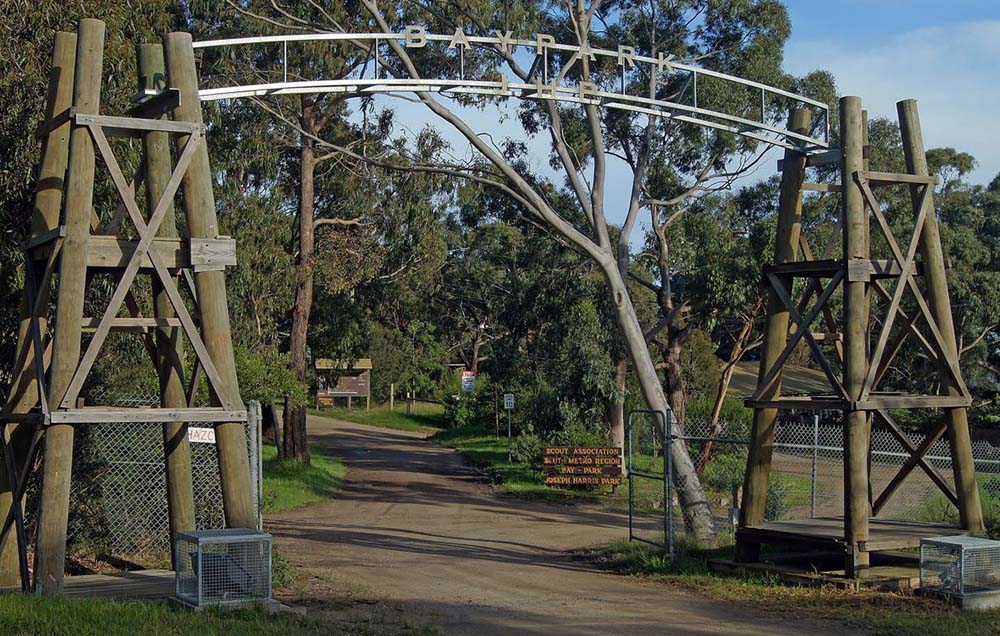 By Peter McCullough
Motorists accelerating down Hearn Road on the slopes of Mt. Martha might catch a glimpse on their left of the entrance to the Joseph Harris Scout Park. This year marks the Park's 80th anniversary. So who was Joseph Harris?
Early years
Joseph Harris was born in 1833 in Henbury, a small English village three miles from Bristol, and educated at Henbury Grammar School. His father had a three acre plant nursery at nearby Taunton, called Nursery Gardens, and a seed shop in Bristol.
To Australia
The influence of his father's flowers and plants notwithstanding, the lure of the Victorian goldfields was too great and Joseph Harris sailed on the 'Morning Light' in July 1856. He brought with him a wheelbarrow, a farewell gift from his family and perhaps a reminder of his father's business. It came in handy when Joseph was required to push his luggage ashore on arrival in Melbourne.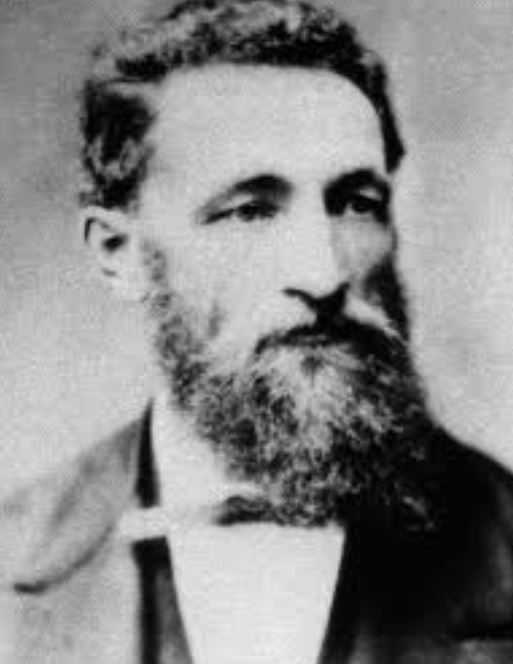 Goldfields and nurseries
Joseph Harris spent a year searching for gold at Mt. Korong near Bendigo, without success. He returned to Melbourne where he obtained employment in the seed shop of Smith and Adamson in Collins Street. After working hard he saved sufficient funds to purchase the firm's Floral Nursery in South Yarra, a reflection of his passion for plants and trees which started in his father's nursery in England.
Profiting from land prices, Harris sold out in 1870, only to buy Handasyde and McMillan's Nursery in South Yarra and a lovely terraced home nearby. He had married Eliza Nicholson in 1861 and in the Avoca Street home they raised three daughters and a son.
Land purchases
Owning nurseries in Melbourne proved to be highly profitable as early Melbournians were beginning to make their own gardens, and trees and shrubs sold by Harris were always of good quality. Before long his interest in trees and plants extended to owning land; he purchased a number of lots in Mornington, building a house ('Marina') on one, plus a substantial 86 acre holding near the summit of Mt. Martha. On the latter Harris experimented with seeds and plants that he had collected on overseas travels as the soil, sun and air were suitable. On some of these excursions he was accompanied by the highly respected botanist Baron von Mueller, the long time director of Melbourne's Royal Botanical Gardens. Adjoining his land was a public park and, being a public spirited man, he provided plants, donations and advice for this park.
Upon completion of the Royal Exhibition Building in early 1880 Harris, with his flair for design and love of plants, assisted with the garden setting surrounding the building. Subsequently, in 1888, an International Exhibition was held; a feature was a Japanese garden drawn up and laid out by Harris. This was at a time when oriental design and ornaments were becoming popular.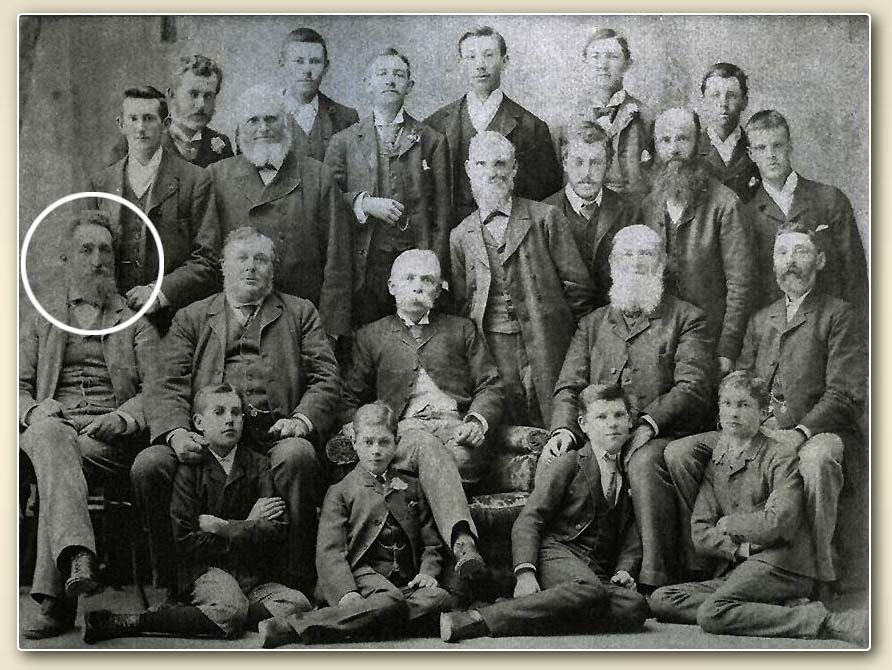 Community involvement
Harris was elected as a councillor for Prahran in 1873, serving as mayor for two years (1874-75). In 1880 he was elected to the Legislative Assembly seat of St. Kilda; this was later sub-divided leaving him as the representative of South Yarra from 1889. Harris was a long term member and elder of the South Yarra Presbyterian Church and was Chairman of the Deaf Children's Institute in St. Kilda Road. He was on the board governing metropolitan parks and gardens, eventually becoming chairman of that body. Harris was also chairman of the board under the Vegetation Diseases Act and a member of the Horticultural Board of Advice. He professed an interest in the horticultural societies of Melbourne and suburbs and judged horticultural exhibits at the Royal Melbourne Show. When it came to teaching horticulture, Harris was a part founder of the Burnley Horticultural Society which included women students. He was also a board member of Dookie College, another school of horticulture. Harris was very popular amongst the wider community; always busy but a devoted family man.
To add a little variety to his interests, Harris was one of the founders and a director of the Victorian Coffee Palace in Little Collins Street, close to Flinders Street Station, where country travellers could find reasonably priced accommodation.
Financial collapse
Joseph Harris, like many others involved in land speculation, was severely affected when the boom came to a sudden end in the 1890's. Michael Cannon in 'The Land Boomers' records: "Joseph Harris, MLA for South Yarra, was a nurseryman who got himself involved in land deals to the extent of 40,000 pounds. His secret composition was made in 1895 when he paid seven pence in the pound. Harris's continued occupation of his parliamentary seat when undoubtedly insolvent was a hidden scandal of no mean order." (Page 34)
Still regarded by many as a model citizen, this blot on Harris's copybook is hard to ignore. In fact he eventually lost his seat as a result of the scandal. The 'composition' notwithstanding, just after 1900 Harris still owned 4 lots in Osborne Village, the 86 acres on Mt. Martha, and a further 48 acres near the coast (the site of the future Dava Hotel and golf course). He also retained 'Marina' which was in the name of Mrs. Joseph Harris.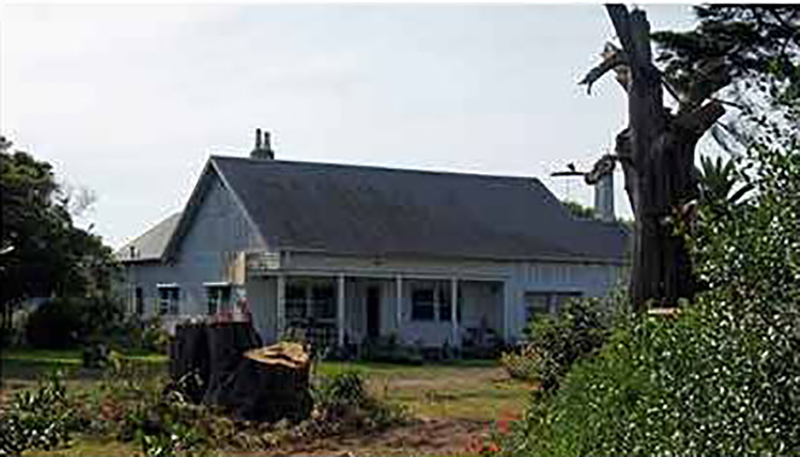 'Marina'
While 'Marina' was originally built as a holiday home or weekender, Harris had been accustomed to appearing at the local official gatherings such as the opening of the Mornington railway in 1889 and he was part of the fund raising committee following the football team disaster in 1892. Following the loss of his seat in parliament, 'Marina' became a permanent home from where he edited the horticultural columns of 'The Argus' newspaper and 'The Australasian' journal.
By 1903 he had established an ornamental garden of 12 acres around the house, highlighted by a Japanese teahouse (now heritage listed) which had been on display at the International Exhibition of 1888.
Unfortunately the original 'Marina' was destroyed by fire in 1915 and Harris suffered significant loss: letters, studies, horticultural notes, personal papers and other records. He rebuilt a similar styled home on the same site and it still stands today overlooking a small beach known as Marina Cove.
Joseph Harris died at 'Marina' in 1925 aged 91 and is buried in the Mornington Cemetery. His wife, Eliza, had predeceased him in 1917.
What is the connection between Joseph Harris and the Scout Park?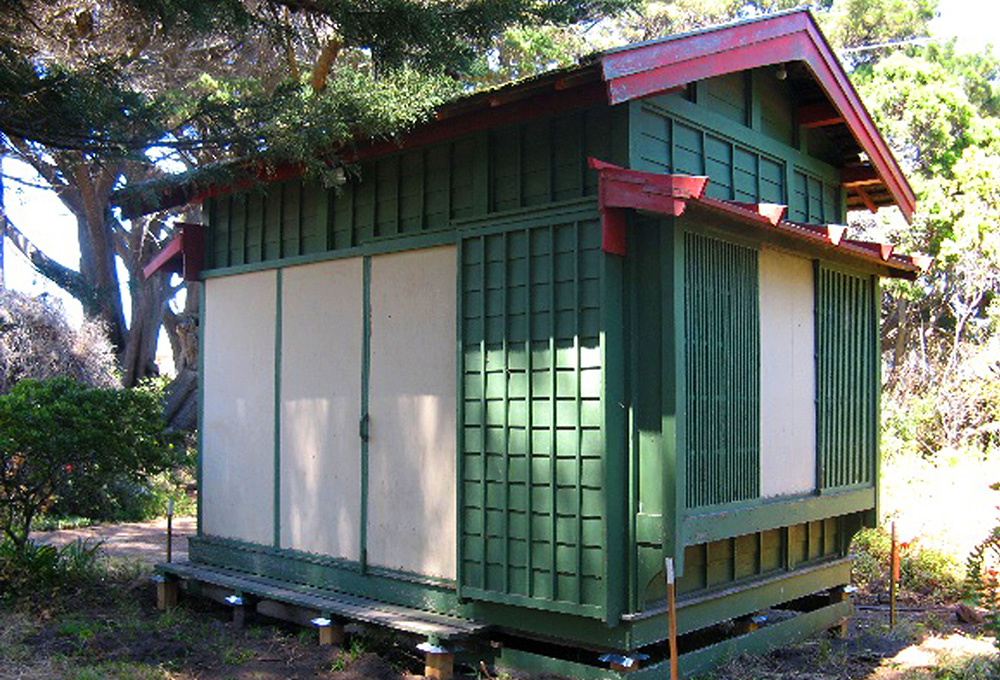 The origins of scouting on the Peninsula
The role of Colonel Baden-Powell in the siege of Mafeking in the Boer War was universally acclaimed, although perhaps not generally to the extent of the citizens of Tyabb. In May 1900 they "…gathered to celebrate 'the Relief of Mafeking' and to honour Colonel Baden-Powell with a torchlight procession and social. An arch illuminated by lamps was constructed over the front gate of the local hall and bore the inscription 'Relief of Mafeking – Tyabb Congratulates Colonel Baden-Powell' "( Heward 'A Tale of Trails' Page 1).
In the years following his return to England, Baden-Powell established a scheme for the training of boys. Before long the Boy Scout Movement had evolved and soon spread to Australia. In view of their affection for Baden-Powell it is probably no surprise that on the Mornington Peninsula the first troop was started in Tyabb. This occurred in July 1914 and the idea was taken up enthusiastically by the lads of the town. Two years later troops were established in Somerville and Mornington, followed by Hastings in 1918.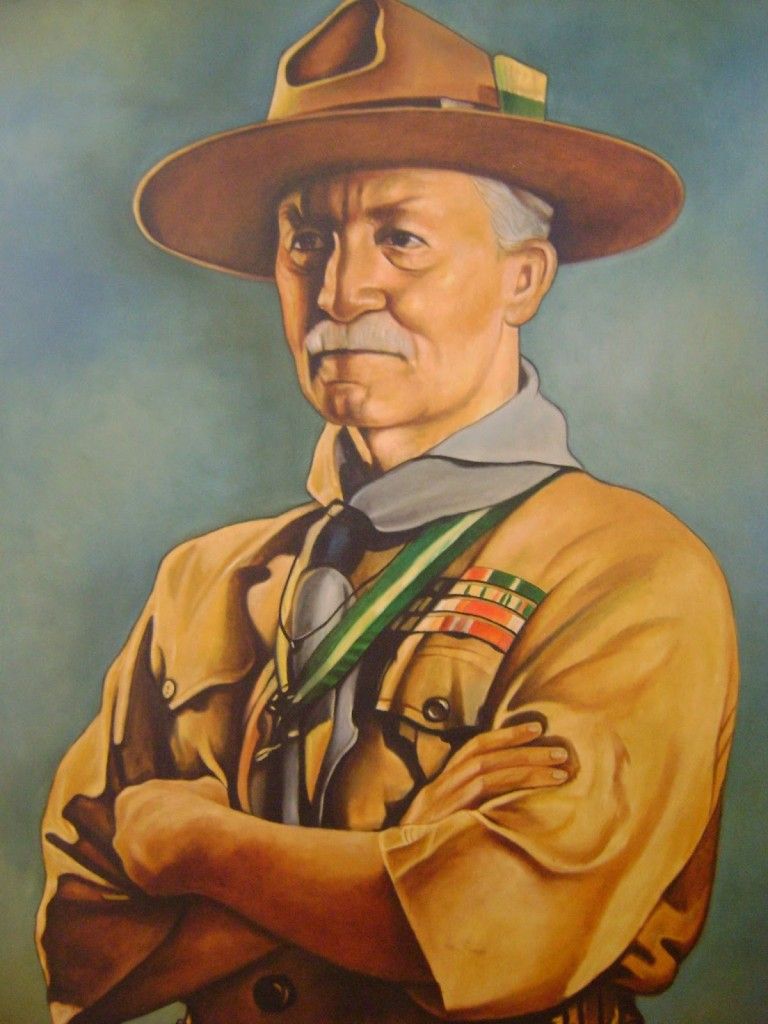 The gift of 86 acres
The 1920's saw a rapid expansion of the scouting movement on the Peninsula, supplemented by the appearance of cubs and girl guides. The only thing that was lacking was an area where the members could camp and engage in outdoor activities. On 18 July, 1931 a meeting of the County Council of Peninsula Scouts was held in the Mornington Shire Hall to discuss the matter. In attendance were Mr. and Mrs. Howard Pitt and, at the appropriate time, Mrs. Pitt offered the County Council the 86 acres of magnificent woodland on the upper slopes of Mt. Martha as a permanent park in memory of her father, Mr. Joseph Harris. It was the area where Harris, assisted by Baron von Mueller, had experimented with unusual species of tree and shrubs over forty years before.
In her booklet on the subject Margaret Ringerson states: "The bequest was particularly appropriate as Joseph Harris had been a man with a lifelong love and interest in native plants, and one who had respected and practiced throughout his long life the ideals of integrity, loyalty and self-reliance which are the basis of Scout law"(Page 20). Whether his creditors, forced to accept seven pence in the pound some thirty years earlier, would have been quite so effusive is perhaps debatable.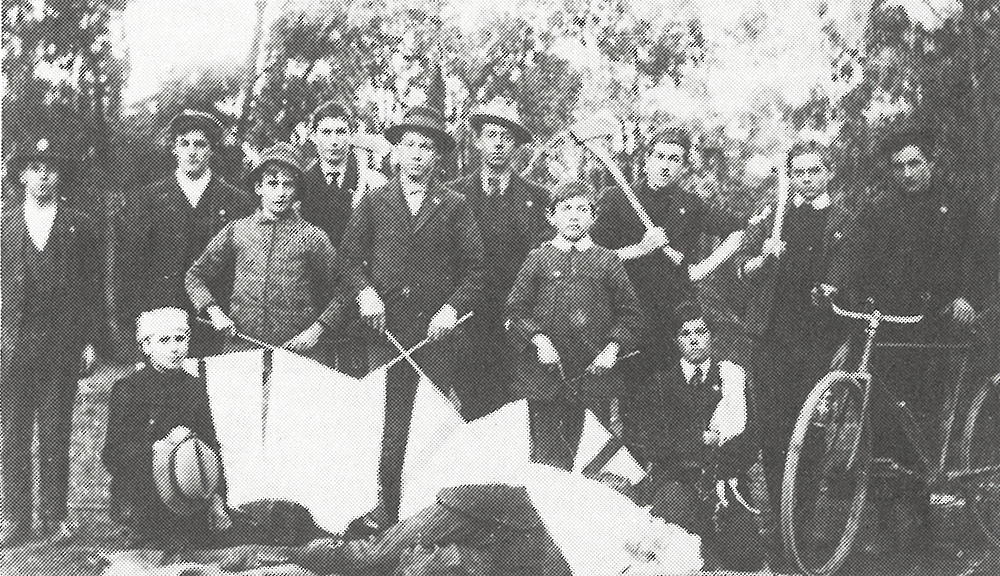 The official opening of the Joseph Harris Scout Park took place on 6 January, 1932 with Sir George Fairbairn officiating. In attendance were about 120 boys who participated in the very first camp; they came from Mornington, Frankston, Dromana, Somerville, Hastings, Red Hill and, as you would expect, Tyabb. These boys were presented with a momento of the event which featured the famous words of Grantland Rice:
"For when the One Great Scorer tries to write against your name
He writes not that you have won or lost, but how you played the game."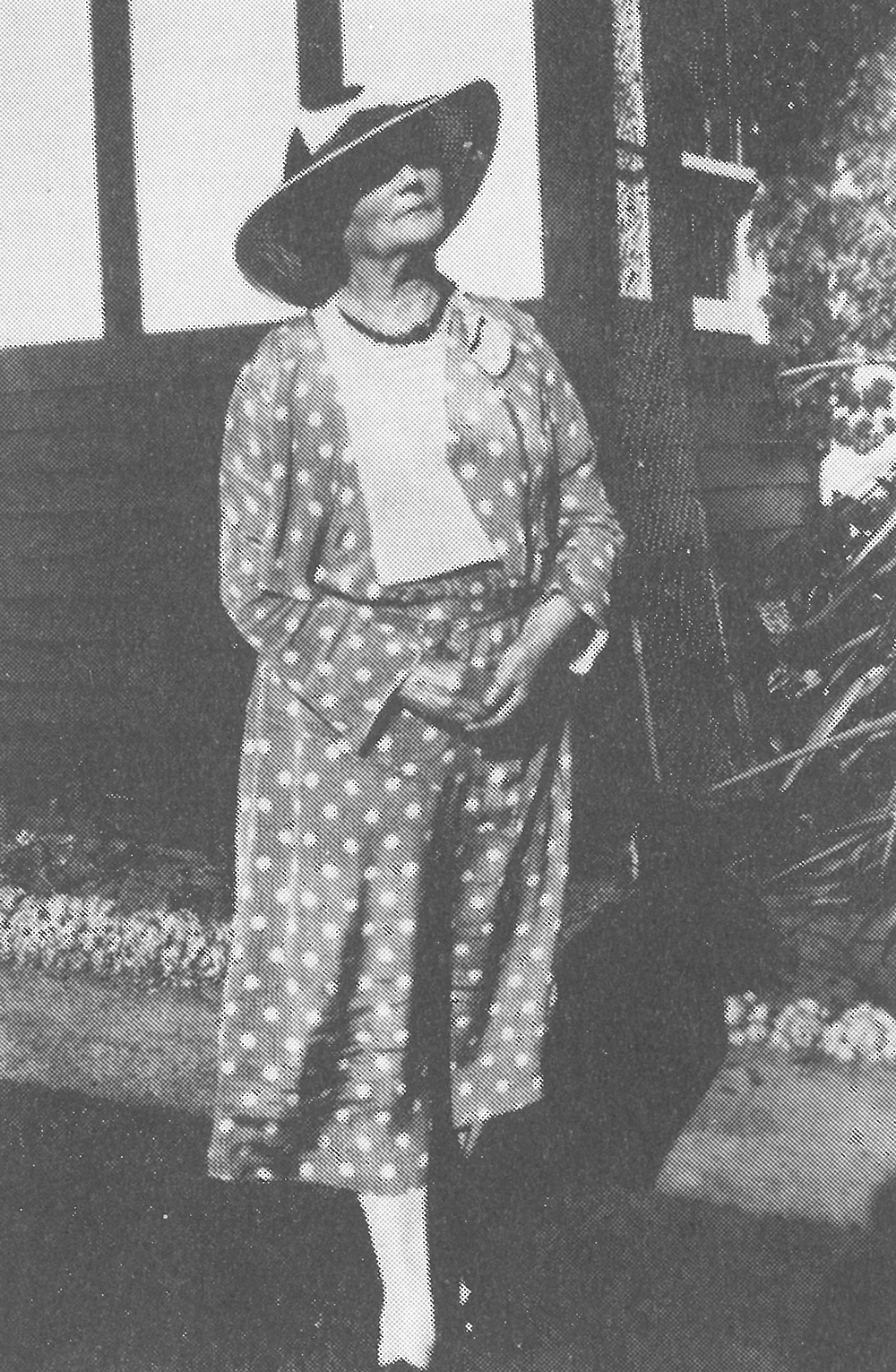 The years that followed:
The decade of the 1930's was a time of considerable scouting activity on the Mornington Peninsula, inspired by a number of enthusiastic leaders and the Mt. Martha camp. A tremendous impetus was given to the movement by the holding of the World Jamboree in Frankston in 1934, and the attendance of Lord Baden-Powell at this international event.
After the Jamboree a log cabin was shifted from the site to Joseph Harris Park, and gates to the Park were made from Maori totem poles which had been brought from New Zealand for the event. It was a heartbreaking blow for local scouts when these momentos of a great occasion were desecrated by vandals. Worse was to follow for on 1 March, 1936 a bushfire swept over the Mt. Martha area, doing great damage to the Park. The log cabin from the Jamboree, which had only recently been fitted with a chimney and floor, was burnt to the ground, a large shed used chiefly as a water catchment and a quantity of timber were destroyed and most of the fencing was burnt. Altogether the scouting movement suffered a great loss, sentimental as well as material and financial.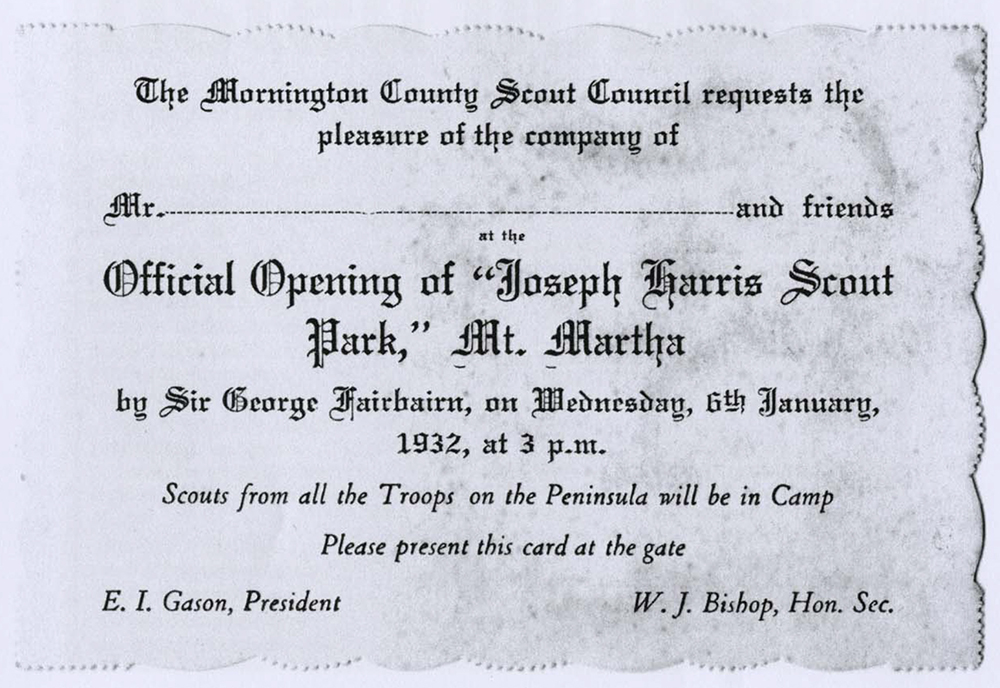 The Park today
Much work of reconstruction and provision of amenities has been accomplished since the setback of 1936. Great use has been made of the Park for camping and competitions, not only by local scouts, but also by visiting groups, and its bushland setting must have inspired many young people with a love of their country and its distinctive beauty. Prior to 2020 the calendar at Joseph Harris featured a number of large camps throughout the year, the largest being the Gilweroo camp held in November which attracted as many as 2,500 scouts from all parts of Victoria.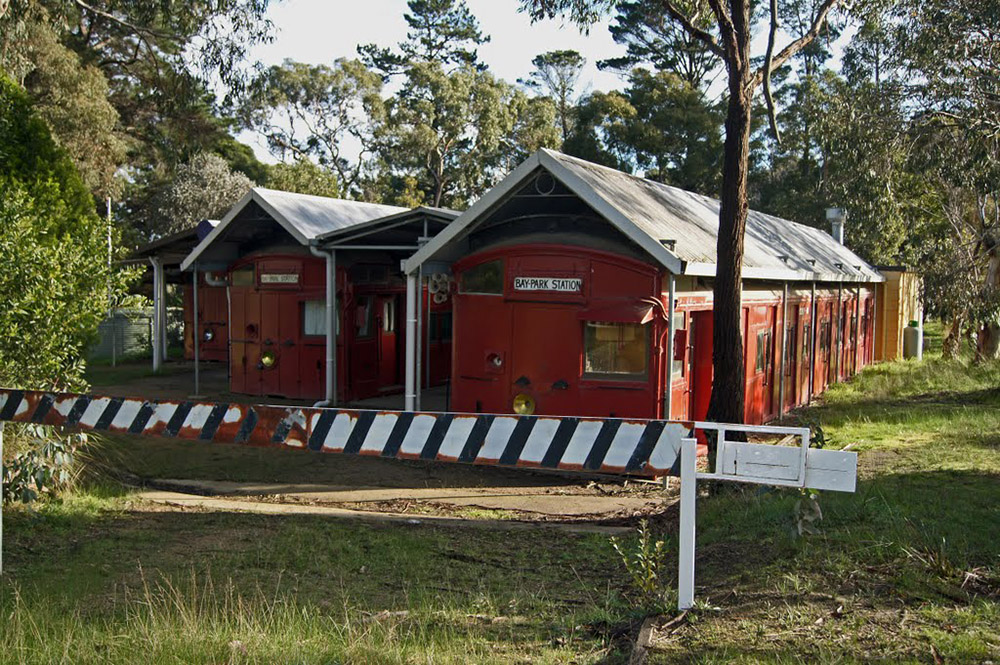 Following the lockdown of 2020, Joseph Harris Scout Park is again available and a slightly scaled down version of the Stradbroke Cup competition, which normally attracts about 1,000 participants, was held this Easter.
Furnished accommodation is available for 108 and this includes two converted railway carriages which have 38 beds and a recently completed shower/toilet block. There is a family camping area consisting of 16 powered sites with water, toilets and showers, while additional campsites have facilities for up to 2,500 campers with water, toilets and showers. The Park can provide a wide range of activities: there are 300 patrol sites, a large indoor activity centre, flying fox, archery, a track for bushwalking, a dam for water activities including yabbying, a bush golf course, volley ball courts, large oval, stage, chalet and storm hut and the Challenge Valley obstacle course. Significantly, the Park also has a chapel, named after Rose Pitt who donated the land in memory of her father. Scattered throughout the 86 acres and the adjacent parkland one can find exotic trees such as bunya pines, relics from the days when Joseph Harris and his friend Baron von Mueller carried out their horticultural investigations.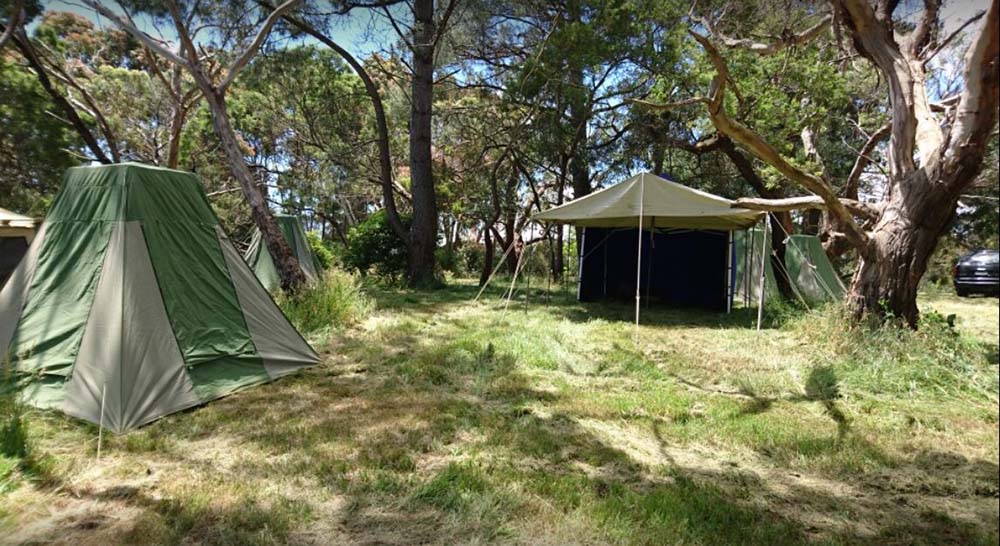 Joseph Harris Scout Park caters not only for scouts but also for schools, youth groups, churches, families, sports groups and many other organisations. Groups other than scouts are required to have a public liability insurance policy. For further information or inspection, the Park's resident rangers can be contacted on (03) 59 742555. This slight 'commercialisation' of the facility has ensured that, in normal years, the Park has been self-supporting. The downside is that 'Scoutie from Marketing' has decided that the traditional name lacks gravitas and has determined that, for advertising purposes, 'Bay-Park' is more appropriate. The selling point of this alternative name is that the initials (B-P) are of significance to scouts past and present. For most, however, the feature will always be referred to by its traditional name: Joseph Harris Scout Park.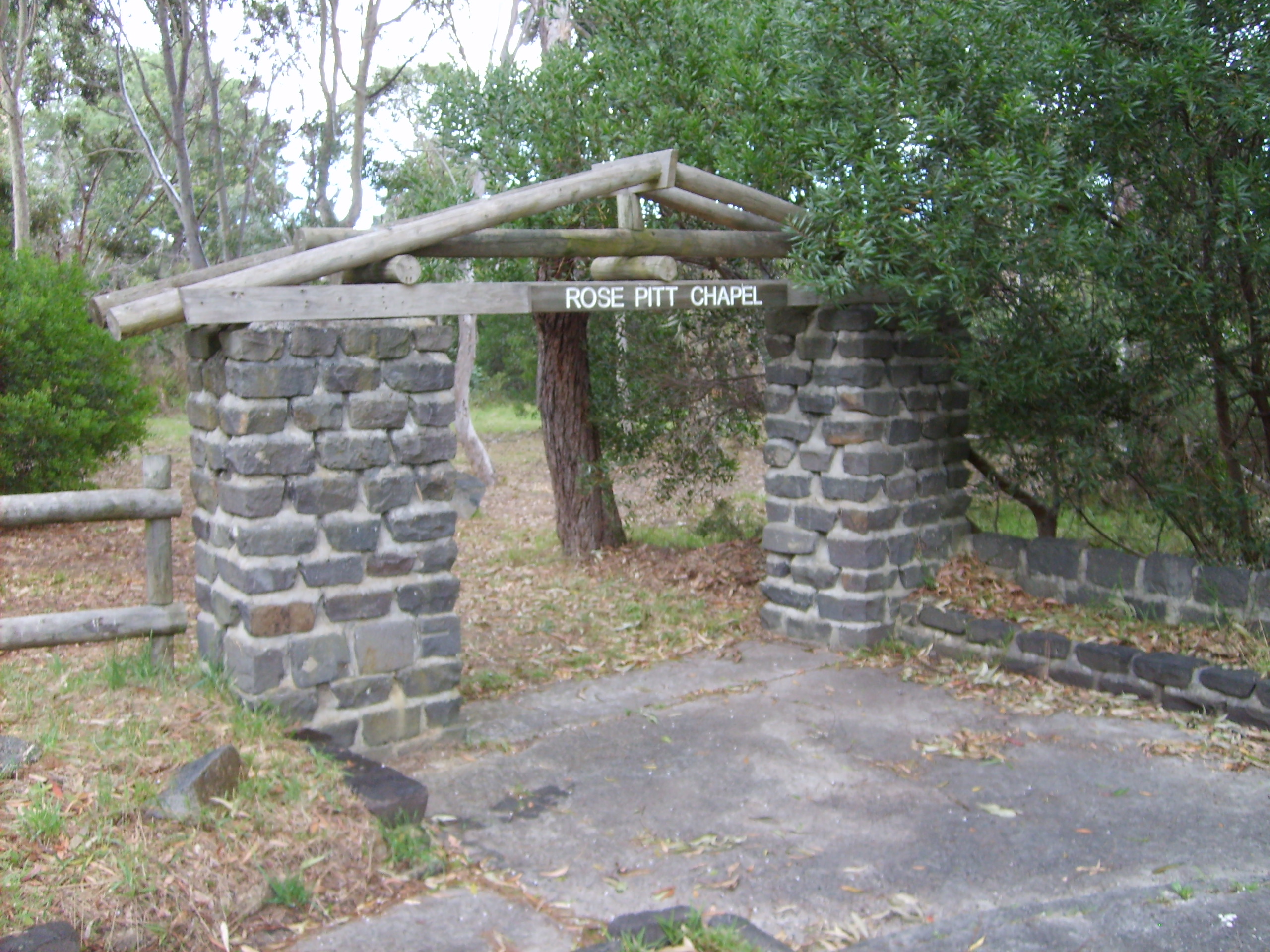 ---
References:
Cannon, Michael. 'The Land Boomers', MUP, 1966.
Heward, Bowen. 'A Tale of Trails-The History of Mornington District.', Scout Assoc. of Australia,1983.
Ringerson, Margaret. 'Joseph Harris Park-a short story about the man who gave you the land.' 1978.
Wilson, Val. Notes on Joseph Harris, Mornington & District Historical Society Facebook page.