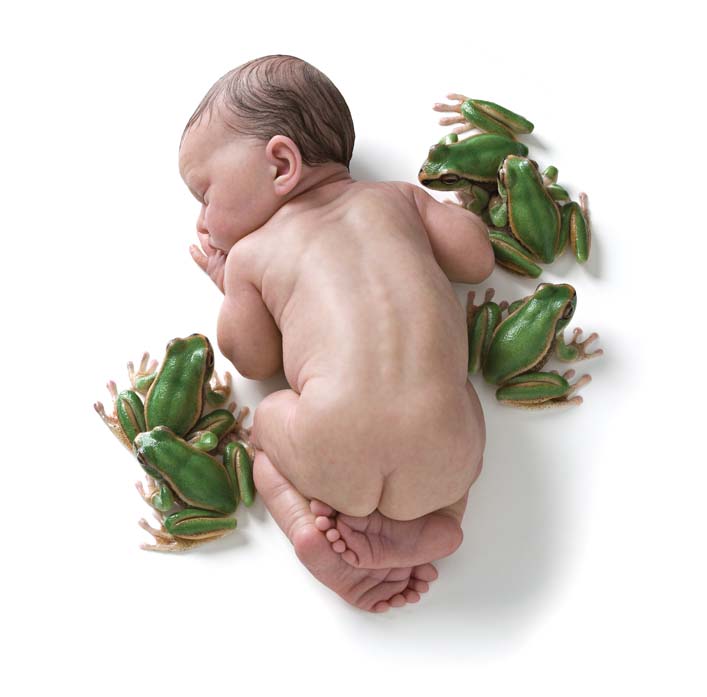 The work of Sam Jinks draws on our shared fascination with the human figure, a fascination that has long pervaded the history of Western sculpture, with the work constructed from silicone, fibreglass, resin and often using human hair, the viewer becomes suspended in an intense moment of intimacy with it, a moment that cannot ordinarily be achieved amongst strangers.
As we stare at the figures frozen in states of vulnerability – be it babyhood, old age or quiet contemplation – we glimpse our own vulnerabilities reflected back. The Mornington Peninsula will be privy to some of the works of this master sculptor at the Mornington Peninsula Regional Gallery, where he will join an exhibition called Obsession: Devil in the detail which runs all the way through to February 17.
Obsession: Devil in the detail examines our fascination with the meticulous and micro, the real and the hyper real and brings together a range of historical and contemporary works under three broad themes of still life, portraiture and landscape. The exhibition seduces us with the power of realism and intricate detail and showcases 65 works across sculpture, painting, photography, drawing and video.
Featuring work by local and international artists including Christian Capurro, Erin Coates, Audrey Flack, Juan Ford, and James Gleeson, Sam Jinks' sculptures capture the heart and imagination of their viewers.
Born in Australia in 1973, Sam Jinks lives and works in Melbourne from a studio in Coburg, where his masterpieces are created. Since his first solo exhibition Distortions at West Space in 2005, he has held a number of other solo shows across Australia and internationally.
A realist sculptor, Jinks says he likes the idea that you can make something precious and powerful. "It is a work that actually means something – not in the context of a moment, but in a bigger sense," he said.
For this master sculptor, the aim is to have the viewer moved or touched by his disconcertingly realistic sculptures. "It is not so important for them to be impressed by the technical expertise, but have a connection to it or be moved by it."
An artist who has learnt by experience, he became a master technician helping out with works like Piccinini's The Young Family and associated pieces, which were exhibited at the 2003 Venice Biennale and other prestigious venues.
"During this time, I had to keep experimenting with materials and acquiring new skills," said the sculptor who had worked over the years as a motorcycle courier, an illustrator, and learnt his sculptural skills preparing props for the advertising and film industries.
Jinks' sculptures have an eerie life-like appearance but also an air of vulnerability and fragility, which is indicative of his deep commitment to the human form. Jinks' Woman and Child which is part of the MPRG exhibition, was created when the sculptor was facing personal issues with his family.
"Years ago I was going through a weird time with my mother being sick, and my daughter Hazel being born, so I thought I'd try and combine the two in a way, with one figure holding the other. It was strange, kind of watching the rhythm of life unfolding around me, and it being unstoppable," said Jinks. "The work is an exploration of my relationship with time and with my family. I often feel as though it's being experienced simultaneously, with both young and old family members, even ancient all at once. As two humans who are at the beginning and end of their lives, the sculpture highlights our own human fragility, as both figures depend on others for their comfort and needs."
Jinks explains that shown together this way, there are comparisons such as the skin textures, the closed contemplative eyes of the woman and the just- opening eyes of the child, and the unseen consciousness of both; one just beginning, one full of life experience and wisdom.
"There is also a distinct cyclic theme; the older woman is holding her infant self, and the open eyes of the baby are seeing for both figures," he said.
When viewers look at Woman and Child, Jinks says he hopes they are able to put themselves into the work. "I am hoping that the work goes beyond my experience and becomes their interpretation, which is important, as the work could mean many things to many people. Most people will be reminded of a relative, or remember a similar experience, and have an empathic response," he said. "The work could also trigger maternal instincts, fond memories of holding a new baby, whether one's own or a grandchild, or the comfort of being held, which we usually don't remember from infancy, but all recognise as an intimate human experience."
Jinks is known to pay attention to detail in his work but also wanting his figures to be removed from reality.
"I like to use a scale less than 1:1, to provide a scenario other than exact life size replicas, in the hope of avoiding a Madame Tussaud's experience," he said. "I'm also not interested in exact copies of people; I try to include accurate details without reproducing an entire simulacrum of someone. This smaller scale also reinforces the impression of vulnerability, as do the downcast or closed eyes, which enables the viewer to approach the works without fear of intruding or being obvious. It's important for the viewer to spend time and engage with the work in order to explore the themes and feelings generated, and I'm hoping to draw the gaze in, to provide a contemplative experience, a moment of reflection."