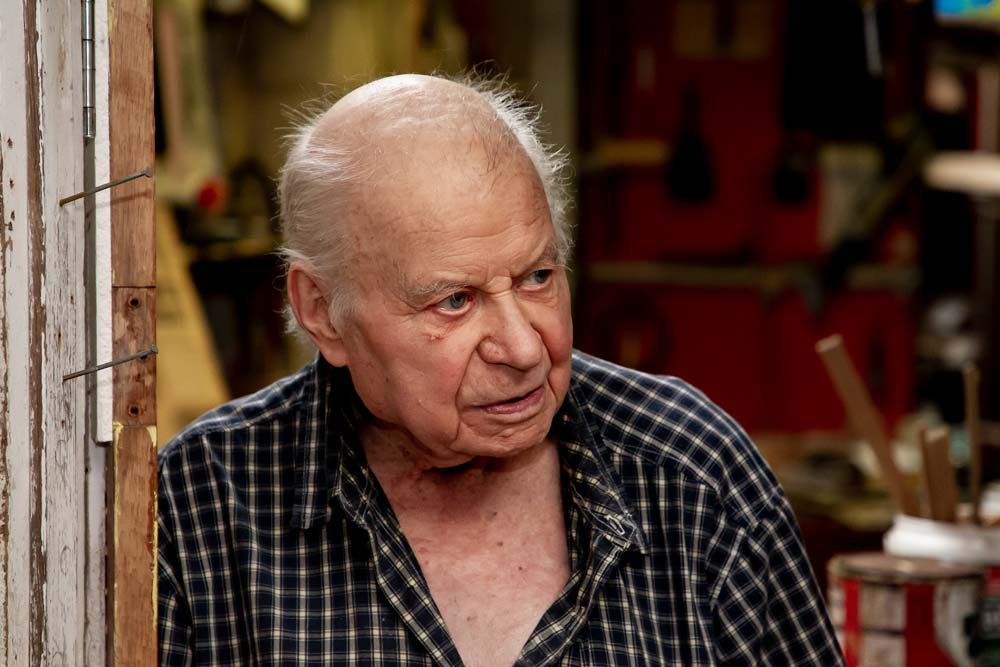 What 94 year-old Alec Hose of Rosebud can make out of cardboard, aluminium cans, wire and other recycled materials boggles the mind. Working with truly exacting measure, he crafts large-scale models of fighter jets, biplanes, paddle steamers, airships, ocean liners and airplanes. The detail in his work is incredible.
He chooses to make models of historical interest and they are big! His Hindenburg and Titanic models both measure 10 feet long. His models depict some of the most famous air and sea craft ever made, such as the Concorde, the Red Baron, the Enola Gay and the RMS Queen Mary.
Tools to make the pieces of his models don't exist. He makes his own jigs, presses and other machinery in his purpose-built workshop at home. He can cut timber down to half a millimetre thick. Invention and reinvention best describe his life and career. Born in Brunswick in 1925, Alec has seen remarkable change in his lifetime and he likes to tell tales of times gone by.
He remembers the market horse and cart, the cobblestone streets, the cable car on Sydney Road and the invention of the 'wireless' radio and all the technology that came after it from television to the Internet. Not many people had cars when he was young, but his father was an engineer and he could afford a family car – a 1922 Dodge.
Engineering interested young Alec so he decided to get his training and education in the Air Training Corps of the RAAF at the age of 16. He spent his Saturdays drilling, marching and learning unarmed combat. He also took night classes at Essendon Tech studying flight rigging.
Originally he wanted to do a fitting course, but missed out and instead got close up and personal with aircraft when he was tasked as a sign writer on planes such as the four engine B-24 Liberator Bomber. There he honed his attention to the detail required for his model making.
The war ended his time in the RAAF, but he later worked for Australian National Airways servicing aircraft at Essendon Airport. When he left that, he spent the balance of his career in plumbing and drainage, but he was always making models.
Through one of his drainage jobs, he met Charlie Schwerkolt of Charlie's Car Museum who took great interest in his models and to this day, all of Alec's models are on display at the car museum.
When he was 50, Alec changed tack and took up figure skating. He trained very hard, but switched to ice dancing, as it was a little less strenuous. He did ice dancing for 13 years and never had a single fall even doing the quick step on ice. Once the music began, he was off skating around the Sydney Myer Music Bowl in Melbourne. After the Music Bowl skating shut down, he went into model making full tilt.
Initially, making his models required a lot of invention and experimentation. He was always making something to further his cause. He made an air compressor out of an old car, devised an ingenious system for flattening out cans, and set up a jig that cuts to the precision measurement of a pin's head!
All his skills from engineering to sign writing come into play when making one of his models. He's currently working on a Spitfire with a wingspan of over 10 feet. It takes an entire year to make a single model!
If you ask Alec about his life, he'll tell you that he has done practically everything. " I can't be idle," he says. "I'm the kind of person who has to experiment with things to get to the nitty gritty of how things work," he says.
If you ask him the secret to his longevity he'll say it comes down to genetics. (He's actually related to Queen Victoria!). In reality, he says it's about how he looks after himself and how he eats. " I steam everything!" he quips.
There can be no doubt about it; Alec is an inventor. He likes to figure out the way things work. "I know mathematics backwards," he says. He feels his greatest risk was flying airplanes, but it was also his greatest thrill. And he got to see the evolution of the airplane through the course of his life. To him, nothing could be better than that.
Photo gallery: Gary Sissons
---
Check out his magnificent models at Charlie's Car Museum on Purves Road in Arthur's Seat. Each one gives a glimpse of a remarkable time in history and the history of engineering.