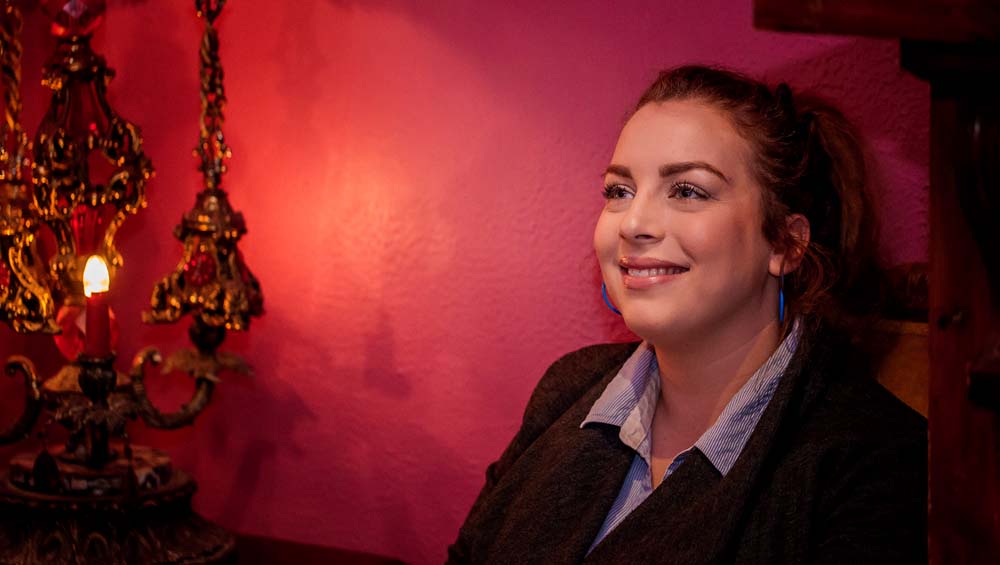 By Melissa Walsh   Photos Yanni
French renaissance furniture, red velvet baroque lounges, and gold embossed framed paintings adorn the walls of the luxurious iconic Brass Razu wine bar in Mornington. Owner and manager, Alexis Collier, tells us what it's like to run one of the most unique bars in Mornington.
"I started here four years ago when my parents bought the bar as part of their retirement lifestyle," said Alexis, who had previously worked as a teacher. "I was still doing some teaching work but slowly became more and more involved with the business until now I run it full time."
Alexis says being part of the iconic wine bar is a great way to express her creativity and she has made a few changes, mainly to the cocktail menu.
"The place was perfect as it was, so the only décor we have done is a bit of painting to freshen it up. We have also added more artwork and displays but a lot of those have been gifted to us from customers," said Alexis. "One customer gave us a big painting of her great grandmother and it has pride of place on the main lounge walls. Another used to come to the shop in the 1970s long before Brass Razu was here. It was called Pancakes by the Bay then and she remembered coming here as a child. She brought in a photo of the old shop and some lovely collectable china."
The one thing Alexis and her team have changed is the addition of an extensive cocktail list, increasing from two standard cocktails to nearly 60.
"We have an incredible cocktail list now, and many of them I have created myself," said Alexis as she pours her trademark Bloody Mary. "I did a bit of research on the Bloody Mary and discovered lots of cocktails that are being garnished with unusual things so we added the prosciutto and vegetables. After all it is a very savoury cocktail."
"It is great seeing the look on people's faces when you put a cocktail in front of them. A very popular one at the moment is a new one we just created called Unicorn Tears. It has vodka, moscato, Havana, and is garnished with fairy floss, strawberries, sprinkles, sour straps, and a secret ingredient."
In their very small kitchen area, the staff come out with some great dishes including grazing platters, antipasto dishes, bruschetta, pizzas and cheese to name a few.
Behind the scenes, the preparation has been going on for hours before customers step through the door, yet Alexis and her staff makes it look effortless.
"Mum and I make spaghetti and the sauces and we do lots of grazing platters. We really pump out the food considering it is such a small space," said Alexis who designed the menu with her mother. "We source specialty items from a lot of different suppliers though, careful to make sure they are both high quality and unique for our customers."
Friday nights at Brass Razu are entertainment nights with live music from Celtic folk duos to jazz and even light rock songs.
---
Brass Razu is at 13 Main Street, Mornington.
Phone 5975 0108.