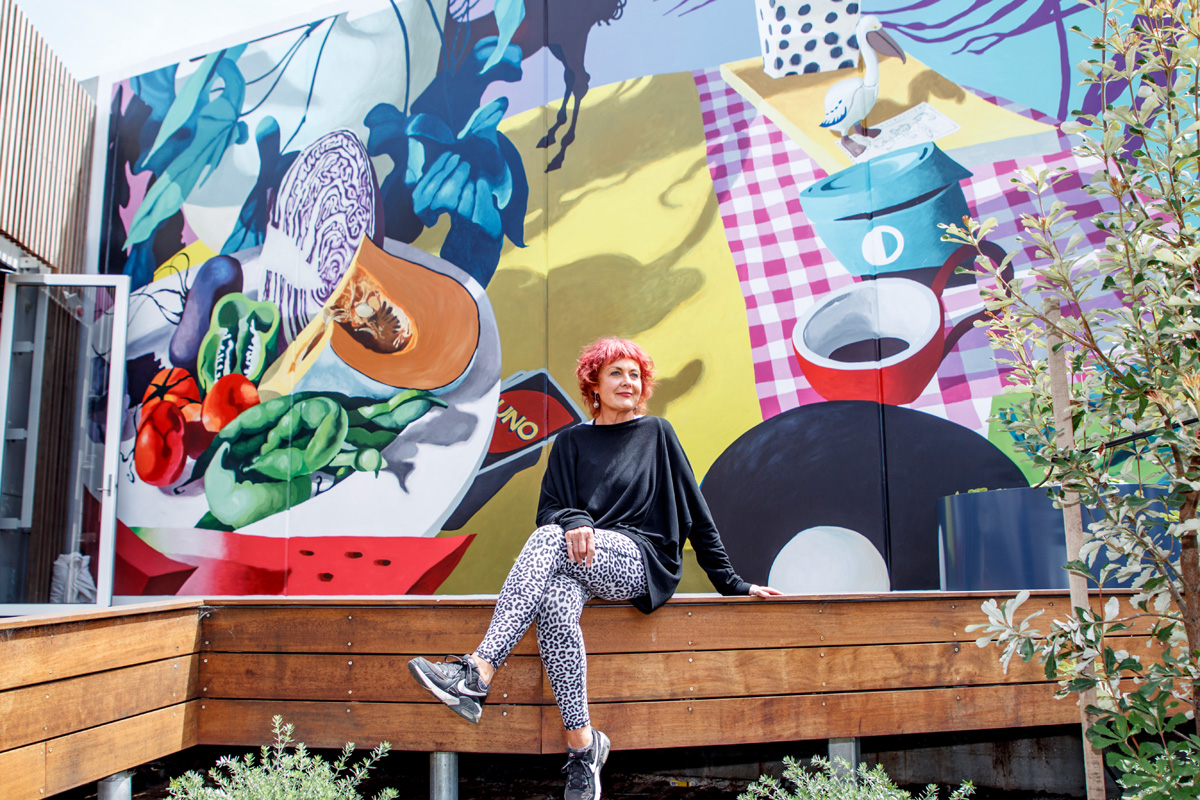 By Andrea Rowe Photos Yanni
Feeling empowered, emotionally supported, and encouraged to connect with people, through meaningful projects and a sense of place in tough times is the successful secret behind Jimmy's Youth Wellbeing Sanctuary
Jimmy's offers a welcoming and safe retreat and experiences to strengthen mental, physical, and emotional health and resilience of local teenagers and young adults.
It's an integrated youth hub that has the potential to address long-standing youth mental health and wellbeing issues across the Peninsula.
Managed by the YMCA Youth Services, Jimmy's is a fresh new take on a gathering space for young people to connect with trained and qualified staff, as well as volunteers and mentors with backgrounds in holistic practices.
Jeanette Horsley is the Manager of YMCA Peninsula Youth Services, which has been operating on the Peninsula for over 15 years. It was a professional and passionate eight-year focus for Jeanette and her colleagues to see the doors swing open on this new venue.
"When young people hit roadblocks in life, we wanted this to be a place where doors open and they can discover new ways of approaching challenges, or just enjoy stepping back from hard times and immersing themselves in experiences to broaden their identity."
First time 12 – 25-year-old visitors might feel they've stepped into a funky Federation Square building that's a hybrid of relaxed lounge, café, games venue and university hub. Once inside young people are invited to interact with the space in a way that suits each person individually; they may be making a coffee or after school snack, having a chat with a holistic practitioner, learning how to create a new signature dish, or chilling in a bean bag and finishing off homework while enjoying the vibe.
Since it's official opening in December 2021 by the Minister for Health, Hon Greg Hunt, Jimmy's welcome mat is out and teens and young adults have gathered for after school hangouts, group cooking sessions, wellbeing talks or a chance to meet mates, grab a bite together and make new mates after a gruelling few lock-down years.
"This is a place where teens and young adults can have a sense of ownership in and connection with people who understand and celebrate them. They can slowly develop relationships with adults while trying out different pathways that aren't structured through sport or academic expectations, or part time job responsibilities," said Jeanette.
"Our young people are so worthy of our support and energy. What we've worked hard to offer is a safe space during transition times, where they can engage or retreat based on how they are feeling. And we are sensitive as to how they're feeling, and have insights as they work through their own sense of identity".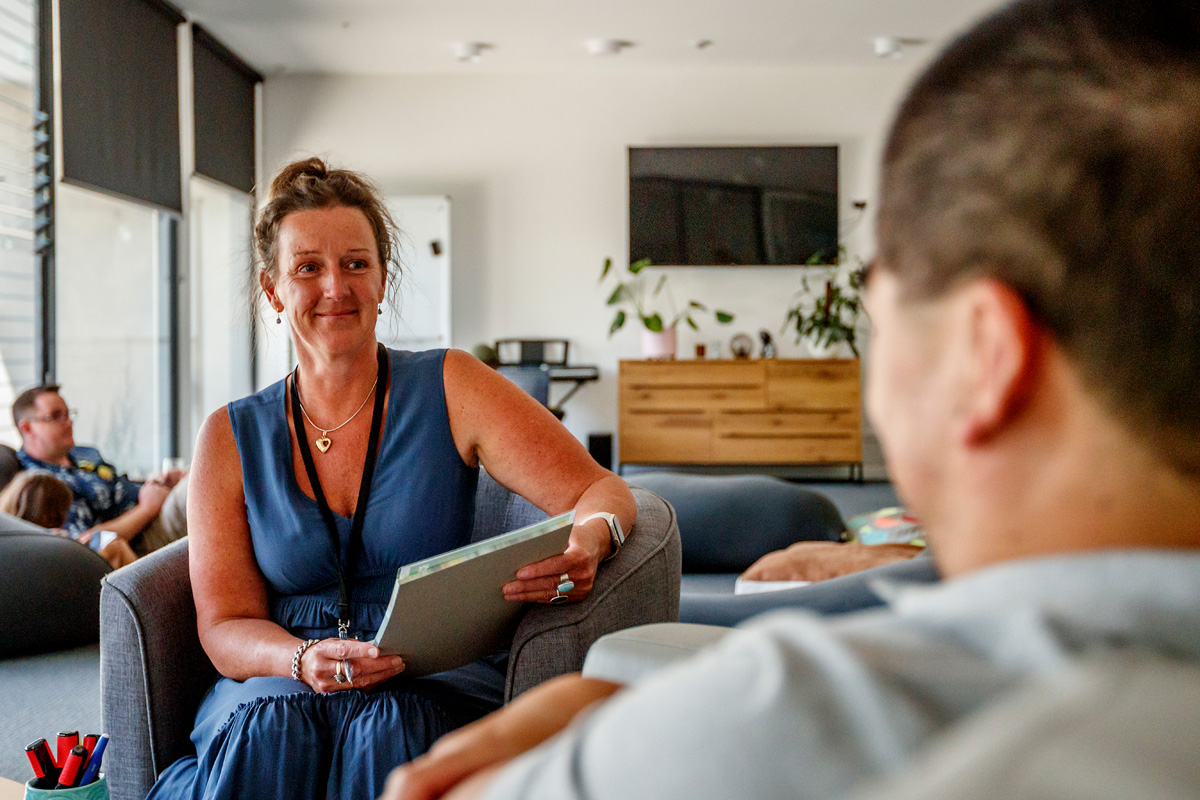 Jeanette says the conversations and connections open up during weekly health and wellbeing programs, inclusive talks and mentoring, nutrition sessions and cooking, barista courses, and in-house youth camps and retreats for teens. Situated next door to headspace Rosebud there's also direct links to support programs, and employment service pathways as well.
The added touch of mentor support in the youth-focused hub complements personal development programs that are relevant and interesting to local youth, many of whom are from marginalised, disengaged, and disadvantaged backgrounds on the Mornington Peninsula.
Jeanette added that "so many health and wellbeing services are cost prohibitive for families and especially young people. We've taken that away so that they can experience different approaches to nurturing and respecting their mind, body, and spirit."
One incredible feature of Jimmy's is a unique wellbeing program providing no-cost access to holistic and complementary wellbeing practitioners and programs. Reiki, yoga, and naturopathy consultations are just some of the holistic features, delivered by skilled professionals trained and qualified in mental health and youth support.
It's a program that builds trust and empowers young people to understand themselves and how they can care for their own health in years to come. They're coming in and asking for acupuncture because they know they feel better afterwards. They're relaxed, supported, and heard in a physical and emotional way.
Since COVID young Australians have taken the biggest psychological hit. It's clear, more than ever that spaces and services like this are needed on the Mornington Peninsula. In a recent survey into youth mental health across Australia by Resolve Marketing, four out of five young people said they experienced mental health issues in the last two years.
Places like Jimmy's have become a welcome relief for many families and carers in the community, and it has maintained its accessible mantra ensuring there are no fees for young people who wish to enjoy the programs and atmosphere.
This is all a long way from the days when the community vision seemed like in insurmountable obstacle.
Jeanette references the psychological architecture of the building which possesses unique wellbeing elements: "as you move through Jimmy's the building really does have a calming impact on your emotional state."
Much of this architectural triumph is a direct response to the wishes of Sarah Darling (Founder of Jimmy's Foundation), who originally proposed Jimmy's after the tragic loss of her Melbourne architect son James.
"It is extraordinary that out of so much sadness and adversity came something for others," Jeanette shares.
Jeanette says that Sarah's desire was to create a youth-focused hub, designed to be part of the landscape with materials and features that projected a peaceful, calm, and engaging presence. James's legacy is one that local youth can now benefit from for years to come.
With its vibrant mural at the entrance, large floor length windows, ventilation, and light and tactile, soothing spaces the hub speaks of transparency, connection, freedom and energy. Invigorating features recognise the gathering space qualities that local youth deserve to experience.
Youth have the run of the modern open-plan kitchen, seating nooks and couches, gardened courtyard, quiet reiki and yoga rooms, upstairs accommodation for retreats and a roof top terrace for outdoor activities. A bus transports attendees mid-week from local secondary schools to help with access logistics.
For Jeanette and others at Jimmy's, the new building signifies the next chapter in the centre's journey. What was once a small community organisation, is now on its way to expanding its reach and impact.
"The vision has always been for Jimmy's to be able to serve the young people across our community who need us most. Jimmy's provides an opportunity for young people to become part of their community and sets a tone for what mental health support can look like. We're here for all young people."
Insta: @jimmysyouthsanctuary