Pictures: YANNI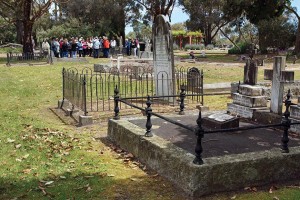 Val Wilson is passionate about cemeteries and the perfect person to guide the annual Mornington Cemetery walk, taking visitors into another world, where each grave has its own story.
"I've always been interested in cemeteries, and first started out working on the Greensborough cemetery years ago which is where a lot of my family are buried," says Val, who, after doing biographies on some 300 buried there, was hooked.
"I knew a lot of the names and it was very fulfilling, like a mark of respect to these people, discovering stories that we could lose forever if somebody doesn't investigate," says Val.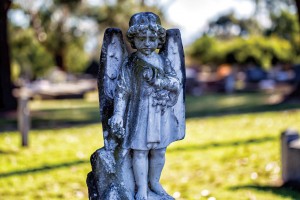 Now a Mornington resident, Val was already a member of the Mornington and District Historical Society, and got involved with the Mornington Cemetery walks in 2006.
"We gather together at the cemetery gate around 1pm, where Diane White, the president of the historical society, and myself will give a brief introduction and background of the cemetery," says Val. "I like to give people quirky bits of information about the people we have buried here."
Walking into the cemetery is eerie at first, with  its procession of grey headstones and mounds of dirt with flowers, artificial and real strewn about, but you soon realise there's a rich history to be learnt.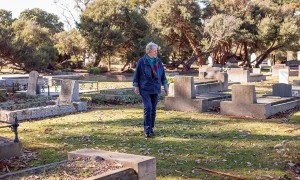 "We begin the tour in the old section of the cemetery, which is divided into different religions. To the right hand side is the Presbyterians to the left is the Church of England, and up the back the Methodists and the Roman Catholics. That's how it was done in those days," she says with a laugh.
Walking through the cemetery with Val is like walking through a library of the dead, where the occupant of each grave is like a fascinating book.
"The stories I have unearthed at the cemetery have been inspiring really, such as finding the stories of local pioneers like the Firth brothers from the Orkney Islands. One brother, John, was mate on a clipper ship soon to become captain of his own ship, but he left to join his brothers James and William to look for gold. They then all settled in the Moorooduc area and became part of our history," says Val.  "And it is not only local history that can be unearthed; one gentleman out in the cemetery, a Mr. Walker is one of Australia's pioneers having spent 48 years in the outback of Queensland, New South Wales and South Australia. He spent 28 years as Station Manager at Innamincka Station on Coopers Creek. The station had 12,000 head of cattle and 450 horses; the property was sold to Sir Sydney Kidman in 1904. In an obituary I read on his life, it says that as a young lad, he watched the Burke and Wills expedition set out from Melbourne. He little realised that in later years he would keep the tree and grave associated with the tragic end of the expedition well preserved and fenced during his long residence."
Val's fascination for cemeteries is so infectious she started a website on stories from the Mornington Cemetery.
"With the help of Murray Adams, starting the website on the pioneer graves is my proudest moment. It allows more people access to the fascinating history of Mornington and its original pioneers, and evolved from a simple power point presentation 13 years ago.  We were awarded the Victorian History award for the website in 2013," says Val, who continues to dig up stories to this day.
"Sadly some of the earliest burials we have found were young children such as Elizabeth Connell, who died in 1858, aged one year, and Thomas Allchin, aged seven days. The earliest grave marker still standing is of James Wood, aged 12 years."
Val says she still finds one particular grave a mystery.
"It is the grave of Sir Arthur Streeton's brother and the gravestone says JS and in Latin the words, "Speak not ill of the Dead". I'm still intrigued what the story behind that is but I have my suspicions," she says of yet another mystery she hopes to solve.
And as for hanging out with dead people, Val says she never feels uncomfortable at the cemetery.
"It's quite the opposite; I am used to it and do it as a mark of respect to our forefathers. A person is never forgotten if someone's talking about them."
To organise a cemetery walk, phone the Mornington and District Historical Society on 5976 3203.
Val's works was recognised in the recent Queen's Birthday Honours when she was awarded an Order of Australia medal.