Australia's most remarkable gardening organisation is right here on the Peninsula and its garden home has just had a rare redesign.
2020 lockdowns saw people all over the world turning to their gardens and reconnecting with nature like never before. From absolute beginners who decided to start on the road to self sufficiency, through to seasoned gardeners who got stuck into big projects and really relied on the sanctuary their gardens provide. Even one of the Peninsula's most famous gardens got a bit more attention and has emerged from lockdowns really blooming.
Heronswood House and Garden in Dromana is the home of the Diggers Club – Australia's most remarkable gardening organisation. The Diggers Club was established in 1978 by Clive and Penny Blazey as a small mailorder seed operation with the aim of providing Australian gardeners with access to rare and unusual seed varieties. In the 1980's the Blazeys bought the historic Heronswood House (circa 1864) as their family home and set about trialling plants for Australian conditions and creating a display garden of the plants their Club was keeping in circulation.
The very first certified organic public garden, Heronswood is today a living catalogue of the plants and seeds that Diggers has championed and preserved. The Club now has over 80,000 members Australia-wide and the public gardens became so popular that the mailorder operation had to move to a separate site (also in Dromana). Diggers.com.au and the nursery onsite at Heronswood, offer more than 500 different varieties of heirloom seeds and thousands of rare and unusual plants. The Club continues to educate the public on the importance of publicly-owned, open-pollinated seeds for our food supply, and offers members nuts and bolts gardening skills to ensure success for future generations of gardeners.
About 10 years ago, the Blazey family gifted ownership of the Diggers Club as well as its priceless gardens to the non-profit Diggers Foundation to ensure their legacy continues and the gardens remain intact and accessible to the public. Entry is free for Diggers members and children under 16, or $10 for others. And aficionados will find a few changes following some exciting garden renovations through all the challenges of 2020.
While every organisation suffered from the drawn out lockdowns of 2020, gardeners really are a resourceful bunch. The garden gates were forced to close to the public, but essential staff made the most of the rare time away from the public eye. As a significant public garden, key staff were able to undertake maintenance, and without daily visitors, they could finally get messy! This meant redesigning garden paths, getting stuck into hedges to open up even more spectacular views across the bay and out to Mt Martha, creating a range of new garden zones and picnic lawns, laying tonnes of granite screenings and gravel mulch, planting hundreds of new plants, moving others and even turning their hands to some stonewalling from materials found onsite – metres and metres of it in fact!
Regular visitors will notice lots of other changes in the garden as well as it emerges from its biggest transformation since the Blazeys first put their mark on the property.
There are still a range of projects on the go, including a bog garden and extension, the upper Dry Garden path and garden and a Ficus walk; all have been cordoned off until complete. And there are plans coming up for an exciting new Australian rainforest walk and more.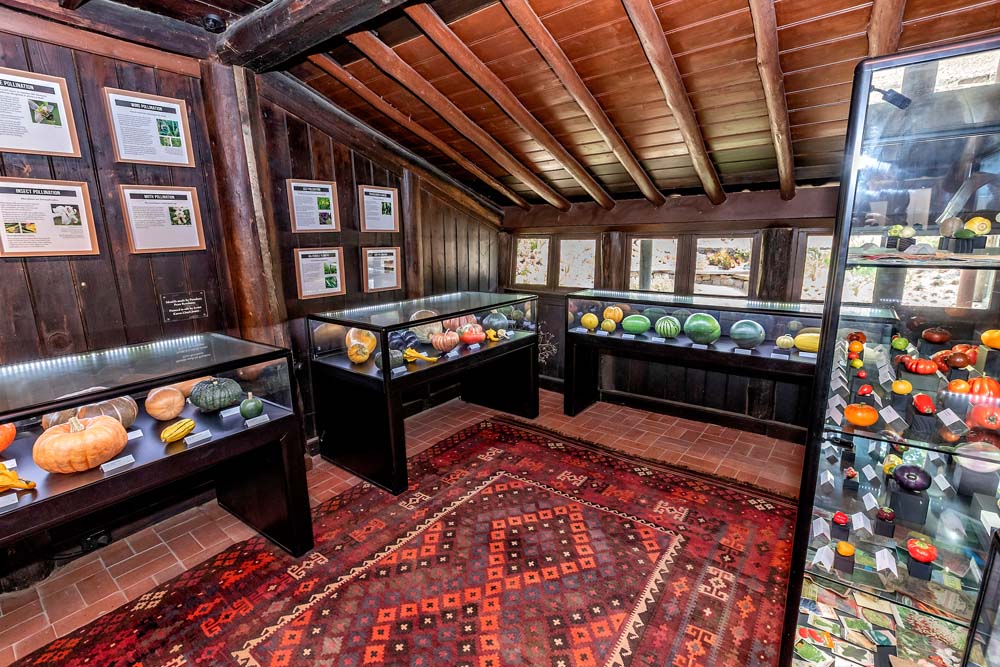 A garden is never finished and never static. That means you'll find something new at every visit.
Heronswood House and Garden is open 10am-5pm seven days a week. The Fork to Fork café serves seasonal lunch and local wines for lunch and tea/coffee and cakes through the day from 10am-3pm. Bookings are required in peak times. See diggers.com.au for details and follow them on Facebook and Insta @thediggersclub for updated info & news.
Gallery Heronswood
The Heirloom Room in Gallery Heronswood features a collection of 90 open pollinated heirloom fruits and vegetables that have been preserved by The Diggers Club. Moulds were created and painted based on grown-out specimens and the replicas are so perfectly presented they appear real. This means you can learn about rare varieties no matter the season. The Gallery is housed in the original drop-slab cottage dating back to 1864 and faithfully restored.
Heronswood House
The heritage listed house is one of the oldest on the Peninsula – designed by Edward La Trobe Bateman and built as the holiday home of William Hearn – the first law Professor at Melbourne University.
The Vegetable Parterre
Diggers were forerunners in the 'garden to plate' movement in Australia. Their original Fork to Fork restaurant was one of the first to run on the zero food miles concept. Today, the Fork to Fork café is set in the historic house and on the gorgeous pool lawn, still sharing produce direct from the garden and offering a seasonal, casual dining experience.
The Perennial Border
Heronswood Garden is listed in the Oxford Companion to Gardens as one of only 4 entries for Victoria, along with Melbourne Botanic Gardens, Mawallock, and Ripponlea. The summer flowering perennial border is always worth a visit.
---
105 Latrobe Parade, Dromana
P: (03) 5984 7321