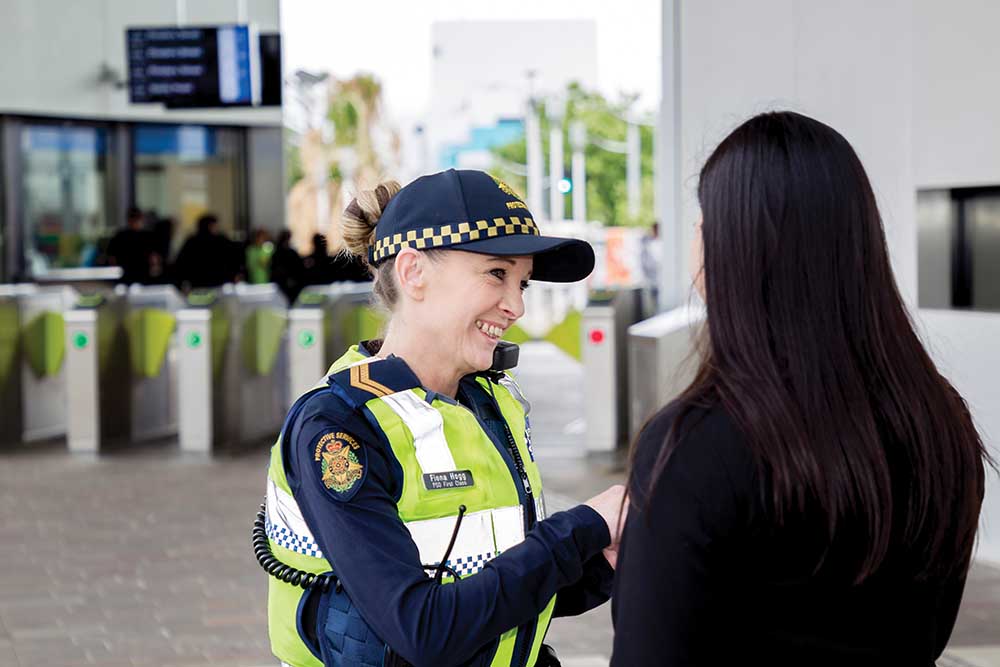 By Melissa Walsh Photos: Yanni
Fiona Hogg grew up in a tough environment. She is smart and witty and has always followed her dreams. That's why the five foot three blonde became a Protective Service Officer (PSO) six years ago at the age of 40.
"Everything I have ever set my mind to I have achieved," said the bubbly PSO who is not scared of anything.
"My husband has been in the police force for 23 years and I decided I wanted a change of career. I was determined but when I saw the application for PSO it appealed so much more to me," she said.
"I did some research online and spoke to current PSOs to get a better understanding of the role. For me it was about the excitement of a whole new role within Victoria police, protecting the community, and helping members of the public to feel safe traveling on public transport. The hours of work suited me along with six days off a fortnight, nine weeks paid leave, and a great superannuation scheme. Most importantly, I saw it as a bit of a challenge."
For Fiona and the other PSOs who patrol the railway stations, the primary role is the perception of safety on and around the railway stations. "This includes maintaining a visible presence and engaging with the community. We actively patrol the train platforms, car parks and around the general area of the railway station. We deal with anti-social behaviour, property damage, alcohol and transport related offences and so much more," said Fiona. "It could be as simple as walking someone to their car after dark if they are nervous to helping sort out tickets, to the extreme of arresting and detaining offenders."
There is no such thing as an average day for a PSO. "It's not an average job where you know exactly what you're going to be doing at any given time. It could be that your patrolling the station giving visual presence to ensure people feel safe, responding to antisocial behaviour, dealing with medical emergencies, locating missing people, dealing with mentally ill people, arresting compliant and violent offenders, whether it be on a warrant or often a broadcast of a description of an offender from nearby areas who comes through the railway station, intelligence gathering or even just walking someone to their car," she said.
You'd think it would be a tough job as a PSO let alone for a petite woman, but in fact female PSOs play an important role in serving and protecting the community each night. "As a PSO, you will be provided with training, equipment and support plus assist in  developing your self-confidence and assertiveness to ensure that you carry out your duties well," said Fiona. "I think often the females can subdue the situation a lot better. Often male offenders, for example, might get really nasty with the male officers but with us they can calm down a bit."
One of the reasons Fiona was drawn to the role was the work hours which suited her."Our average shifts are 4pm till 2am and I love that as I am a night owl," she said. "It just fits in so well with my lifestyle and I get so much satisfaction feeling like we are really making a difference in the community."
PSOs are located at all 212 metropolitan train stations in Melbourne and four regional train stations across Victoria (Bendigo, Traralgon, Ballarat and Geelong).
"There are 12 weeks of training at the Victoria Police Academy, after which time you join the Transit Safety Division to complete a three month mentoring program before being deployed to a suburban train station," said Fiona, who was born and raised in the Frankston area.
"Duty begins with a briefing at the designated police station, where the supervising Sergeant outlines the operational safety considerations, or if there are any local events or things to keep an eye out for. These days we are far more involved in the intelligence side of things which is fantastic and means we can help the community even more."
Apart from keeping law and order on and around the railway stations, PSOs are a familiar and friendly face for regular commuters and the surrounding community.
"We really do get to know the people in the area, and help to make them feel safe on their public transport system. If we do have any issues with offenders we have a holding cell to bring them to until further assistance arrives," said Fiona.
As for the most important traits a PSO needs, Fiona says it is important to want to help the community but also like talking to people.
"You must be caring and compassionate and able to reason and solve a problem which is a skill you often learn more on the job. It is important to be fit and active and thrive on working in a varied environment as you never know what will happen from one moment to the next."
---
If a career as a PSO is something that you have been thinking about and you want to understand more about whether it is the right choice for you, email rsbmarketing@police.vic.gov.au