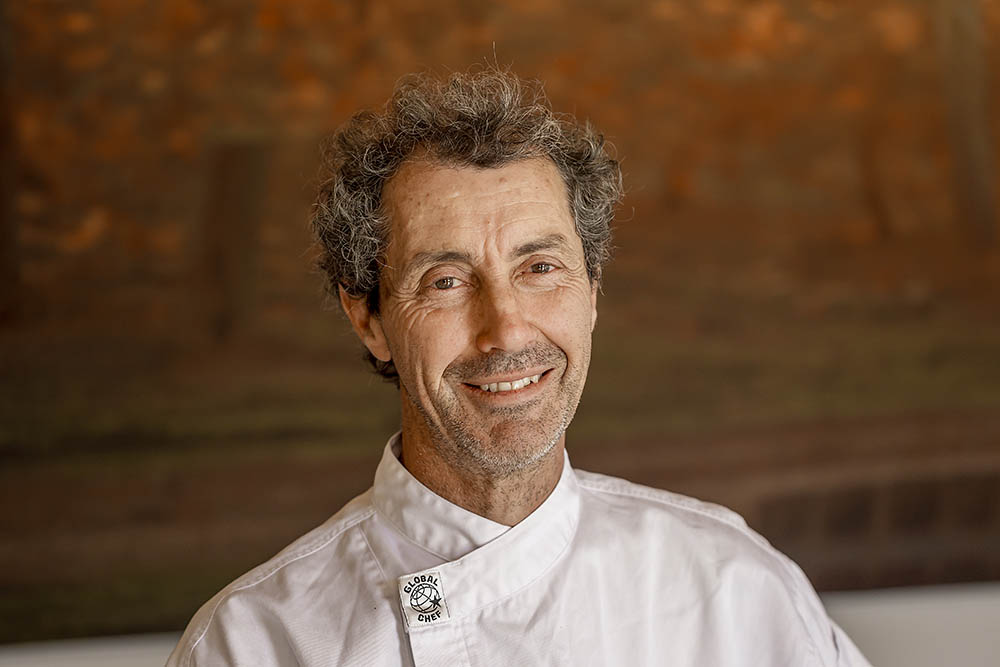 By Melissa Walsh   Photos Yanni
If you have ever dined on the Mornington Peninsula it is most likely you will have enjoyed a beautiful meal prepared by local restaurateur Bernard Ricca, who has been a chef for some 33 years. The chilled-out peninsula chef has run and owned multiple restaurants in several different locations across the peninsula, having found his home at Stumpy Gully Vineyard for the past four years.
At Stumpy Gully Winery, Bernard prepares an elevated menu highlighting regional delicacies, such as figs, quinces, and freshly caught whiting, flathead, snapper, and calamari. The restaurant's signature dish is Roast Duck Breast, which is served with a star-anise-flavoured bittersweet orange sauce, coriander crepe, and gingered bok choy.
It has turned out to be a winning recipe with the combination of Bernard's culinary skills in his Regardz Restaurant, and the family winemakers who have enjoyed decades of experience at Stumpy Gully Vineyard.
The restaurant has been designed to promote relaxed dining with floor-to-ceiling windows framing vistas of the vines and a lovely expansive deck for alfresco dining.
Owner Michael convinced the well-known chef to start a restaurant on the property. "I was selling wine to Bernard and he needed a delivery to which I said you have to pick it up yourself. When he came here I showed him the space and before long we had started a restaurant here. One thing we pride ourselves on is providing good quality and good value wines and now we can combine that with the good quality and good value food as well at Regardz Restaurant," said Michael.
For Bernard it was an opportunity to continue doing what he loves and letting the food speak for itself.
"I still travel up to the Queen Victoria market each week at 4.45am to get the best and freshest produce and the menu evolves according to what food is there," said Bernard, from the Regardz Restaurant kitchen. "I still have old favourites on the menu that people have been loving for 25 years and keep coming back time and time again for."
At Regardz Restaurant, enjoy dishes that have been around for a quarter of a century with the ever popular lemon tart, the duck, and an incredible vacherin — a passionfruit ice cream sandwiched between discs of meringue and completely coated with whipped cream and a berry coulis.
After having long been regarded as a distinctive chef and a culinary leader in the Mornington area, Bernard continues to bring his culinary skills to his Regardz Restaurant, which has inspired a strong following from locals and visitors alike for three decades.
"I have customers who have become friends over the many years and followed me to each restaurant," said Bernard of the cult following his culinary talents have inspired.
Regardz Restaurant is the perfect venue that showcases the vineyard's beautiful wines, with a seasonal menu that Bernard and his handpicked team create to ensure the ultimate dining experience.
---
Regardz is at Stumpy Gully Vineyard, 1247 Stumpy Gully Rd, Moorooduc
Phone 1800 788 679
RECIPE – REGARDZ  ROAST PORK BELLY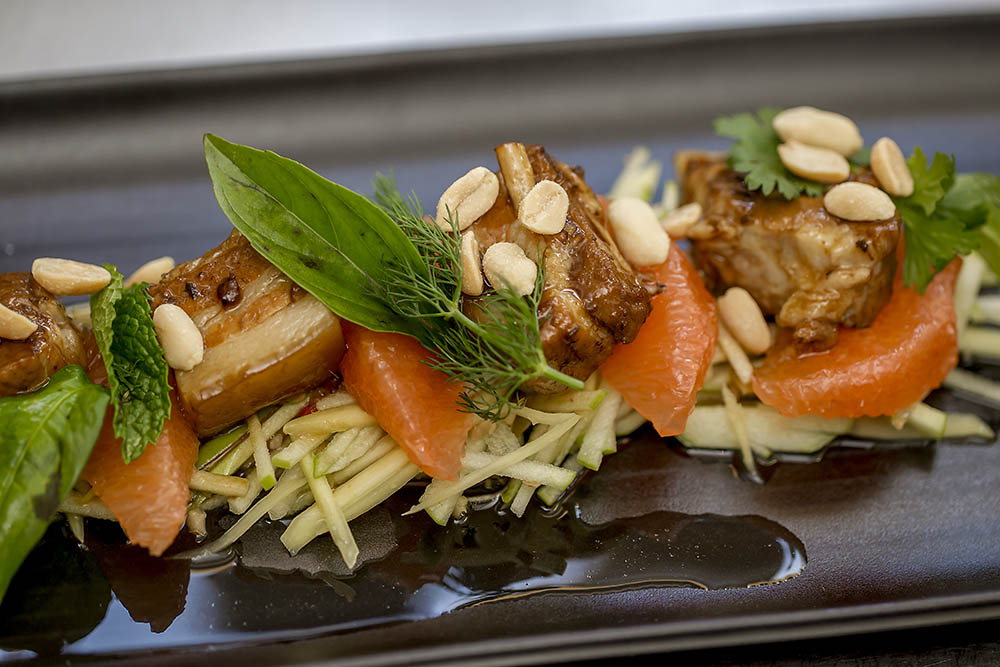 INGREDIENTS:
Pork belly
Duck or chicken stock
Garlic
Ginger
Chili
Star anise
Ketchap manis
Dressing:
Lemon juice, finely chopped garlic, chilli skin, Thai fish sauce, palm sugar, peanuts, Thai basil, Vietnamese mint, dill, mint, coriander
METHOD:
Cut pork belly into 25cm square cubes. Cook for two hours in stock, and add garlic, ginger, chili, star anise, ketchap manis.
Drain and cool.
Mix ketchap manis, oyster sauce, palm sugar to glaze the pork.
Serve with salad and dressing.
SALAD:
Shredded granny smith apple, green mango and ginger.