By Melissa Walsh  Photos Gary Sissons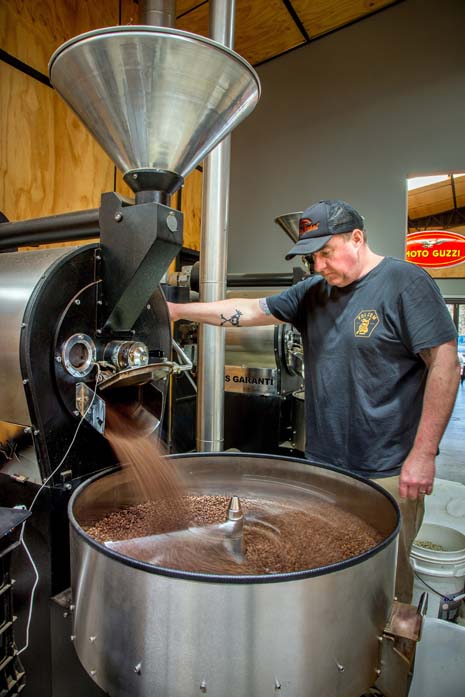 Coffee is big business these days and it's a lot more complicated than just pouring an Aussie favorite white with two, courtesy of your jar of instant Nescafé.
Australians have well and truly embraced the coffee culture with their double shot lattes, long blacks, flat whites and espressos, becoming coffee connoisseurs along the way.
And we are lucky enough to have two of the best coffee makers right here on the peninsula.
Pete and Trish Roberts own Little Rebel Coffee Roastery, a boutique coffee roasting company that they now operate from their purpose-built facility in Dromana.
As we chat, Peter pours loads of beans into the sparkling metallic machine, explaining that different beans need to be roasted at different times and temperatures, depending on how they have been processed.
This McCrae couple has been passionate about coffee for years since they originally set up their roaster at Epicurean in Red Hill, and then relocated to their Dromana café and roastery three years ago.
They started the coffee roasting company when they purchased their roaster from Turkey seven years ago.
"We started roasting coffee originally for our café in Mt Martha, and now it has evolved into this peninsula-wide service, supplying coffee to cafes and restaurants locally," says the couple who have managed to maintain their strong focus on personal attention and unique blends.
"We are determined to run the business our way and will only supply our coffee to restaurants and cafes that have the same vision as us. We want to supply to places that are interested in making and supplying good quality coffee, who listen to their customers and we are lucky enough to be a bit picky with who we supply to," says Trish.
After being in hospitality for many years, Pete and Trish developed a passion for food and wine which then evolved into the coffee field.
"We love our wines and found that wine and coffee have lots in common with the creative process. Wines and coffee can both be blended and can come from a single vineyard or plantation. They are sensitive to the climate and conditions in which they are grown. You even do coffee tasting the same as wine tasting, working out whether to use it as a single origin coffee or whether it is suitable for a blend."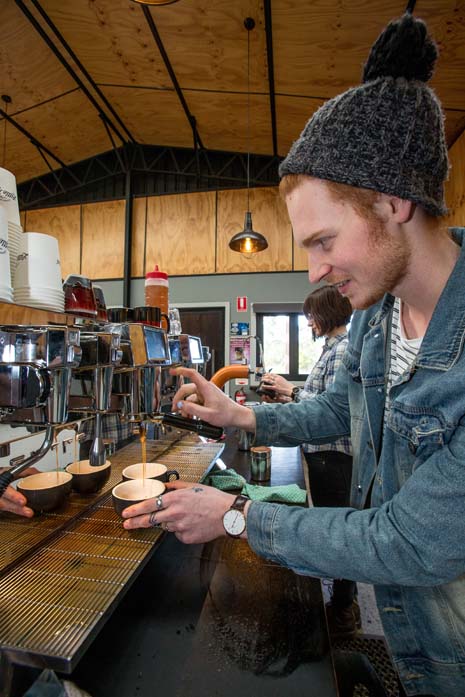 Ironically, their most popular blend is called 'Black Sheep', a Brazilian and El Salvador mix, which Pete says is inspired by his childhood as a somewhat rebellious youth.
"It stood out as the black sheep of the family when we blended it and is now is one of our main blends," says Pete.
These days the four main blends are the Black Sheep, Smooth Criminal, Espresso Blend, and Simon the Likeable.
While the couple remain committed to making the best possible coffee in the most ethical way, they will always endeavor to make as small a footprint on the environment as they can which is evident in their café.
"We encourage people to even bring in their own cups or portable mugs to be more environmentally friendly," said Trish.
At the Dromana Roastery, Pete and Trish roast on two Roastmaz roasters, allowing them to deliver more than 25 kilograms with each batch.
The cafe operates as a cellar door, offering rotating seasonal house blends and single-origin coffee. Espresso is pulled through a customised Black Eagle. There are also two filter brews on tap, made with the same beans but steeped at different lengths and temperatures, so you can taste what effect these variables have. The roastery also creates bespoke blends for anyone who wants to mix and match.
While the cafe is chiefly geared towards coffee, those after food can munch on snacks like toasties or one of the many cakes.
---
Little Rebel Coffee Roastery is at is at 22 Collins Road, Dromana