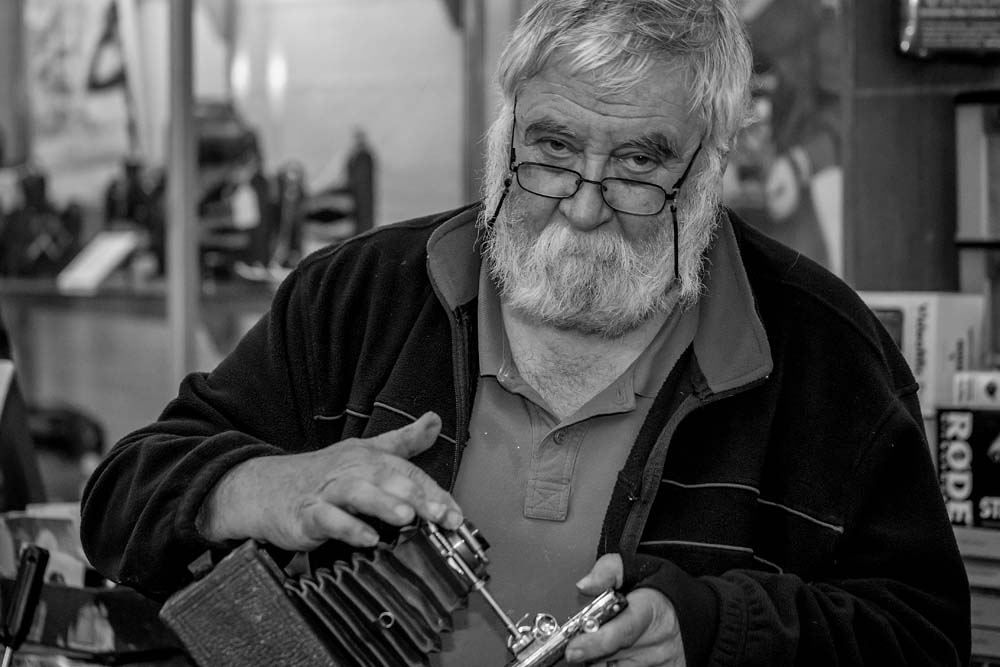 By Melissa Walsh   Photos Yanni
He's been a schoolteacher, photographer, author and journalist, and now runs one of the last stores that specialise in used film photographic equipment and the like. When you meet Andrew Fildes, owner of Andrews' Antipodean Photographic Emporium, you soon realise you have met one of the true treasures in the Tyabb Packing House.
The well-spoken and mild mannered camera and history enthusiast is larger than life as we sit talking about his collections amidst a mix of old cameras and photo antiques, with the distinctive feel of the used camera section that old camera stores used to have.
"This is a project that I have wanted to do for some time so when the opportunity came up to take over two and a half years ago, I jumped at it," said Andrew, a well known feature and review writer for the Australian Photography website and for the associated magazines 'Digital Photography and Design' and 'Australian Photography'. He has also taught philosophy, photography, environmental science, politics, history and English over the last thirty years.
"In essence, the emporium is a major resource for the retro photographer, camera collector, photographic decor enthusiast and so on," said Andrew, describing this as his fifth career, since giving away teaching and his commercial photography business in Belgrave.
As for the name, Andrew wanted something that people would remember, and it has certainly left its mark, with a constant flow of camera enthusiasts or just curious shoppers coming though the store that is in its final year of a three-year plan.
"This year I am setting up a library of photographic books and extending the store. In the meantime, the range of cameras and equipment has grown dramatically," said Andrew, who has cameras ranging from the 1891 Houghton Rover Detective to three-year-old digitals, and everything in between.
"The Houghton Rover Detective is a camera that was built so it  didn't look like a camera. It was for candid photography so the lens was concealed behind a trap door at the front," said Andrew.
"By far my favorite, though, is the Robot 375. This is my rarest camera and it was made in 1940 and installed in the tail plane of a dive bomber. It turned up in our collection and so far only 14 are known to survive. I think I've found number 15."
Andrew has a philosophy that in the used goods and collectables business. Seventy five per cent of what is offered is junk, twenty per cent you can make a living off, and five percent is treasure.
"When you do come across something that is treasure, it is a thrill. When I get something brought to me that is peculiar, I spend time researching it, seeing if it needs fixing and learning about the history of it," he said. "Another treasure is the Royal Mail Stamp camera which was a novelty camera from 1905 and takes 15 images."
With around 4000 cameras and photographic related equipment in the store, looking after it could be quite a daunting job but not for Andrew whose passion for the emporium is obvious as he gives us the guided tour.
Glass cases with precious old Thornton Pickards lined up are among the classics. "These old wooden cameras from the 1880's are in top condition and actually in working order," said Andrew.
There are other collectables with a Tom Thumb Camera Radio, a combination of a cheap reflex and a portable radio that would have been taken to the beach in 1940's New York, 35mm cameras, enlargers, movie films and slide projectors, and heavy metal cameras from the 60's and 70's among a plethora of other equipment.
---
Andrews' Antipodean Photographic Emporium is open Thursday to Sunday at the Tyabb Packing House Antiques,
14 Mornington-Tyabb Road, Tyabb  
Phone 0404 330 075
www.soultheft.com