Photos YANNI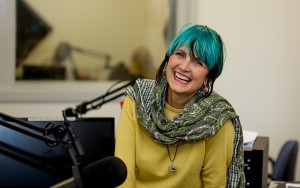 She's petite, she's bright and bubbly, with a flash of blue hair and an eclectic fashion style that screams individuality. She's travelled the world, run her own fashion business, been in the corporate sector and finally found her home on the Mornington Peninsula, as an RPPfm radio presenter and feature writer.
Debra Mar leaves an impression wherever she goes, the five foot pocket rocket with a smile that lights up a room, and a voice that sets people at ease on her popular Tuesday morning radio show, The Breakfast Table.
But it wasn't all smooth sailing for flamboyant Debra, whose journey has been quite an adventure.
"My husband and I came down to the peninsula four years ago, after having lived in the city. Having a holiday house in Rye, we had always thought it would be great to retire here, but didn't expect it to be this soon," says the 54 year old. "When my fashion business collapsed, Paul and I decided to head down here for a sea change. We literally sold up everything and bought a house in Mt Martha, an area that I had always loved."
Growing up in Kyabram on a dairy farm, Debra knew she had to break free and, at the tender age of 18, emancipated herself to the city.
"I was always different and marched to the beat of my own drum. After my father died of a brain tumor when I was young, being the oldest of three siblings, I had to take charge and help my mum out when she had to return to work as a nurse. But I couldn't wait to get out of the country and travelled to the UK, worked in the corporate world, backpacked around Europe, lived in Hong Kong, then decided to come back here," says Debra who learnt that she has an aversion to mediocrity and laziness which inspired her to be a little different.
"At the magic age of 40, I started reevaluating my life. I always had my own style and wanted to create my own clothes, so took myself off to do a Bachelor of Arts in fashion and textiles at RMIT, and after three years started my own business," says the ever-quirky Debra.
In a twist of serendipity, with the business collapsing and the move to the peninsula, Debra found herself with no direction for the first time.
"I had always been very focused and driven with my career and was now revisiting myself and working out what I wanted to do. When we moved here the enormity of it hit us though. The first thing I did was go to the Community One and pick up a Mornington News where I read about a workshop called 'Navigating Change', run by Sina Summers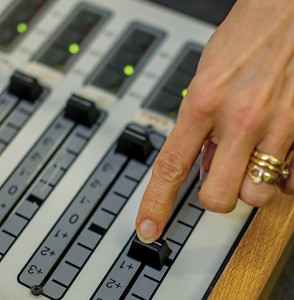 After attending the workshop, Sina contacted me and wanted to interview me on her radio program," says Debra. "It was 3RPP then and the moment I walked in I was hooked. I had always given so much in business that I decided it was about time the universe gave back to me and, after meeting station manager and ex ABC broadcaster, Brendon Telfer, I decided to work here as a volunteer doing marketing and sales."
That all changed for Debra the night Brendon phoned to ask her to fill in as a co-host on the next day's breakfast program.
"I felt at home at the station but being live on air wasn't something I had considered doing," says Debra who had only been at the station for two months. She filled in that day and has now been working on her own program for two years, and loving every second of it, recently winning 'Volunteer of the Year 2013' and 'Best Presenter of the Year 2014'.
"The Breakfast Table is very much in alignment with Brendon's vision and dispels the myths of community radio being just run by retirees. We have a big mix of personalities and age groups here and it's an inspiring place to work," says Debra, who has interviewed everyone from politicians like Hon Bruce Billson and Hon Greg Hunt, to foodies, chefs, artists and actors like Gyton Grantley, Jonathan Coleman and horse whisperer, Monty Roberts.
Before any presenter gets on air, there's a range of criteria they have to undertake, workshops on etiquette, station rules and philosophy, community involvement, RPPfm history and panel operating.
Being live radio, there is always the possibility of making mistakes and Debra says the biggest error she's made was losing concentration and having dead air time.
"On live radio, 10 seconds of silence feels like 10 minutes and even the most professional presenters can do it. Brendon tells us to get over it quickly and get on with it if it happens," she says with a laugh. "It's only happened to me once or twice when I got distracted working the panel and lost my concentration."
Working the panel, setting up 8 seven-minute interviews, reading the news, weather and traffic conditions is a balancing act that Debra says is something you perfect with experience.
"I saw the guys doing it and thought I can do that and have been working the panel for the past year now."
And as for the early start, Debra says it's not a problem as long as she gets breakfast.
"I get up at 4.30am and arrive at the station by 5.30 to get ready for the 6 till 9 show. For the first hour I just play music and do traffic, weather and news. Then eight interviews for the next two hours, with music and news interludes."
Debra's ability to build rapport with people and non-judgmental attitude means she gets a variety of guests on her program, and she is not afraid of controversy.
"The other day I interviewed Fiona Patten, Leader of the Australian Sex Party. I regularly speak to Alexandra Tselios, publisher of The Big Smoke, on relevant, often contentious issues," says Debra, whose philosophy is that everyone has a story to tell.
"I prefer to do face to face interviews but sometimes that's not possible if somebody is from the city. But peninsula people do love coming into the studio."
With her whimsical style, Debra makes her breakfast program light hearted, even when handling sensitive topics.
"I don't go into interviews with a large list of questions but do plenty of research and try to have more of a conversation," she says.
"It has blown me away, the community atmosphere on the peninsula. We have the highest rate per capita of community volunteers here, and that's not just because of the greying population. There's something very special about the peninsula and it's an honour to be able to share the stories of these real people who are part of a bigger community. I've learnt a lot about people and how willing they are to help each other through adversity from living down here. I believe the peninsula has a certain rhythm and heartbeat that I haven't seen before."
Tune in to RPPfm 98.7 or check out the website www.rppfm.com.au