By DEBRA MAR  Photos YANNI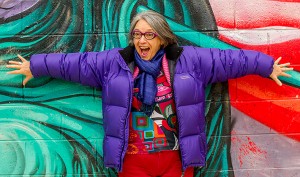 It doesn't take much prompting to peel back the layers of emotion to reveal the anger and hurt of this strong, determined woman. Local writer and radio presenter Debra Mar met up with Kim Isaacs to unleash her life journey that found her in a serendipitous situation that will amaze.
It's not often you are given the opportunity to sit opposite a colourful, dynamic and focused individual who is straight to the point, yet she is a kind, sensitive and nurturing woman who loves to tell her life story without prejudice.
Kim Isaacs has travelled a long winding, undulated path that features family drama and morass.
Born in the 1950's Kim grew up in a loving family with a Mum and Dad and one sister, a year her junior in a Melbourne Bayside suburb. She had a normal upbringing, like any kid in a white Australian household. She was schooled under the austere regime of Catholicism and feared the disciplinary measures of the catholic order, habited nuns and lay teachers.
Asked what she was like as a child Kim replies, "I hear people's voices telling me who I was, more than my awareness of who I was. Everybody told me I was always bossy, that I have that school teacher vibe around me in the way I spoke." She hastened to add, "But I was always the 'good girl' at school and very protective of my younger sister." Once Kim hit teenager years it was a different story.
Kim always gravitated towards children. She had a caring and fostering quality claiming that when she had a birthday party she would invite the whole class because she didn't want any to feel left out.
She would often ask her Mum why she looked different to everyone in the family. Her Mum would be "clutching at straws to try and find a likeness, or fob me off with something else," says Kim.
A kindergarten teacher, she married and raised four children under the Steiner education system. Completing Steiner Teacher Training, dabbling in the retail sector and studying counselling and psychotherapy helped set the foundation for what the future would hold for Kim.
The story began unfolding when, at 37 years, Kim made enquiries about her father through her father's sister and family. (Her father died when Kim was 18 and had split from her mother years before that.)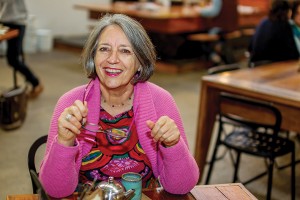 Her father's sister dropped a bombshell. Kim found out she was adopted at birth. "My father's sister talked about how much I was wanted, how I was the 'chosen one' from other babies," Kim says, physically pained.
Shock, tears, and total distress held Kim to ransom. "It was a rollercoaster of emotions; there is no language to describe the impact of my discovery." She told her husband with anger and disbelief and added, "Even though I was totally devastated, at the same time it helped reconfirm why I was physicallly different with dissimilar mannerisms to my adoptive family.
Kim used the word 'rage' to describe her emotion when, "My adoptive mother came to visit soon after that. She was visibly distressed. There was still no communication between us about the adoption which was bizarre."
During the course of Kim finding her identity, her marriage dissolved.
"At that time there was discourse around adoption in newspapers and I contacted Vanish, an adoption network service."
The long arduous journey began for Kim to find her birth mother and father. "I contacted Births, Deaths & Marriages, sat through the mandatory interview process and waited," says Kim. I learned my birth mother was 39 years old when she gave birth to me. To this very day I don't know what circumstances surrounded my adoption and can only make assumptions which troubles me," she said.
Kim discovered her birth parents had no other children together, but her father had a daughter from a previous marriage, so she made enquiries to find her half sister. When she learned she lived overseas she contacted her mother to get her contact details. Kim says that was a mistake because "Her mother didn't know I existed and learned her estranged husband (my birth father) had an affair. I had opened up Pandora's box."
Kim's birth parents had both died before she found out she was adopted.
It took years for Kim to trust people again. She read self-help books, had counselling, and joined weekend cathartic workshops. "I could have bought a house with the money I spent trying to find answers," she laughs.
Kim found her birth father's sister and family who accepted Kim with open arms. She learned about her father's hardships and his English and Norwegian origins. She visited the place where her father's family lived in Cornwall and burst into tears.
Kim also travelled to Norway to meet other members of her birth family.
Over time of pain, tears and triumphs the synchronicity was incredible. "There were some amazing experiences as well that were very life affirming," Kim said.
Moving along to the present day Kim offers a service called Kim Isaacs Creative Counselling focusing on the holistic approach to counselling individuals, families and groups to help access potential positive change.
When asked why she uses the word 'creative' counselling in the title she replied, "There is such a connection for me with 'play' and that we need to express ourselves in other forms whether it's drawing or painting, cut and paste, clay, dancing or music – it's an incredibly organic process."
"I started off with Catholicism which instilled fear and dread and a punitive God who told us how sinful we were. I worked through my belief system and values as I grew and found anthroposophy, established by Rudolf Steiner which has a more spiritual base. I also explored other options as well including Judaism which is one part of the family." Kim believes as human beings we are body, soul and spirit, each having a unique belief system and values.
Kim, sadly, never met her birth parents and poignantly comments on a Picasso painting, "I think of the girl as me in the mirror Picasso painted appropriately titled "GIRL BEFORE A MIRROR." The cubist artwork portrays an image of a girl looking at her reflection in a mirror. The image in the mirror differs from the one standing before her. "That is the story of adoption for me," she says'.
We don't realize how adoption affects families involved, immediate and extended, each having their own set of beliefs and values. There are so many secrets kept. "There are many complex issues to deal with," Kim points out.
The Senate Inquiry into Adoption recommended that support groups be established in regional areas for those affected by their experience of adoption. VANISH approached Kim asking if she would facilitate this process.
Kim is taking up the challenge to set up a support network group for people in the Frankston and Mornington Peninsula areas.
If you want to know more about Kim's work and are interested in participating in her supportive network for adoptees, contact her on 0431 989 048 or visit her website kimisaacs.com.au or contact VANISH.
Many mysteries, truths, pain, hostility, love and people's identities came out of one baby's adoption that has touched many families. Kim wouldn't have it any other way, concluding "I wouldn't change anything in my life. Every experience we have there is learning and there is opportunity and I don't know if I would have understood 'me' in the way that I do now without having the experiences I've had."
Kim took her birth mother's name of ISAACS and enjoys life with her four children and five grandchildren.