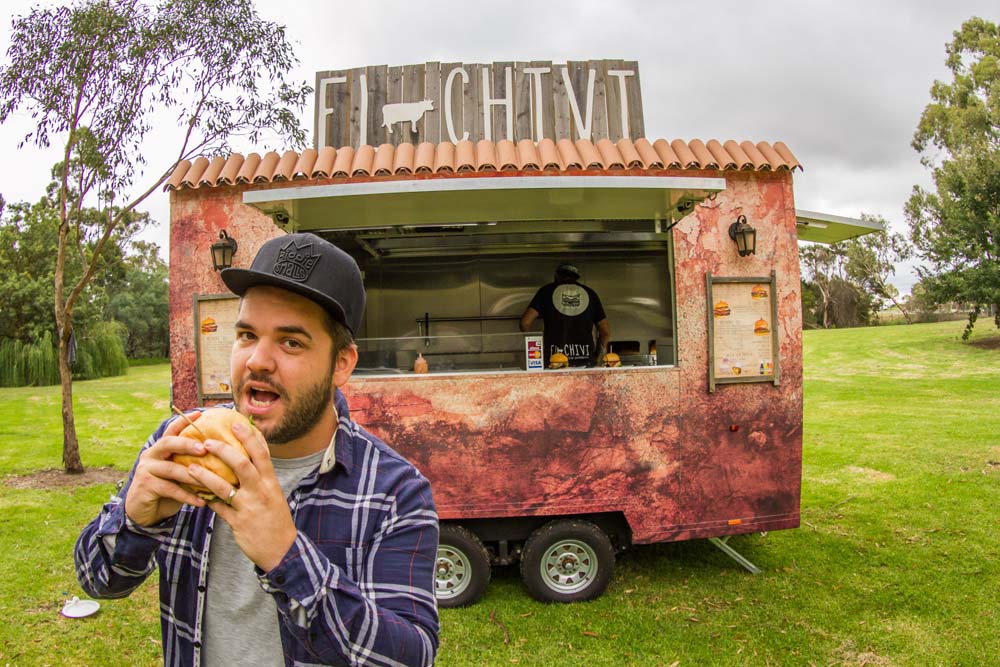 By Melissa Walsh
Australia's biggest food truck carnival is back on the Mornington Peninsula over the Labour Day long weekend, serving up tasty treats from Melbourne's finest food trucks for the local community to enjoy, all whilst raising funds to help sick children in need.
Running from Friday, March 10 to 13, the four-day Peninsula Food Truck Carnival will offer a selection of mouth-watering international dishes as well as a range of entertainment options, helping to raise funds for the Monash Children's Hospital.
Peninsula Essence talks to the man who started it all, Food Truck Carnival owner, and self-proclaimed foodie, Danny Grant.
How did you get into this industry?
I have worked in events for the last 11 years, running music event and festivals throughout Australia. Events have been in my blood but as I got older my focus shifted. Rather than late nights listening to live music I was more inclined to catch up with friends over dinner with a red wine. Melbourne is the food capital of Australia; we have so much to offer from food trucks to Michelin star restaurants to breweries and distilleries and everything in between. Gone are the days where a pizza or Chinese were the Aussie take away staples. People are more adventurous with food now than ever, and for the first time in history food is fashionable. Every six months there is a new food trend and restaurants lines with hour plus waits. And I think this resonates more in Victoria than anywhere else in Australia.
When did you first come up with the idea of the food truck carnivals?
Throughout the summer of 2015 I would often attend markets or food truck parks for dinner or lunch. I used to love sitting with friends and trying multiple dishes from each truck with friends. The flavours captivated me, trying cuisines from across the world. I loved the concept of food trucks and I was speaking to a friend one night about how great it would be to have more options then the 3-4 that was normally on offer.  From that moment on the concept of a food truck fair popped in to my mind. As time went on the idea evolved. We decided to add a extra little spin on it with entertainment, roving performers and an authentic carnival feel alongside the stars of our show; the food trucks. From there the Food Truck Carnival was born. 
When and where was the first one?
The first ever food truck carnival was in Berwick. We anticipated maybe 20,000 people but had over 50,000 people in the five days.
How many food trucks did you have then and how many do you have these days?
Originally we had 18 trucks. The first day we had 12 which was a disaster. We now run at around 30.
Who else is involved in the business with you?
I have a great team I work alongside. Guys from all different fields and different specialties, from accounts, infrastructure, even management, operations and licensing. Without them our carnival would not be where it is today – eight festivals in and well over 250,000 hungry people in attendance just this summer alone.
How did the Mornington festival go?
Mornington was a great success.  We saw just shy of 45,000 people over the 5 days. We broke the record for the most people ever at the racecourse on the Saturday with a whopping 15,000 people. An amazing result.
Was that the first festival you have done on the peninsula?
Yes,this is the first time we have visited the peninsula and looking forward to coming back this Labour Day. We will have an array of trucks throughout the five days, foods from all over the globe. American, Latin, European, Asian and everywhere in between. Expect to see crowd favourites like Mr Burger, Super Taco, El Chivi, White Guy Cooks Thai and St Gerrys Donuts.
Have you spent much time on the peninsula?
I live in Berwick and literally grew up all over Victoria but spent every summer since the age of 16 on the peninsula. Every day I have off or any chance I get I head down to the peninsula. I often say to people that even though I have travelled around the world the peninsula is still my favourite place on the planet. Something about the sea water that just clears your mind.
What is the best part of your job organizing the food truck festivals?
The diversity of people I work with, each truck has a story. These stories are what I love most about them, people who have settled from all over the world. I love hearing about where they come from, how they got here and the passion that leads them to share their food and culture with us via food. 
Tell us about the fundraising aspect of the carnival?
Although entry to the carnival is free, funds from various components will be donated to the hospital, including amusement rides, face painting, roaming entertainment and parking.
The  Peninsula Food Truck Carnival is part of a dozen Food Truck Carnivals being held across suburban Melbourne over the Summer period, aiming to raise $150,000 to $200,000 for the hospital.
What is your favourite food there?
It depends what I am craving! I am big fan of El Chivi's Uruguayan steak sandwiches, Brazilian bites smoky BBQ, Caliko's Asian LA infusion and St Gerry's amazing Greek doughnuts.
For more information visit www.ftcco.com.au or
www.facebook.com.au/FoodTruckCarnivalCo/