At 25, young Kimberley artist Atlanta Mercy Umbulgurri is a rising star artist of the renowned Kimberley ochre painting of the Warmun community.
Significantly, Atlanta is the granddaughter of Warmun's most senior artist, the ninety-plus year-old Mabel Juli Wiringgoon whose Garn'giny Ngarranggarni (Star and Moon Dreaming) paintings have become her signature pieces. In the collections of numerous public galleries and private collections, her Moon and Star paintings have become amongst the most identifiable and revered mages in contemporary Aboriginal art.
In 2021 Mrs Juli decided that, as her granddaughter Atlanta was showing both great dedication to her culture and exceptional promise as an artist, she would pass the rights to her young protégé, to paint both the Moon and Star dreaming stories and that of another important story called Old Woman Singing out for her Dog with her own interpretation.
Since 2021 Atlanta has worked alongside Mrs Juli as well on her own – interpreting these ancient stories with a new and fresh vision – a reminder of the continuity offered by art to maintain, celebrate and honour ancient stories. Having exhibited Atlanta's works to great acclaim in an exhibition with her grandmother and aunt in 2021, Everywhen Artspace is now presenting Atlanta Mercy Umbulgurri's first solo exhibition – Gungi to Gungi
(Old Days/New Days); the living art of Mabel Juli's Dreamings. Atlanta Mercy Umbulgurri's exhibition runs from December 8 to 20.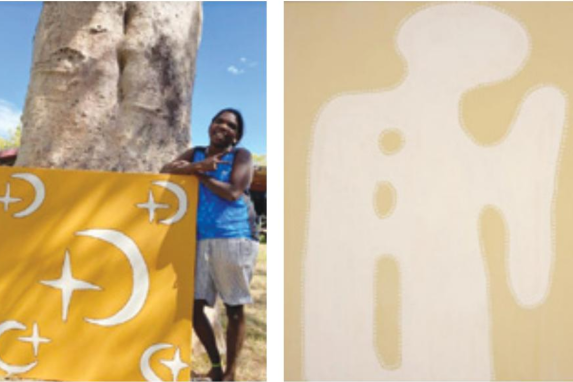 Atlanta Mercy Umbulgurri at Warmun (left) & Old Woman Singing out for her Dog, ochres on canvas, 90 x 90 cm.
---
EVERYWHEN ARTSPACE, 39 Cook St, Flinders
T: 03 5989 0496
E: info@everywhenart.com.au
W: everywhenart.com.au
H: Friday-Tuesday 11-4