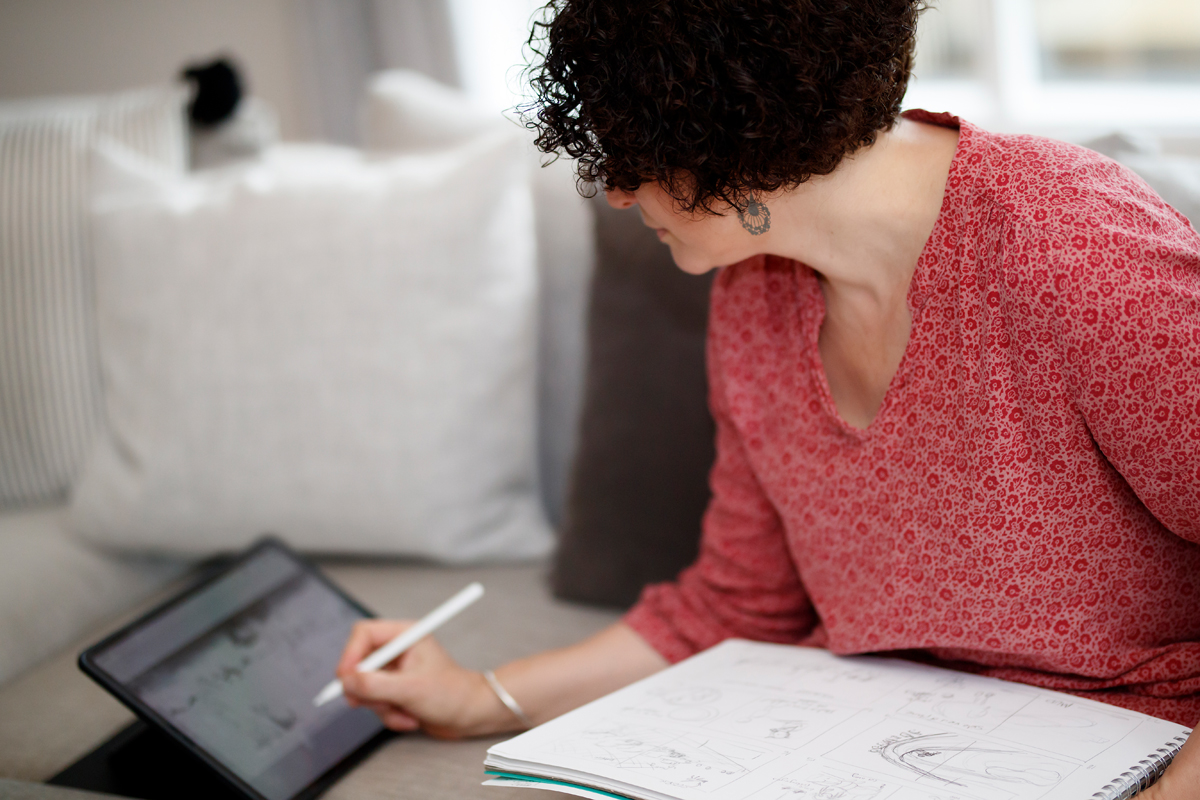 By Andrea Louise Thomas Photos Yanni
From her garden-aspect home studio nestled in the Mount Eliza woodlands, illustrator/designer/teacher Karen Erasmus has created thousands of sketches, watercolour paintings and digital artworks. She has illustrated twenty children's books. Karen also produces artist prints, greeting cards, tea towels, and sewing kits to sell at local markets, a welcome counterpoint to the solitary life of an artist.
Karen was born in Devon, England. She comes from an artistic family. Her grandfather loved to paint. Her mother, a nurse, enjoyed sewing and writing. Her father trained as an opera singer. For practical reasons he decided to go into the police force instead, but he always maintained involvement in amateur theatre.
His police career meant a lot of moving around for the family.
All that relocating was hard. Unlike her sisters, Karen was not an academic. A hearing impairment made classroom learning problematic. Whenever things were difficult, she always turned to art for consolation. "Drawing was a way of escaping," Karen says.
Once they finally settled in one place, when she was eleven, life was idyllic. Their last move was to Okehampton in Devon – a picturesque place to inspire a budding artist. Karen's favourite children's picture book is Michael Rosen's We're Going on a Bear Hunt, illustrated by Helen Oxenbury, because it reminds her of childhood in Devon.
Moving a lot made Karen adaptable and piqued her interest in travel. When she was 18, she went to live in The Netherlands and Israel. She later volunteered teaching English in Eritrea, East Africa for a year. Travelling on to Australia, she met an African man from Zambia in Perth who later became her husband. They moved to London, then Zambia before settling on the Mornington Peninsula.
When her children were young, Karen was working in portraiture. Then she decided to return to school. She had already completed a Bachelor's Degree at Cardiff University (Wales) in Education/Art and Design, but wanted to focus specifically on illustration. In 2006, she went to Chisholm Frankston to get her Diploma in Illustration.
During those years of study, Karen started submitting drawings to children's book publishers. In 2011, the year after she graduated, Hachette Children's Books (Australia) offered her a book contract which then extended to five books over two years.
Karen loves illustrating children's books because of the endless diversity of characters and the opportunity to work across a number of mediums. She also loves that picture books introduce children to art. "Young children can read the book through pictures. It's a critical pre-reading skill, but it also creates an appreciation of art," she says.
Picture book illustration is a time-consuming process. A standard 32-page picture book takes three to six months to illustrate depending on the medium, the level of detail and the pressure of the deadline. Getting everything 'in sync' is the secret to success. "The words and pictures need to complement each other. If the words are right and the pictures are right, it's a beautiful package," she says.
Karen plans out her book illustrations by creating vignettes (a series of drawings). She then thinks about the reader's perspective and begins to storyboard the book in her sketchbook.
When she creates the final artwork, it may be in watercolour, acrylic or digital drawing depending on what best suits the book.
Other artists' work offer inspiration. Karen loves English illustrator, Emily Gravett, whose quirky animals are full of character. She also admires Australian illustrator, Freya Blackwood, who frames things in an interesting way and creatives emotive characters.
Karen says readers could probably see Blackwood's influence in her own illustrations.
With ten years of experience illustrating, Karen now has the luxury of choice. When publishers send her manuscripts, she'll choose the project if she likes the writing. Lots of different kinds of commissions come along. She's currently working on a book for the National Library. It's about a female aviator and set in the 1930s.
Coming full circle, Karen now teaches illustration two days a week at Chisolm Frankston. The other days are dedicated to illustrating books and creating products for markets. She loves living on the Mornington Peninsula because, as she says, "It's a therapeutic place to live. It allows you the space to be creative and has an inclusive, supportive community of artists." What could be better than that?