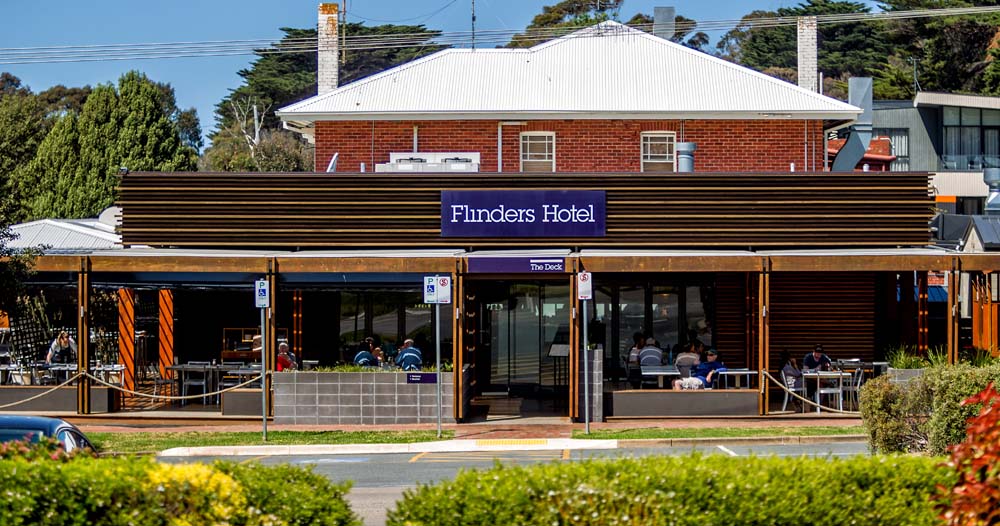 Flinders is a beautiful and historic coastal village overlooking Western Port Bay, just over an hour's drive south from Melbourne.
---
Flinders is an appealing holiday destination due to its scenic coastal location amongst rolling green hills and the fact that commercial development seems to have forgotten this town, instead preserving the area's natural beauty and scenic views.
---
The town was named by George Bass after his friend, the explorer and British naval officer Matthew Flinders. Settlement commenced in 1854 and many pioneers and settlers are buried at the Flinders cemetery. Flinders Post Office opened on 7 March 1863 as the population grew.
---
Fishing and providing timber for the railways were important early industries. Fishermen settled in cottages on the beach near the jetty, where the catch was kept alive in floating coops before being sent to market.
---
A number of historical buildings exist within the town, complemented by several antique shops, restaurants and cafes, a chocolate maker, village store and the 125 year-old Flinders Hotel.
---
At the most recent 2016 census, Flinders had a population of 905.
---
In recent times, Flinders has become a hub for the arts with seven galleries along the main street.
---
Attractions along the coast include Bass Park which provides spectacular views down to the Flinders Jetty and across Western Port, as well as being home to a monument dedicated to George Bass and Matthew Flinders who were the first explorers in the area.
---
The weedy sea-dragon, whose habitat is beneath the Flinders Pier, attracts snorkelers from around the world to view this unique marine creature. This area is also popular for sailing, fishing, and other water sports.
---
The Flinders Golf Course is situated above the cliffs and ocean beaches to the south, overlooking the Mushroom Reef Marine Sanctuary and bordering the Mornington Peninsula National Park. To the west of Flinders, just off Boneo Road, is The Blowhole which includes walking tracks along the rocky coastline and over huge bluestone boulders.
---
Around 12 kilometres west of Flinders is the small community of Cape Schanck, known for its golf courses and the historic lighthouse situated at the rocky southernmost tip of the peninsula.
---
Flinders was the original home of Flinders Bread, available throughout Melbourne and the Mornington Peninsula. The company's operations are now based in Dandenong, but the bread is still available locally.
---
Median house price in Flinders is $2,500,000
Coffee Safari
Fresh brewed coffee is a must have for weekends away and Flinders coffee is second to none with great coffee haunts around the town. Here are a few to check out when head down to this beautiful end of the world.
Georgie Bass Cafe
30 Cook St, Flinders
This Flinders institution serves up Commonfolk's Progress St blend alongside fresh, local and seasonal produce. They also offer cooking classes led by their own chefs using premium Miele equipment. These classes cater for a maximum of 11 people and are suitable for all levels of experience.
Pier Provedore Flinders
38B Cook St, Flinders
Lovely cafe with delicious coffee. Indoor and outdoor seating great for all weather, with a fabulous alfresco area at the back with lots of tables and toys to occupy the kids. Excellent breakfast menu and gourmet foods.
Jules Gourmet Express
Shop 3, 44 Cook St, Flinders
Sourcing local produce from the Mornington Peninsula to create beautiful fresh food including a wide range of unique rolls, sandwiches, pies, fresh salads, soups and sweets. Even their great coffee is roasted on the Peninsula.
What to do
Located close to the southern tip of the Mornington Peninsula, Flinders is an appealing holiday destination due to its scenic coastal location and nearby rolling green hills.
Enjoy leisurely walks, a hit of golf over looking the ocean, The Blowhole, coastal walks,  food and wine galore at restaurants, cafes and nearby vineyards, and browsing antique stores and art galleries.
Photos Yanni