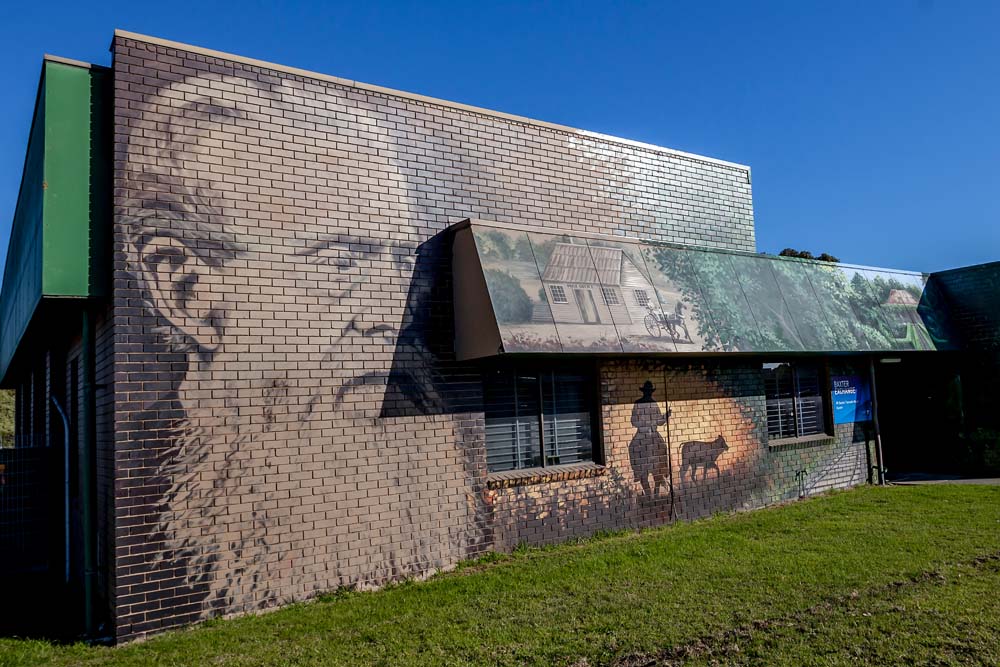 Baxter is a township and rural locality in Melbourne, beyond the urban area. Baxter is seven km south-east of Frankston and 45 km south-east of Melbourne. Originally named Baxter's Flat, Baxter was founded by pastoralist Benjamin Baxter, who lived in a property named Carrup Carrup – the Aboriginal name. The property still exists today on what is now the Frankston-Flinders Road, as does the original cottage he and his wife Martha lived in. The area of Baxter is 697 square km.
---
Served by Baxter railway station on the Stony Point line.
---
Benjamin Baxter died in 1892 and his gravestone, found in the Frankston Cemetery, reads "Benjamin Baxter, late of h. m. 50th regiment. Died at Currup Currup 15 May 1892, aged 87. Also Martha, beloved wife of above 31 January 1906 age 94 years".
---
It was at Baxter's Flat that the railway to Mornington and Stony Point (built in the late 1880s) separated. The station was called Mornington Junction before being changed to Baxter; however its role as a junction ended in the 1980s with the closure of the Mornington line.
---
The early township grew around the railway station and a Post Office named Mornington Junction opened on December 1, 1892 (Baxter from 1918).
---
Baxter has two historic houses. The first is one built by John Sage who married Baxter's daughter. Sages Cottage (1853), off Sages Road, is heritage listed and is a historic cottage, gardens, farm, education centre and cafe.  The second house is Mulberry Hill, Golf Links Road, built by Daryl and Joan Lindsay. Constructed around a farm cottage in 1920, both the cottage and the additions designed by Desbrowe Annear are heritage listed.
---
The Baxter township is immediately west of the railway station and includes a small shopping centre, a hotel and a compact area of housing.
---
Other historic cottages in the area include a primitive 1850s homestead called Eurutta, and a 1920s American-style residence called Mulberry Hill.
---
Baxter celebrated its centenary this year. The Residents and Traders Progress Action Committee held a celebration at Baxter Primary School on Sunday 18 March 2018. It honoured the renaming of Mornington Junction, Baxter's Flat, as Baxter after Captain Benjamin Baxter the original settler.
---
Mistaken identity: For a short time the visage of American civil war soldier Benjamin Baxter adorned the wall of the Telstra Exchange building, on Baxter-Tooradin Road instead of early settler, Captain Benjamin Baxter.
---
Despite being a small community, Baxter has a colourful history. Mulberry Hill is home to the artistic Lindsay family and played host to many noted artists and famous visitors from overseas.
---
Nevil Shute, author of On the Beach and A Town like Alice, bought property in Baxter in the 1950s and, despite some referring to the location of the property as being Langwarrin, the town is determined to "claim him".
---
Other well-known former residents include Diane Dunleavy, of Grubby and Dee Dee fame, now on 3AW, who grew up in Baxter and went to Baxter Primary School, and daredevil rider Blake "Bilko" Williams, with Nitro Circus, who has travelled the world stunt riding.
---
The township's founder was believed to be the first white man to settle on the Mornington Peninsula.
COFFEE SAFARI
KICK BACK CAFÉ
634 Frankston-Flinders Road
Perfect coffee and pies, and great place for brunch
---
MOODI'S CAFE
62 Baxter-Tooradin Road
Great for coffee and cake or lunch, always full of flavour
---
ANYONE 4 COFFE BAKERY CAFÉ
106 Baxter-Tooradin Road
Fantastic coffee and nice selection of eats, sweet and savoury
---
OLIVERS CAFÉ
BP Service Centre
Shop 2, 1401 Peninsula Link Freeway Inbound
From deliciously hot certified organic coffee and herbal teas to snacks and fresh meals
WHAT TO DO?
Baxter is a rural town 7 km south-east of Frankston and is a beautiful place to explore, scattered with fascinating heritage, such as Sages Cottage.
Baxter is a place that has a literary connection to British born author Neville Shute, who wrote the acclaimed novel "On the Beach".
Baxter Tavern, being a motel, bistro and pub, is a great place to relax with a meal and a drink.
Baxter Park is home to multiple sporting clubs including the Frankston Archery Club; it also houses five tennis courts, multiple sporting ovals and a horse riding facility.
Photography: Yanni