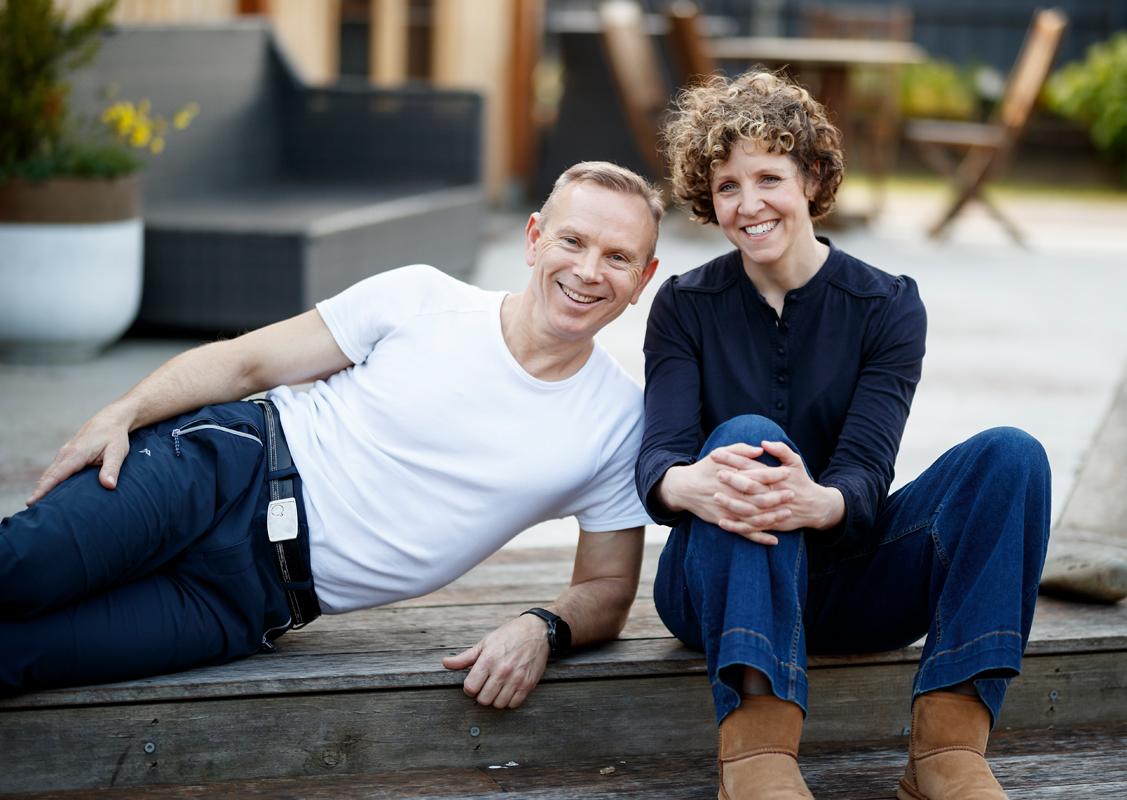 By Andrea Louise Thomas Photos Yanni
Husband and wife team, Glenn Birchall and Heidi Adams help their clients live an optimal life. Both focus on health and fitness, but they practice differently. Glenn works predominantly as a fitness trainer. Heidi is a holistic health coach focusing on nutrition and healthy decision-making. She's also a massage therapist with a dash of spiritual guidance. Additionally, both work with NDIS clients as support workers in a wide variety of ways.
Glenn comes from New Zealand where he was a professional dancer and choreographer. He was going to be an accountant, but on a whim took a dance class in his second year of university and was instantly hooked. It totally changed his trajectory. He was accepted into the New Zealand School of Dance two years later. He spent the next 15 years working as a contemporary dancer and later as a choreographer.
He moved to Australia in order to go to the Victorian College of the Arts to do a Post Graduate Diploma in Choreography and then a Master's Degree by research in Choreography with an emphasis on multi-media because, at that time, the VCA had one of the best choreography programs in the Southern Hemisphere.
Glenn has always maintained exceptional fitness. He is the creative director of an entertainment company Retina Productions/Lumiere Acrobatics. He works as a choreographer for corporate events, but even in his mid-fifties he still performs aerial acrobatics. He loves this work as it incorporates all his passions.
Through his training in dance, Pilates, yoga and acrobatics, Glenn has an intimate knowledge of the bio-mechanics of the human body and what it's capable of. He knows how far he can push his clients. He is also well versed in the mind-body connection and had read widely on the subject of nutrition, which is a key component to getting healthy.
In his home studio gym Glenn has equipment for all forms of exercise from weight training to cycling to Pilates. His focus is on getting the technique right. He works with clients one-on-one to come up with an exercise program based on their needs – that might be stretching, yoga, strength training, core, cardio or even meditation.
What sets Glenn apart from most other trainers is that he can teach almost any kind exercise/movement adapted to each person's interests. He starts with a postural assessment and interview to get an idea of the client's fitness and goals. Most people want to improve general strength and flexibility or relieve back pain. Cardio, stretching and strengthening are the three main things all people need according to Glenn.
Like Glenn, Heidi had a radical change of heart and made a major career shift. She studied at the University of Melbourne (Bachelor's Degree in Visual and Performing Arts) to become a graphic designer. She did that for 15 years. Then she tried account management.
She wasn't happy with that, but things were about to change.
One weekend Heidi went to a health and wellness expo. She saw a booth for a massage school. On impulse, she signed up on the spot for a year-long massage course. She finished that course and then went on to get a Diploma of Remedial Massage. She has established her own beautiful cosy home massage studio.
Heidi also works as a holistic health coach focusing on lifestyle choices that support nutritional health and healthy decision making in other aspects of life. The creativity she once used in graphic design is now redirected into teaching her clients how to cook and redesign their own lives.
Helping people change ingrained habits is no easy task, but Heidi is a Certified Integrative Nutrition Health Coach. She learned a vast range of dietary theories at New York's Institute of Integrative Nutrition. She understands the relationship between diet and exercise and offers clients motivation to change eating behaviours. Having had her own struggles with eating disorders, she has genuine insight.
Heidi takes a gentle approach in helping her clients understand why they make the choices they make. Every person is different, which makes for an interesting challenge. Heidi starts with an interview to get to know each client and how they think and then builds their program around that.
She doesn't just look at food and exercise, but everything from love and relationships to career and money to make sure everything is in balance. She'll even come to your home and help you sort out your fridge and pantry to make sure the right foods are on hand.
In her field, research and up-skilling are important. Going further into the psychology of eating, she has now studied trauma in order to coach and facilitate with a trauma informed lens. She is also becoming qualified to work as a spiritual and energetic healer. She can then treat the mind, body and spirit to offer truly holistic healing.
Though the two of them work differently, Glenn and Heidi have complementary skill sets. Sometimes clients work with both Glenn and Heidi. Between the two of them, they can help anyone live an optimal life.
---
thrive-hq.business.site (Glenn and Heidi)
lumiereacrobatic.com.au (Glenn)
nourishingnest.com.au (Heidi)